Topics Covered:
As a reader of this blog, you may have thought to yourself, "I love this content!" but then followed that up with, "Wait, what exactly does AdRoll do?"
We get it: With all of the retargeting, email, anddata-drivensolutions we discuss in our content, it can be hard to keep track of our core solutions. So, we're getting a little meta with this month's Unrolling by looking back at the last 14 (!) years of our company — complete with tips and tricks for how you, too, can run with an idea and revolutionize your industry.
Rolling With the Times
If you're a wizened marketer whose career journey involves witnessing the inception of the internet and the rapid digital growth that followed, you're probably aware of how complicated and messy the online advertising space was back in the late 1990s and early 2000s. Wanted to purchase digital space for a display ad? You'd have to approach major websites (such as Yahoo), request a rate card, negotiate a contract, submit the creative, and wait for the green light. Back then, digital marketing was simply an application of the traditional advertising model to online platforms. Factor in the flash graphics, whizzy gifs, and 3D text that every site had, and you've got yourself a good idea of how whacky the early internet was.
Realizing there was an opportunity to revamp the digital advertising model into something more streamlined and performance-based, Adam Berke, Peter Krivkovich, Valentino Volonghi,Jared Kompf,and Aaron Bell founded AdRoll in 2006. The company offered a simple ad network that worked to solve a simple (but noble) challenge: help brands effectively advertise online, especially those without colossal budgets and infinite resources.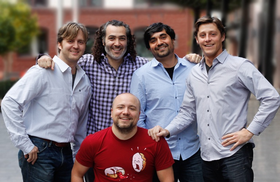 "Our mission has always been to make display advertising work for everyone. Obviously, Google has scaled AdWords to a very large audience of advertisers — big, small, Fortune 500, enterprise to local. But no one has been able to do the same thing in display advertising," said Bell in an interview with AdExchanger.
But in 2008, a game-changer arrived: Advertising exchanges. In other words, tech platforms facilitated the purchasing and selling of ad space from different ad networks. With technology-driven, real-time bidding for inventory on the table, gone were the days where a media buyer had to negotiate rates with each site.
That's when retargeting — which at the time was a tool limited to major companies and agencies — became more accessible to brands. Excited by the potential of retargeting, the team jumped on this new technology, immediately bringing tremendous success to their small and mid-sized clients. In fact, it only took a few hours of running retargeting campaigns for them to see a boost in conversions.
With this winning formula, AdRoll pivoted away from functioning as an ad network and toward building a large, scalable platform for retargeting — one where any client company, no matter how large or small, would find useful. The team landed on a software as a service platform: user-friendly, automated, with budget-friendly pricing tiers.
Since then, we've significantly expanded our product offerings beyond retargeting. Want to launch cross-channel campaigns spanning email and social media? AdRoll has you covered. Need an analytics dashboard to see how all your campaigns are working together to drive sales? We've got that, too. (Read on to see everything we can do for you.)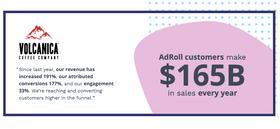 In 14 years, we've revolutionized the digital marketing industry by growing into an all-in-one ecommerce marketing platform that empowers direct-to-consumer (D2C) brands to attract, engage, and delight customers wherever they are in the world (and in your funnel). That's one of the reasons why we were crowned one of the U.S.' seventh fastest-growing private companies in 2013 by Inc. Magazine.
Today, we operate five global offices servicing more than 120,000 brands(and counting!) — and our customers earn a combined $165 billion in yearly sales.
I Like the Way You Roll
Maintaining a close relationship with our customers continues to serve AdRoll well. We think it's one of the main reasons we found success in the first place. Shortly after we closed our first round of fundraising in 2007, disaster struck — global financial services firm Lehman Brothers crashed, triggering an economic collapse.
It was a blessing in disguise for the AdRoll brand, though. The team used this opportunity to focus on improving our product, rather than spend on marketing and chase after sales. We doubled down on the few customers we had at the time and asked them what their priorities were during the downturn. The consensus? Return on investment (ROI).
Our clients told us that they wanted to "spend a dollar and make five dollars in return," which led the team to expand AdRoll into something more than just a regular ad network.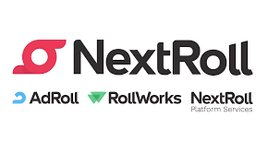 Similarly, with a firm grasp of who our customers are, we decided to undergo a massive restructuring in 2018 to meet their needs better. Thanks to our success in helping small and mid-sized companies reach new heights, we began to see significantly more demand in enterprise-level and Fortune 500 business accounts.
Rather than compromise our ability to help our customers achieve their unique goals, we decided to debut a new division, RollWorks, which focuses on business-to-business (B2B) growth and account-based marketing. Meanwhile, the AdRoll platform would remain dedicated to supporting ambitious ecommerce and D2C brands. Given the increasingly divergent needs and best practices for B2B and D2C companies, this was a strategic decision that has helped us grow better than ever.
With customers at the heart of everything we do, two massive parts of our marketing strategy are celebrating their wins and empowering them to be more successful marketers and entrepreneurs. That's why we:
Launched the Guerilla Growth Collective, a global, free-to-join community for D2C ecommerce marketers. Membership unlocks valuable networking opportunities, actionable resources, a dedicated Slack group, virtual and in-person events, and various workshop series. It's a fantastic way to expand your ecommerce knowledge and become a better marketer.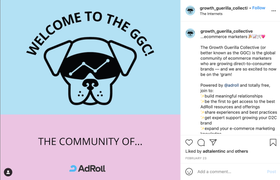 Content That Rocks 'N Rolls
If you're a regular devourer of AdRoll's content, you've probably realized that we create a lot of it. Blogs, ebooks, podcasts, guides, workbooks, and webinars make up a serious portion of our inbound marketing strategy, helping us introduce the AdRoll brand to more companies than ever before.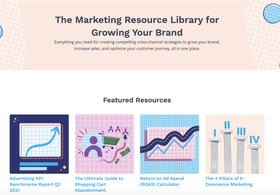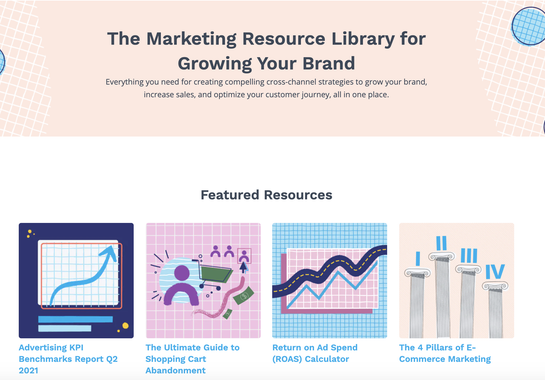 If it sounds like a lot of work, we're not going to sugarcoat it… it really is. However, the key to our success is our all-star team who, together, has built a scalable and repeatable program. Here are some other tips that have helped us turn our content creation process into a well-oiled conversion machine:
Provide relevant and timely updates. In light of the various iOS updates that can majorly shift our approaches to digital marketing today, we noticed a lot of confusion and panic from our customers (especially smaller brands who may be lacking the resources to completely uphaul their existing strategy). Therefore, when building out our content calendar, we always try to stay one step ahead of any major industry changes by providing genuinely helpful information and next steps, so our audience has the time to prepare and react methodically. No more scrambling!

Experiment with different formats. Some people like to read, while others prefer listening or watching. There's no right or wrong way to consume content — it's whatever floats your boat. That's why we try to repurpose everything we create in as many different formats as possible to reach our audience in ways they prefer. Similarly, we've been trying to make our content experience less passive by mixing things up with worksheets and DIY templates — it's a lot more fun when you get to interact with ideas directly.
Find industry partners. Reading the same thing from the same person over and over again can be tedious. While we're an industry leader in specialties like retargeting, we admit that there are some aspects of digital marketing where we're not the frontrunner. This is where partnerships come in: If you've noticed blog posts written by industry peers, such as this one by Tim Peckover from Smile, that's because we've made it a priority to elevate the expertise of other leaders in the marketing space and provide a different perspective to our audience.
Search engine optimization (SEO) is key.Before we go about creating anything, we make sure to conduct proper keyword research. We also continuously monitor our existing posts to find optimization opportunities, whether that's updating outdated information or adding new keywords — that way we're doing everything possible to ensure people can easily find our content through search.
Our Products? They're on a Roll
AdRoll has (pardon our pun!) always rolled with the times to great success. Transforming the company from an ad network to a retargeting giant to an all-in-one ecommerce marketing platform hasn't been easy. Our ability to evolve is rooted in prioritizing our product — investing in research and development, hiring top engineers, and using data to inform the next steps.
This has proven to be especially important in recent years due to the nonstop changes and fickle nature of social media platforms — nobody wants their entire product to be derailed by, say, one simple Facebook algorithm change.This is why we've partnered with the 40 largest platforms to ensure that our advertisers are able to find their customers anywhere. Additionally, our company culture has always been about moving fast and remaining nimble. The name of the game is staying updated and pushing innovation with new marketing technology, keeping customers ahead of their competitors.
Maybe an opportunity to say "that is why we partner with the 40 largest platforms to ensure that our advertisers are able to find their customers anywhere".
With machine learning (that analyzes real-time performance advertising data) powering the entire AdRoll platform, our customers always put forth the most effective marketing possible. Here are some ways we help brands connect with shoppers and reach new heights:
TL;DR: AdRoll is more than just ads. Our comprehensive offerings that cover everything your brand requires for success — from product recommendations to performance tracking — mean that a) you can streamline your MarTech stack, and b) all your touchpoints are guaranteed to work hand-in-hand with one another.
Being a "Roll" Model
With so many challenges, possibilities, and opportunities, one factor that keeps AdRoll focused is our clear objective: helping brands of all sizes to grow.
Given the discrepancies in budgets and resources, the ecommerce playing field has never been fair. Yet, here at AdRoll, we believe that every business deserves an equal chance to succeed. That's why it's so important for us to make it easier for brands to challenge established companies and build their businesses from the ground up by democratizing the ecommerce space — this goal is infused in every new feature we launch, every marketing message we push, and every customer we spotlight.
The Roll-Up
AdRoll, one of the world's largest ecommerce marketing solutions, has helped hundreds of thousands of brands find the right audience, engage with them, and drive sales to unprecedented heights. While you may not be selling a technology product, you can take these learning lessons and become a leader in your industry:
See the bigger picture. It can get easy to be caught in the weeds of the daily tasks required to run a business. But take a moment to pause and ask yourself: Why are you doing this? What do you hope to achieve? With these answers in mind, think of the bigger picture. Are there potential new opportunities to get one step closer to meeting your objectives?
Care about your customers. Customers are everything. Rather than treat each sale transactionally, consider it the beginning of a new relationship. Getting to know each and every one of your customers will provide you with tremendous insight into what they're looking for, what they need, and how you can help them.

Stay nimble, but don't be afraid to go big. While you may have a fantastic business today, times are changing fast. Be Netflix, not Blockbuster. It's always better to stay flexible and agile. At the same time, don't be afraid to pivot your business if a new opportunity arises — just know when to take a risk and go big.
Last updated on October 17th, 2022.