6 Ways to Improve Your Display Advertising
Topics Covered:
While display advertising is a super easy tactic for marketers to get started with, there's more to them than just designing a banner, submitting it to ad networks, and hoping for the best. With how many ads there are today, it's become increasingly clear that display advertising needs to be more targeted, personalized, and dynamic than ever before.

When it comes to this ad type, a few best practices are guaranteed to help you generate more impressions, clicks, and traffic. Luckily, you don't need to figure them out yourself — we've compiled them into this list to help you get your display advertising noticed by the crowd. Let's go!
What is Display Advertising?
Display advertising is the creation and launch of an ad that appears on a website or app, typically as a static image, animated slideshow, or video banner. When clicked, these ads bring shoppers to a dedicated landing page or a brand's site. It is one of the most cost-effective types of advertising available today; with it, brands can quickly and inexpensively reach an enormous audience across many online channels.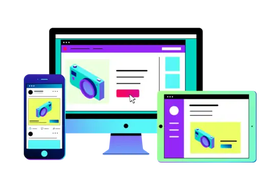 6 Tips to Improve Your Display Ads
Tip 1: Be Creative (Then Test It!)
When was the last time you clicked on a display ad? We're gonna bet that it probably had an eye-catching headline, image, or offer. With shoppers being conditioned to ignore marketing messages that disrupt their online activity, brands looking to stand out from the noise need to be more creative and engaging than ever — nobody wants to be blasted with irrelevant, generic, or even annoying ads.

Here are a couple of ways to craft fantastic display ads that draw shoppers in:
Wildly creative content that is not rooted in concrete trends or insights is also a ticket to low ROIs and a wasted budget. For your display advertising to work, you need to fuse your creative ideas with high-quality data — always test your creative ideas (images, messaging, CTAs, etc.), read the results, and implement changes based on what you've learned. Read the intro to A/B testing in marketing here.
Tip 2: Keep It Simple
The key to a successful display ad is a balance between creativity and simplicity. While you want to capture a shopper's attention as they scroll through a site, you also don't want to overcomplicate your message with too many images, colors, fonts, or information that may distract them from what you need them to do next.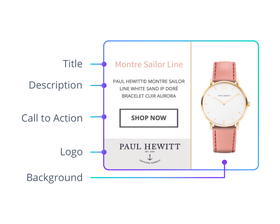 Instead, keep your ads relatively clean and straightforward, and focus on your primary CTA (e.g., "Grab It While It Lasts!"). Similarly, try to limit your ad to one or two lines of relatively short and concise text.
Tip 3: Master Your Targeting
Who are you trying to reach with your ads? Current customers? New shoppers? People who love a good sale? The more specific you are, the better. Finding the right audience will help you maximize your budget. Remember: targeting is the key to success in any type of advertising.
When it comes to targeting, we recommend a mix of these two approaches:
Contextual targeting involves placing your ads on sites that are the most relevant to your products and brand. This means you're not tracking your target audience's behavior.

Audience targeting involves serving your content to specific people based on their demographics, psychographics, and behaviors. It requires data collected from cookies.
Tip 4: Use a Retargeting Strategy
Nothing brings a new consumer to your site faster than display advertising with content that speaks directly to their needs, wants, and interests. Why chase a completely new shopper when you can go after someone who has already visited your site and browsed your product catalog?
Cue retargeting ads — a beloved tactic that can help you boost the performance of your display advertising by serving ads to people who have already shown an interest in your brand. 

Retargeting leverages cookies to serve relevant and personalized display ads to shoppers that entice them to return to your site for more. In terms of visuals, they typically include products the shopper added to their cart or clicked on. These can be paired with a bonus offer, copy that reiterates the value proposition, or messaging that reduces the purchase risk — anything that will encourage shoppers to give your brand another chance.
Sounds too good to be true? Retargeting is not as high of a mountain to climb as you may think.
Tip 5: Capitalize on Social Proof
In the age of influencers and reviews, social proof is extremely powerful when paired with display advertising. It provides context and reassurance about your brand that makes shoppers more confident — after all, it's evidence that so many other people have experienced good things with your products.
You can include social proof in your banners in several ways, including:
Featuring your most compelling five-star reviews or testimonials


Including logos of awards you've won


Adding a publication's or celebrity's glowing review of your product


Displaying the number of shoppers on your site
Tip 6: Optimize for Mobile
Ever see a display ad on your phone that clearly wasn't designed correctly — maybe the sides were cropped or the text was too small to read? While ad networks can automate many processes required to launch display ads, some tasks (including resizing) still need a manual touch. Unfortunately, a failure to optimize for mobile devices happens all too often, transforming even the most perfect ad into a waste of resources.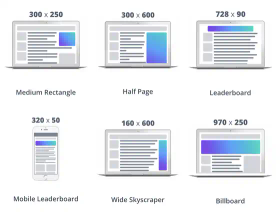 Every display ad should work across devices by being responsive to different screen sizes. Even better, they may leverage copy, images, and other creative elements geared toward mobile interactions — for example, your mobile display ad may launch your branded app (if they already downloaded it) rather than open their web browser.
Go Forth and Get Displaying
With these tricks, you're one step closer to generating more engagement, clicks, and conversions — how exciting! Here's a final pro tip: Pair your display ads with marketing emails, and you've got yourself a winning formula. (In fact, we've found shoppers targeted with both are twice as likely to convert.)

For more best practices on other types of marketing (we're talking emails, social media, and even "old-school" tactics like direct mail) that can help grow your brand, we've got everything you need in the resources below.
Last updated on March 29th, 2023.