Best Practices for Creating Responsive Display Ads
Topics Covered:
If you've spent any time in the world of website design or digital marketing, there's a good chance you've come across discussions related to responsive design. Responsive design is web design that can adapt to render in different sizes and formats. It provides a cleaner, more seamless web experience for users by adjusting to the dimensions of the user's device, browser, and window size. In today's world, responsive design for websites is the norm.
In recent years, responsive ads have become an essential part of the digital marketer's toolkit, largely due to their expansion on the Google Display Network. This was part of a shift away from text-based ads toward more visually oriented formats. Google introduced Expanded Text Ads in 2016 but began phasing them out in 2018 with the introduction of Responsive Search Ads, which have continued their takeover as the primary display ad format.
What Are Responsive Display Ads (or Responsive Search Ads)?
The principle is the same as responsive web design — creating ads that fit a wide range of formats and display opportunities. However, responsive display ads are primarily helpful to marketers because they make it easy to show ads in as many places as possible. Essentially, responsive ad design allows marketers to develop creative (headlines, text, and imagery) in various sizes and formats so their ads will display wherever space is available, without being restricted by matching formats or ad dimensions. This means more ad placements, higher clickthrough rates, and stronger overall engagement with users. 
In short, your ecommerce brand should likely use responsive ads. Let's run through a few critical best practices for designing and publishing responsive search ads.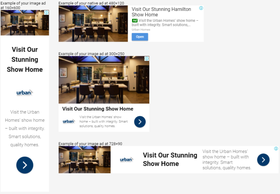 Responsive Display Ads: Best Practices
Best practice #1: Use headline and text variants to your advantage
One of the most valuable aspects of responsive ad design is that you have several opportunities to get your message across with headlines and descriptions. Here are the text parameters for responsive search ads on the Google network:
Short Headline: 25 Characters

Long Headline: 90 Characters

Description: 90 Characters

Business Name: 25 Characters
Note that the two headline fields will not display simultaneously on the front end for users, which means that you can simply use them to reframe your message rather than trying to pack more information into each headline field. Because the description field will always display when there is a headline, it's crucial to differentiate headlines from the description to maximize the amount of content you can show potential consumers.
Pro tip: Putting a clear CTA (call to action) in your headlines (especially the Long Headline) is an excellent way to ensure that even if all the user sees is a headline and an image, they're still receiving the primary message you want to convey. 
To best capitalize on the text tools provided through responsive search ads, you should be providing as much content as your time and resources allow. Responsive ads will enable you to write 15 different headlines and four descriptions, resulting in many potential headline and description combinations. This is excellent news for marketers trying to collect data to refine and improve campaigns.
Best practice #2: Consider image guidelines
There are a couple of things to keep in mind when you're creating and formatting images for your responsive display ads. 
First, it's essential to remember that your images will adjust in size (and possibly framing) according to where they are placed. If your image is published in a large ad space, such as a horizontal banner, users will be able to see much of the detail in the photo — but in a smaller format, like a thumbnail ad, the image will be much smaller too. That means it's harder for users to tell what the image is intended to convey. To avoid confusing web users, select images that are easy to comprehend and absorb even at their smallest size.
Next, marketers should do their best to fill out every image field provided by the responsive ad publisher. If your goal is to reach as large an audience as possible in every corner of the internet, you should design creative for every format and size available. This ensures that your ads will be placed where there is space — if you omit some sizes or ad formats, you could miss opportunities to reach customers with your message.
Third, avoid using text in your images. This is a pretty standard rule across all display ad platforms and publishers, as today's search algorithms tend to penalize ads that feature images with prominent text. As a rule, the text should take up no more than ⅓ of an image, but in the case of responsive ads, it's best to avoid using text in images entirely. You have plenty of headlines and other text fields to fill out that will help get your message across.
Finally, avoid overprocessing your images. The idea is for your ads to be as readable as possible no matter where they're placed or in what format, so clarity is essential. Don't add filters, logos, buttons, or any other kind of overlay to images when creating responsive ads.
Note that most responsive ad publishers accept only JPG, PNG, and GIF (not animated) for image formats. 
Best practice #3: Take advantage of the data
On top of being a great way to get your ads in front of as broad an audience as possible to reach more customers, responsive display ads are also valuable for testing and refining campaigns. Because the publisher will automatically publish your ads in different combinations of headlines, descriptions, and images, you'll have a clear understanding of which approaches work best with your brand's particular target audience. 
The data and results of your campaigns are also helpful for remarketing purposes. You can easily set up responsive display ads to retarget customers based on their previous browsing or buying behavior, presenting them with personalized content that keeps them engaged with your brand.
To Wrap Up
There is no perfect way to run responsive ads. The strategy you choose will be unique to your business and audience. The beauty of responsive ads is that they help you learn the best approaches for your brand at any given time. By providing a variety of creative elements (i.e., headlines, text, images), you can set up campaigns to appear across the internet for your most valuable customers. Responsive display ads will help your company expand its audience, while the results will enable your team to improve and refine your marketing strategy.
Last updated on December 6th, 2021.