Display Ads: A Worksheet to Set Up Your First Campaign
Topics Covered:
Want to grab shoppers' attention with irresistible banners? What about convert website visitors into paying customers with next-level social media ads?
Say hello to display ads, a powerful way to boost brand awareness and increase sales. Here's everything you need to know before you embark on setting up your first campaign. 
What Are Display Ads?
Display ads are a form of digital visual advertising that appear on webpages and apps. They're one of the most versatile types of digital marketing in terms of format, size, and placement:
Retargeting ads re-engage shoppers who already interacted with your site, such as existing customers or cart abandoners

Native ads resemble other content on a publisher's site (e.g., a news article)

Social media ads on Facebook or Instagram

Interactive ads — such as playable, poll, or lead form ads — to boost engagement

Video, gif, or animated ads that use movement to grab attention
With the limited amount of digital real estate available to brands (and the colossal number of companies vying for shoppers' attention), display ads are typically sold on an auction basis. But for low-competition keywords and sites, display ads are still affordable for brands with limited budgets — especially when using a tool like AdRoll. 
Feeling overwhelmed? We created this handy worksheet to keep you organized and calm as you navigate through the process. Save this template, fill out the relevant sections, and keep it nearby as a reference once you begin to launch display ads. 
You'll want to fill out a new sheet for every ad you plan to launch — even if it's the same ad in a different size!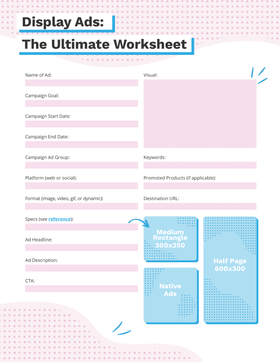 Last updated on April 7th, 2022.