How AI Audience Targeting Can Build an Epic Brand
Topics Covered:
Greek philosopher Socrates famously coined the phrase, "Know thyself." Since ancient times, it's been a call to know who you really are and to stay true to those values in order to lead an optimal life. But for brands, this is only half the battle. 
The U.S. alone has more than 380 million consumers. Research shows their attention span averages eight seconds, so getting your brand message across to the right consumers can be a real needle-in-a-haystack situation.
Lucky for you, AdRoll offers sophisticated audience targeting through our AI technology, which uses your first-party high intent customer data to create awareness and show the right ads to the right user at the right time — and that user may just become your new best loyal customer who drives higher customer lifetime value (CLVT). Check out our ultimate guide to building a brand!
Here's how our tools can help your brand become one for the ages:
Let Customers Show You What They Want
It starts with activating a unique marketing pixel on your website to track site visitors and activity. It's seamless; our pixel loads asynchronously and does not interfere with load times. In addition, easy integration with e-commerce platform Shopify will predict smart audiences for enhanced audience segmentation that can be used for newsletter, email, and retargeting campaigns. This pixel also integrates with CRM platforms like Marketo, Salesforce, and HubSpot to allow users to easily sync their existing audiences.
Once the pixel is connected, audience insights start to appear on the AdRoll dashboard, such as who visits your site and what they are doing. Then, our customers receive strategy recommendations on how to maximize their budgets most effectively and reach their audiences with a more meaningful and personalized approach, using the right ad content, between new and current audiences. Meanwhile, the pixel begins understanding how consumers interact with a brand and how this may impact future ad campaigns.
Draw Insight From Audience Behavior
Data collected by the pixel will provide a granular view into your audiences and site browsing behaviors, such as those who have visited product pages, abandoned their shopping carts, and browsed multiple pages. This data allows us to intelligently bid on the right user at the right time at the lowest possible cost and find new audiences who behave similarly.
The pixel also collects data on the devices consumers are using, such as desktop or mobile, as well as details like location to get a better idea of who exactly these consumers are. This helps brands approach and reengage customers and prospects more strategically.
AdRoll clients can pull customer emails from manual CRM lists and marketing platforms, including Constant Contact, Mailchimp, and seven others to convert existing email lists into targetable audiences. This allows you to turn those lists into audiences you can reach across channels to create personalized, consistent experiences. By engaging with the most relevant ad content based on your audience lists, such as past purchasers, you can display a loyal customer discount code that drives higher average order values. You can also develop new audiences based on singular behaviors like URL visits, goal completion, or pages viewed to get even more specific based on your brand's unique goals. Plus, new composite audiences allow users to create audiences based on multiple conditions, like URL visits, pages viewed, and CRM email lists.
Once consumers are grouped into audiences, customers are free to choose how long they want to keep those customers in specific groups. For example, you may only want to keep a consumer in a high-intent audience for a couple of days, while visitors who viewed at least one page on your website may be kept in a duration for a month or longer.
As our customers begin to learn more about their audience behaviors, they are armed with powerful customer data and granular insights to help with optimization techniques to build more strategic marketing campaigns through ads and email as they grow.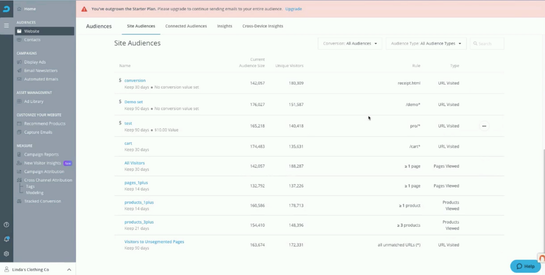 Get Ready to Make an Impact
Unlike something concrete like conversions, brand awareness is more fluid and, therefore, harder to measure — and quantifying the impact of brand awareness is even murkier.
With a marketing platform that provides full-funnel attribution, like AdRoll, you can visualize the customer journey and assign credit to channels, and receive an in-depth view of the long- and short-term impact of your campaigns on performance — including brand awareness.
AdRoll offers three brand awareness strategies to drive high-quality new users to your website to learn more about your brand and can then be reached by your retargeting campaigns:
Contextual targeting: Showcase your brand alongside content that your ideal customer is interested in, such as fashion and beauty, business and finance, technology, or home and garden, plus 23 additional categories, and your ads are displayed on our partner sites specific to your industry.
Demographic and interest targeting: Use demographic details about your ideal customer, such as age, gender, and interests, to find new audiences with matching characteristics.
Lookalike targeting: We take pixel data and audience segments from your site to identify your highest intent shoppers — or those adding items to their carts or actually buying — and match to our data co-op filled with 1.2 billion digital profiles, which then helps us identify audiences that look and act like your ideal customer across the web and social platforms to bring in high-quality new customers to your site.
The latter is what really sets AdRoll apart. We've been building our proprietary AI since 2006 and extending our reach to millions of websites and mobile apps, including Google, Yahoo, and AOL, so you can understand and attract more customers to your brand.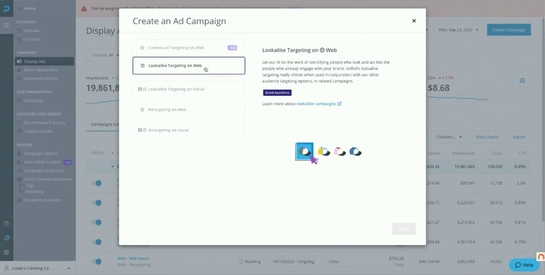 Tell the Brand Story of the Ages
Brand awareness is a particular challenge for emerging brands, especially those that don't have the widespread recognition of name brands. That's where tactics like video, segmented messaging, and dynamic creative come in.
AdRoll makes it easy to create brand awareness campaigns with video, display, native, and social ads that have wide-reaching impact, thanks in part to the aforementioned ad networks and exchanges.
We also offer new visitor insights. These help you understand and focus on new visitors generated from brand awareness campaigns. With new visitor insights, you get an inside look into how engaged they are, how many pages they're browsing, and what their bounce rate is. All of this enables you to gauge the value of new traffic, so you can adjust where you're advertising and who you're targeting.
In addition, our e-commerce marketing platform breaks down barriers between publishers and platforms, allowing you to quickly and easily launch and analyze cross-channel campaigns and connect with more consumers who will love your brand just as much as you do.
You can then layer on advanced options with multiple ad groups, such as consumers who added items to their cart or browsed more than three pages or three products. Choose a start and end for this and any other ad groups, and you're ready to go. You can also use this as an opportunity to test what messaging and content resonates with specific users based on your budget, helping to identify which campaigns drive the most sales and highest ROI.
Look at the Bigger Picture
Under the Campaigns tab, you'll see a snapshot of how all your campaigns are performing. You can also personalize the performance graph based on the metrics you want to see, including click-through rate, cost per acquisition, or video completion rates.
You can pinpoint the types of campaigns and view each individually to analyze performance. Our algorithm does A/B testing for you and serves ads that perform best. As campaigns optimize, your ads automatically optimize, too — giving you the chance to pause underperforming ads. You can also create ads that look similar to high-performing ads with specific calls to action.
Next, check out specific channels to see daily budget and optimization strategy. You select your ideal metrics when you create a campaign, such as impressions or cost per click if they're looking to boost brand awareness, or cart abandonment clicks, conversions (CPA), or impressions, if your primary goal is retargeting. By building those campaigns, you're telling AdRoll's AI how to optimize, and it automatically bids on ad space on your behalf, at the lowest possible cost, to get you as close to those metrics as possible.
A successful brand awareness campaign does more than just get attention — it's about finding the people who need you. Ready to get more customers like your best customers? Let AdRoll be your bard. 
[amp-cta id="6967"]
Last updated on December 2nd, 2022.