Topics Covered:
Becoming an effective marketer requires a special set of superpowers: You need to be creative, strategic, analytical, and organized — all at the same time. Sure, there are numerous data-driven and AI-led tools at our disposal to streamline many of our daily tasks, but it can be just as difficult to balance every marketing platform, each with its own rules and best practices.
Still, the road to ecommerce success is clear — that is, if marketers take the time to lay the proper groundwork. And it all starts with selecting the right tools for growing your brand, rather than scrambling to clean up your marketing stack months, or even years, later. 
With that comes another marketing tool showdown: We're comparing our platform to Taboola, plus answering some of the most-asked questions and providing must-know tips and strategies. 
What Is AdRoll?
We're a comprehensive marketing platform designed to help growing brands achieve their ecommerce goals. Powered by AI and machine learning, our cross-channel solutions are expansive, spanning retargeting, display and social media ads, emails, UTM tracking, brand awareness, abandoned cart recovery, and performance analytics, among other features.
When you sign up for our platform, you immediately unlock access to more than 200 leading ad networks, plus 2 billion monthly social media users.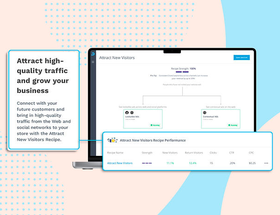 What Is Taboola?
Taboola uses AI-driven native ads — which are ads designed to resemble articles and pieces of content next to them — to help companies reach new audiences during the shopper journey, from discovery to conversion, while ensuring brand safety. Thanks to its partnerships with various digital publishers, such as NBC News, MSN, and The Weather Channel, Taboola brands itself as the world's largest discovery platform.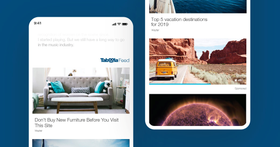 Taboola is best known for its Around the Web and Recommended for You sponsored links and ads — think of the headlines that go something like, "Jeff Bridges' Magnificent Home Is Beyond Stunning." 
The platform is mostly used by content publishers to encourage users to check out more articles on the same site or to drive higher revenue for referral traffic.
Comparing AdRoll and Taboola
AdRoll vs. Taboola: Pricing
Nobody likes talking about money, but pricing is one of the largest considerations when building a marketing stack. 
AdRoll
The Ads plan is perfect for small but mighty brands who only want ads. You'll never pay more than your monthly advertising spend maximum. The Marketing & Ads Plus plan (starting at $36 per month) is a go-to option for those looking for more advanced and custom features.
As for digital ad costs, we use a CPM-based dynamic pricing system. The good news is after launching a campaign, you can still tinker with your budget. 
Pro tip: Not sure what you should set as the ideal budget for your ad campaign? Check out our free ROAS calculator — plug in the necessary details, then receive immediate budgeting recommendations, complete with comparisons against industry benchmarks.
Taboola 
Though getting started with Taboola is free, customers report average cost-per-clicks (CPCs) hover around $0.6 for native desktop campaigns and $0.3 for mobile ads. Taboola also requires a minimum campaign budget of 30x your bid — so if you place a $0.5 bid, your minimum budget must be $15. However, Taboola recommends brands set a daily minimum budget of $50 for a better chance at reaching their campaign goals. 
AdRoll vs. Taboola: Key Features
AdRoll and Taboola both offer advertising capabilities, but we differ significantly in terms of specific features available to marketers and brands.
AdRoll
Our simple self-service platform allows you to launch, manage, measure, and optimize various ad campaigns while enjoying total control over your budgets, bid strategies, and campaign goals at all times. With our ad solutions powered by machine learning and AI, you're guaranteed to receive positive results.

Some campaigns you can quickly add to your marketing mix with our platform: 

Display ads — personalized, dynamic, retargeted, static, video, and GIF 

Facebook, Instagram, and other social media ads (we're is an official Facebook partner)

Emails for any marketing need you can envision, from sending promotional offers to requesting reviews from recent shoppers

We offer a library of pre-made and optimized ad and email campaign templates that can significantly reduce your production time and costs. 

Our bulk uploading feature makes creating new ad campaigns as straightforward as possible. Instead of individually uploading web ads, then Facebook ads, then Instagram ads, you can upload all your creative in one go, then customize each one on the dashboard. 

Our remarketing and retargeting tools allow you to recover abandoned carts and engage with existing customers. 

Our robust audience targeting tool lets you create custom audiences, audience segments, and lookalike audiences to deliver more relevant marketing messages across all your efforts. 

Strapped for time? Use our beginner-friendly marketing recipes to organize and manage your multichannel strategy. 

You can even level up your ecommerce site by:

Plugging in an AI-led product recommendation carousel 

Focusing on your first-party data collection with an email sign-up pop-up builder

Review and optimize your marketing strategy using our cross-channel performance dashboard. Not only can you clearly see all the metrics related to your marketing efforts across the entire shopping journey, but it'll also provide personalized recommendations on optimization-related next steps.

Plus, enjoy advanced conversion tracking after selecting your desired attribution model (e.g., first vs. last touch).

We're partnered with various ecommerce providers:

Need help? We provide a 24/7 chat and email customer support team.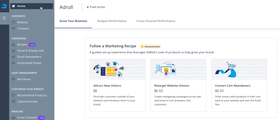 Taboola
Native ads launched using Taboola are displayed on thousands of websites and apps within its publisher network, most of them news-related. 

The platform allows you to easily launch native ads and set campaign goals, from driving sales to generating leads to boosting awareness to increasing site traffic. 

You can also target specific customer segments based on demographics, behaviors, and interests. 

Taboola customers receive access to a comprehensive dashboard with key insights and performance suggestions on how to achieve better results.

Taboola's Smart Bid tool helps place optimized bids without guesswork, so you can get more effective placements at a lower cost. 

Similar to our platform, Taboola offers accessible customer support via multiple channels.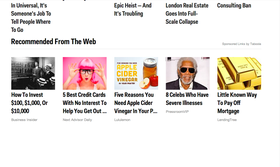 Both platforms provide marketers with the tools to launch great ads, including:
Simple advertising management, where users can set up targeting, set bids, and optimize for results in an easy-to-use interface. 

AI-powered solutions that use data on shoppers' interests, demographics, and behaviors to recommend the right ads to the right people at the right time. As the algorithm collects more data on which ad formats, creative, and targeting drive the most clicks, it adjusts the delivery to optimize for effectiveness. 

Audience targeting tools that help brands expand their reach. Campaigns can be targeted based on audience segment, location, time, and browser type, among other characteristics.  

Clear, accurate analytics that cover the entire shopping funnel. 

Great customer support to help marketers address any questions they may have about their campaigns or the platform itself. 
Similarities aside, there are three significant differences between us ad giants:
We'rean all-in-one ecommerce solution. Beyond helping you launch ads, we offer significantly more, including emails, retargeting, and UTM management. For growing and established brands looking to clean up their marketing stack or reduce their MarTech costs, having a one-and-done platform is a huge advantage — rather than subscribe to half a dozen unique solutions that target one small piece of the pie, your AdRoll subscription can cover most, if not all, of your advertising needs. Comparatively, Taboola only offers native advertising capabilities. 

Because we're a one-stop solution, we offer more detailed, actionable data and insights for attribution and customer journey tracking. For every campaign, you can pinpoint exactly how shoppers interacted with your marketing touchpoints — they may have seen a display ad, liked a Facebook post, received a dynamic mobile ad, and clicked on a Google ad before eventually converting. This reporting transparency ensures the different platforms in your marketing mix aren't all claiming credit for the same conversion. It's the best way to identify your top-performing touchpoints and adjust your strategy. 

Our app for Shopify and Shopify Plus merchants allows you to seamlessly measure the impact of your marketing efforts. Comparatively, Taboola requires manually integrating a Pixel code to your site's back end for tracking event-based actions. While this is relatively straightforward for stores built on BigCommerce and Shopify, it gets trickier if your site is coded in a different language — you might need to hire a web developer to implement these code changes.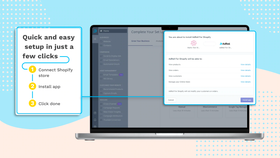 AdRoll vs. Taboola: The Final Verdict
When you're researching how to begin with digital advertising, Taboola and AdRoll are two platforms you'll quickly stumble upon. However, each has its own pros and cons depending on where you are in your ecommerce journey, what you're looking for in a marketing solution, and what your company's goals are.
Whether you're a startup or an enterprise-level brand, we're worth your attention — our transparent and affordable subscription plans, alongside our range of features, make it an attractive option for those looking to get more done with their budget.
Plus, by combining ads (web and social media) and emails into a single platform, we ensure you're delivering a well-rounded marketing experience for shoppers everywhere — which can boost conversion rates by 2x!
Though there's no doubt Taboola offers a powerful native advertising solution to marketers as well — especially for those looking to promote their brands on popular news websites worldwide — its pricing recommendations make it more appropriate for content publishers or brands with larger budgets and bigger audiences. Given its lack of integrations with some ecommerce platforms, getting started with Taboola will require some expertise or third-party assistance.
It's clear: There's nothing quite like our affordable yet powerful and comprehensive platform. Ready to learn more about how we can help grow your sales and turbocharge your marketing efforts?
Last updated on July 28th, 2022.