Topics Covered:
If you're a digital marketing professional hoping to grow a brand of service, selecting which ads platform to use can be challenging. As the world of digital advertising has become more complex, so have the platforms that give brands the tools they need to refine strategies and attain strong returns on their marketing spend. 
The choice often comes down to two major competitors: Google Ads and AdRoll. Let's run through both marketing platforms to explore how each might help you reach new audiences, boost engagement, and grow your brand!
What is AdRoll?
We're a marketing platform that helps brands and marketing professionals turn shoppers into customers, whether your goal is to grow  brand awareness, drive conversions or increase customer lifetime value. With a convenient digital marketing dashboard, monitoring, and optimizing your campaigns, we've helped thousands of ecommerce businesses evolve their marketing strategies and increase revenue.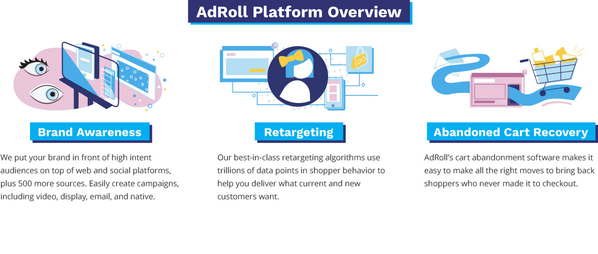 What is Google Ads?
Google Ads' vast display network makes it possible for marketers to engage with potential consumers in almost every corner of the Internet. With Google advertising, your brand can rise to the surface on search results pages through various tools for collecting and analyzing data to improve campaigns.
Comparing AdRoll and Google Ads
AdRoll vs Google Ads: Pricing
Pricing is a critical element of any decision for a growing brand, especially ecommerce sellers just trying to break into the marketplace. Here's how the price differences between us and Google Ads shake out.
AdRoll: 
We price ads dynamically based on CPM, so costs reflect the true value of the inventory at the moment. Budget can be allocated to individual campaigns and can be changed at any time. We also provide a handy ROAS calculator to help you determine the appropriate budget amount and estimate return based on the business's nature.  

As a marketing and ads platform, we also offer monthly subscription plans starting at $36/month that include marketing Recipes, which use a combination of ads and email to automate cart abandonment and retargeting. Additionally, subscribers can simplify by connecting their Facebook, Instagram, Pinterest and TikTok ad managers to AdRoll's social media advertising tool. Our Ads plan, on the other hand, offers display ad campaign launch, segmentation, optimization, and monitoring at no cost. After providing a few simple details about your business — including your industry and monthly website visitor count — our ROAS calculator will help you decide how much to invest in digital advertising.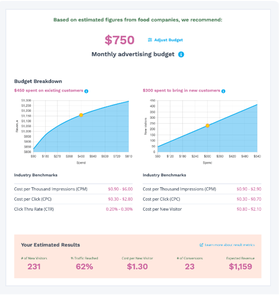 Google Ads: 
A pay-per-click (PPC) system, Google Ads uses your budget to determine pricing rather than setting monthly rates. For example, you can define your budget at $100 per month, which will prompt your campaigns to display until they have attracted enough clicks or conversions to exhaust your budget. This provides some flexibility for brands, making it easy to pause campaigns or increase ad spend on the fly. 

However, if consumers are enthusiastically clicking your ads, you might find your spending skyrocketing in a short period of time. While the Google advertising platform will never spend more than the amount you allocate, you'll want to continuously optimize your budget as the data rolls in to achieve the best results.
AdRoll vs Google Ads: Key Features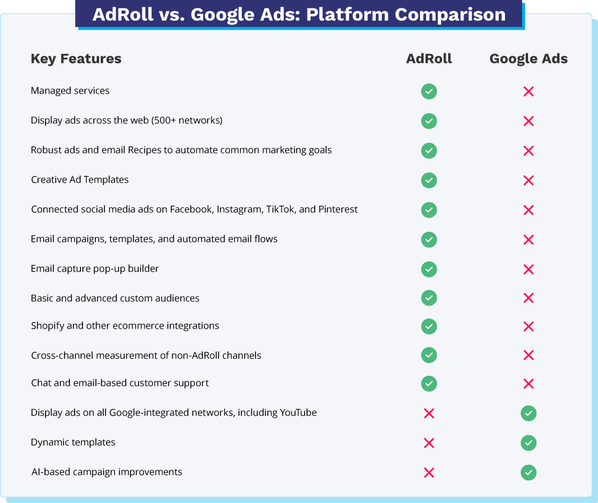 While AdRoll and Google Ads share some functionality and features, there are a few key differences. By offering a wider variety of placement and format opportunities when it comes to display, banner, text, and email ads than Google provides, our digital advertising platform makes it easier to launch, manage, and optimize all your marketing efforts in one centralized location. Our Shopify integration — as well as our capability to manage social campaigns — is also extremely beneficial for brands looking to streamline their MarTech stacks. Lastly, our retargeting and remarketing features are second-to-none, allowing brands to present consumers with messaging and creatives tailored to their shopping and browsing behavior, interests, demographics, and more.
Google Ads, meanwhile, boasts a vast display network thanks to Google's web dominance. It's also useful for putting ads on popular websites such as YouTube. Its data analysis tools are famously robust and easy to explore, manage, and report on, especially for brands with a significant amount of data.
AdRoll vs Google Ads: The Final Decision

For new brands or established enterprise-style retailers looking to develop a larger audience and streamline their funnels, AdRoll offers unmatched functionality, advanced features, managed services, customer support, creative services, cost-effective subscription plans, comprehensive retargeting tools, and, most importantly, the ability to advertise on networks that aren't part of the Google Display Network.
With an AdRoll subscription, it's easy to:
Scale and grow at a healthy, manageable pace

Develop brand loyalty and authority with personalized content

Boost your brand recognition

Simplify your MarTech stack and save costs 
Comparatively, when it comes to ease of use, Google, as one of the biggest tech companies in the world, can unsurprisingly be hard to get a hold of. While Google Ads offers similar features and functionality as our platform, it can be challenging for marketers to access on-demand customer service, which is essential for new brands hoping to grow or troubleshoot problems. 
And because Google Ads only focuses on display advertising, you'll also need additional partners and solutions to cover your other marketing needs, such as email and social media — which means you may miss out on crucial cross-channel insights. 
Long story short, while Google advertising is an undeniably useful option for digital marketing, it is best suited for larger brands that advertise to extensive, established audiences with high brand loyalty.
Bottom line: Our powerful, streamlined platform is incomparable where it matters most. Interested in learning more? Check out this guide on all things AdRoll.
Last updated on April 5th, 2023.