Topics Covered:
As a digital marketer, you're probably well aware of the benefits of a robust marketing technology stack. Today's data-driven and AI-led tools that automate everything from ads to emails can save a tremendous amount of time and effort when growing your brand. However, whether you're a seasoned marketing professional or it's your first year on the job, you've probably realized thatselectingthe best marketing tools for your company is no easy feat.
With that being said, it's time for another marketing showdown (if you haven't already, check out this AdRoll vs Google Ads post). Today, we'll compare two digital marketing giants — AdRoll vs Criteo — and take a deep dive into which one will better suit your digital ad needs. Let's dig in!
What Is AdRoll?
AdRoll is an all-in-one marketing platform built to help ecommerce brands reach new heights. While AdRoll has historically been known for its retargeting tool, its expanded offerings to various digital marketing solutions — we're talking email campaigns, UTM tracking, and consent management. And, of course, its display ads remain world-class, with customers able to access more than 200 leading ad networks, as well as reach more than 2 billion monthly social media users.
The best part? AdRoll's fantastic data analytics dashboard provides a bird's eye view of your entire customer journey, so you know how to evolve your marketing strategies and where to best invest your resources.
What Is Criteo?
Criteo is a platform that focuses primarily on retargeting display ads. It offers a range of solutions for different business goals — like boosting traffic, increasing sales, or getting more app installs — by allowing users to easily create and launch static, video, and mobile app ads. With more than 5,000 publishers in its network, Criteo users can reach a wide array of available ad inventory.
Comparing AdRoll and Criteo
AdRoll vs Criteo: Pricing
Whether you're just starting your business or are already running an ecommerce powerhouse, pricing is still probably a significant consideration in choosing your marketing partners. When it comes to AdRoll vs Criteo, here's how the numbers work out.
AdRoll
AdRoll offers monthly subscription plans that include all of its email marketing, personalization, performance tracking & reporting, and audience management tools:
Ads Plan — Pay as you go for ads
Marketing & Ads Plus Plan — Ads and unlimited email. Starts at $36/month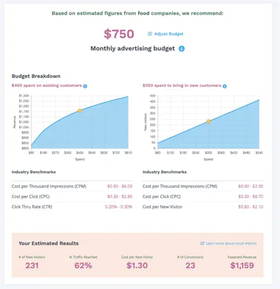 For its digital ads, AdRoll prices dynamically based on CPM. Users can change their campaign budgets at any time — and if you're not familiar with determining the ideal spend for your ads, you're in luck because AdRoll has a ROAS calculator to make things easy.
Criteo
Unlike AdRoll, Criteo does not offer subscription plans or free trials. Instead, marketers interested in the platform need to contact the company for a quote. In terms of digital ad costs, Criteo determines prices according to CPC.
AdRoll vs Criteo: Key features
While AdRoll and Criteo typically compete head-to-head in the retargeting space, that's just the tip of the iceberg in terms of what these two companies do for marketers and brands. Here are the key features of both platforms:
AdRoll
Display ads (personalized, dynamic, retargeted, static, video, GIF — you name it)

Social media ads (including Facebook — AdRoll is an official partner!)

A library of pre-made and tested ad templates in different styles, so you can easily find what matches your brand identity

Personalized email campaign builders (including sequences and templates)

Email sign-up pop-up builder

Custom audience builder

Robust targeting and segmentation tools

Recipes to help combine the power of multi-channel advertising plus email in an easy setup flow

A super detailed cross-channel performance dashboard

Easy-to-read analytics

Advanced conversion tracking

Easy integration with Shopify and other ecommerce providers

Integration with Yotpo, so you can pull ratings and reviews directly into your display ads — no extra work needed.

AI-led product recommendation carousel

Chat and email customer support
Criteo
Dynamic retargeting ads (that can be static or video)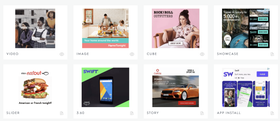 Some of the ad types Criteo supports:
Mobile app ads

A web traffic generation tool

Customer acquisition solution

Custom audience builder

An analytics dashboard

Integration with Shopify and other ecommerce providers

Email customer support
As you can see, here are the top features AdRoll and Criteo share:
The ability to set up, manage, and measure powerful ad campaigns from one simple self-service platform. Users have total control over budgets, bid strategies, and campaign objectives.

A clean and easy-to-use analytics dashboard covering all the metrics that help users calculate the success of their ads

Powerful machine-learning and AI-led algorithms that ensure users receive top results

A robust audience targeting tool for uploading your own customer lists, segmenting different audience groups, and creating lookalike audiences
Despite these similarities, there is one main difference between the two competitors: AdRoll is an all-in-one platform, meaning a subscription will cover all your marketing needs. This is especially helpful for new and growing brands who are either building or streamlining their funnels. Meanwhile, Criteo is focused primarily on helping you launch better display ads.
AdRoll vs Criteo: The Final Decision
While AdRoll and Criteo are both frontrunners in the retargeting space and tout similar features, it's clear from its unmatched customer support and variety of additional functionalities that AdRoll is well worth your attention. With its transparent and affordable subscription plans, it's a much better option for growing brands looking to stick to and make the most out of their budgets. AdRoll also has the most comprehensive attribution infrastructure, so marketers can choose an attribution model, then see exactly which touchpoints are driving clicks — it's an invaluable tool for managing your customer journey.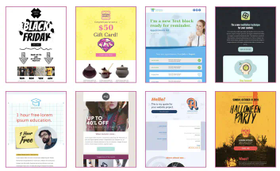 Comparatively, while Criteo is still a valuable platform for brands — they have fantastic ad inventory at relatively low cost — its pricing and tools are more appropriate for established brands with significantly larger budgets, teams, and audiences. Additionally, with some users wishing Criteo offered more transparency in terms of measurement and analytics, it's clear that mastering Criteo requires the expertise of seasoned digital marketers who can take the reins on transforming data into insights and optimization next steps. Unfortunately, for growing brands, that can mean an investment they're not able to make yet.
Interested in how AdRoll can help you elevate your marketing efforts to the next level? Explore the AdRoll Marketing Platform today.
Last updated on January 11th, 2023.