Declutter your data. Turn marketing spend into revenue.
On average, it takes about 56 touchpoints to make an online sale. AdRoll attribution simplifies this complexity by aggregating data from multiple channels and touchpoints, converting spend to revenue generation.
Get Started
Take the guesswork out of digital marketing
---
Attribution measures the impact each touchpoint has on your desired outcome, be it a sale, a download, or an account sign up. This gives you insight into campaign trends, which channels you should invest in, and much, much more.
Learn how your campaigns work together
---
AdRoll's attribution dashboard shows you how low-intent shoppers become loyal customers. Gain a clear view of your customer journey by knowing which is the most profitable conversion path, the average time of conversion, and engagement per channel.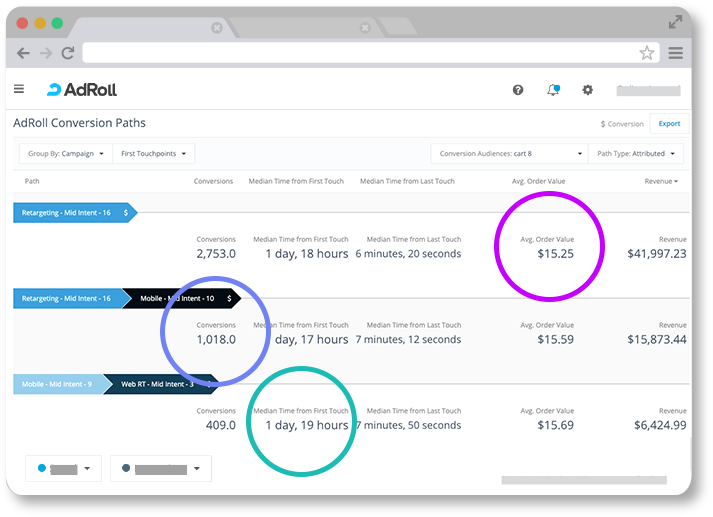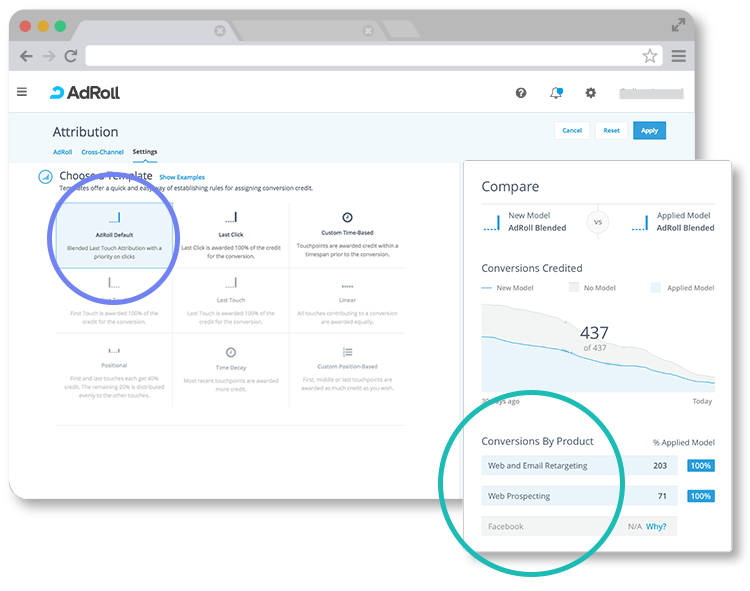 Optimize your customer journey
---
Get a complete understanding of how all your campaigns are working together to drive revenue. With a cross-channel view, you'll find top conversions paths and other insights that will help you make faster adjustments.
Uncover your campaign trends
---
Drill down into data across devices, audience segments, geolocations, and product views to spot conversion trends and uncover opportunities to optimize. These insights will help you make more informed, marketing investments.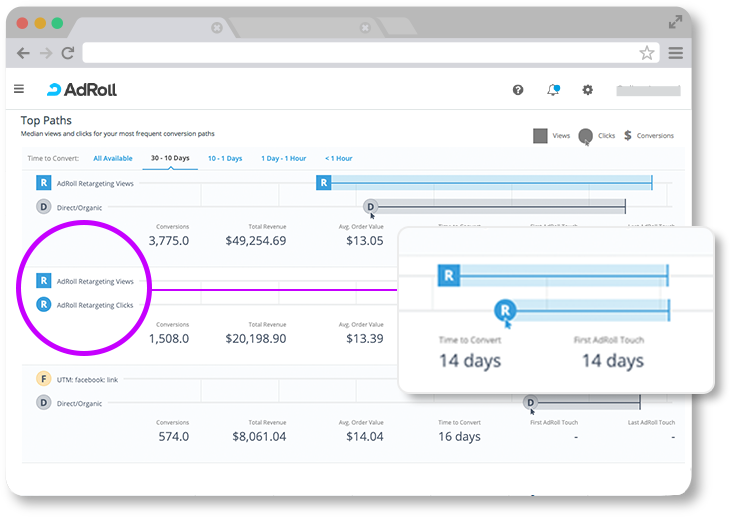 Test, compare, and improve your attribution
---
See how your model holds up against others without having to commit to any wholesale changes or investments. AdRoll gives you a safe space to explore how different attribution models define success and guides you through the process of switching.
---
AdRoll customers have generated
120 million+
shopper conversions
---
I love the fact that with whatever campaign, we can instantly see the results and understand what's working. I can dig into the why, how to improve, and get instant gratification.
Start growing with AdRoll today
Our customers average 5x return on ad spend. Don't miss out.
Start Today