How Non-Marketers Can Master Marketing Strategies with AdRoll
Oleg Giberstein
Co-founder and COO
at Coinrule

Founding a company is exciting, but it comes with a lot of pressure to know everything required to run a successful business. I'm a founder, so I speak from experience: we know how to build a product, but we don't always know how to market a product, especially if it's in a new or complex industry. And if we can't build awareness of our product, we can't expect it to go anywhere.
Cryptocurrency qualifies as a new and complex industry. There's been a lot of excitement around trading and getting into the crypto world. And while there was an emerging awareness of the crypto trading industry, few tools were available for consumer use. Trading crypto is different from trading stocks, and it comes with fewer predetermined strategies. My cofounders and I thought, what if traders wanted to automatically create predefined strategies for their cryptocurrency investments? That's how Coinrule came about.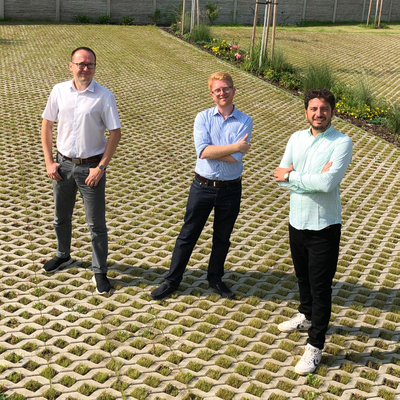 Coinrule is a crypto trading bot that helps investors compete with algorithmic traders and hedge funds. We're on a mission to simplify crypto trading for everyone, which makes the market accessible to anyone at any skill level. We don't touch any consumer funds. Instead, users keep their funds on a crypto exchange and use our platform to build strategies that lay on top of those exchanges. Since we integrate with 10 of the most popular crypto exchanges, it's easy for investors at any experience level to get involved and tell their money what to do.
We've experienced a rocket ship of growth, adding new customers, building our brand image, and even going through Y Combinator. Today, I act as Coinrule's COO, handling everything related to business growth, including product growth, user research, and customer engagement. But what I've learned most through this journey is the impact of marketing, especially when working with demand-side platforms (DSPs). Not only have DSPs enabled me to develop an awareness of Coinrule, but they've been instrumental in boosting my professional repertoire as a founder, leader, and business professional.
This is the story of how we grew Coinrule through a combination of retargeting, A/B testing, and brand awareness.
Coinrule's Marketing Strategies: Then and Now
Coinrule's marketing strategies have changed a lot over time. Our first growth channel was organic SEO, and we focused on making good content and developing landing pages for different use cases. That was our secret sauce initially, and we got really good at ranking for specific keywords.
Our second growth channel was affiliate marketing, and we started to work with many partners. That took off, and we saw even more growth, including an uptick in traffic and interest that boosted our visibility.
Then we started thinking about our next leg and what other vertical would take us into the big leagues. But unlike many other industries, the answer to this wasn't all that simple.
Crypto-related companies have many constraints on the marketing channels they can target. Advertising on some social media platforms is nearly impossible since they require crypto companies to have licenses to create ads. But since we're just a software provider, we can't obtain said licenses. Still, we needed a way to expand our reach.
Why We Chose a DSP
We had considered paid ads as a marketing channel in the past, but there seemed to be little we could do to get around the constraints. Then, we hired a marketing professional with experience in demand-side platforms (DSP)—a marketing strategy that uses ads to target different growth channels. I learned that we could buy placements on sites that make the most sense for our business to get our product seen in the vast corners of the internet.
It didn't take long for us to settle on AdRoll as our DSP provider. Its robust tracking capabilities, powered by machine learning, offered everything we were looking for. AdRoll makes it easy to track and optimize ad performance, using a combination of behavioral and interest data from our target audience and campaign data from thousands of advertisers. Its powerful customizations went far beyond other DSP providers, and the self-serve element meant we could stay in the driver's seat.
The people behind the platform were important to us, too. For a growing business with a lot on the line, it's critical to have relationships with partnerships where you see eye to eye. We hit the jackpot with AdRoll: their team has always been helpful and responsive, and their rhetoric, attentiveness, and regular check-ins gave us the confidence we needed to move forward.
Our partnership with AdRoll began in 2022. Not only did we find platforms where we could run ads in appropriate locations, but we were able to gather data to help us improve our product and optimize our campaigns over time. We developed two specific strategies: retargeting and HTML5 banners.
Our retargeting campaign was straightforward—we retargeted all users who came to our sign up page but did not sign up. With AdRoll, it was easy for us to identify hot leads and show up in the places they visit online. We also used HTML5 banners to engage and convert our audience. These ads can be animated or include interactive elements, which help them stand out against a sea of online noise. We've seen some pretty good results and anticipate continuing with HTML5 banners for a while.
We've also used AdRoll for testing capabilities, including A/B tests in different countries. To do this, we split up our HTML5 ads by country and allocated different budgets based on performance and value. For example, a registration from the US is valuable to us since it's a wealthy country, and users are likely to sign up at a higher tier. This information allows us to reduce our cost per lead over time.
We don't plan to stop here. Our next step will be to look more closely at ad creative and explore what works and what doesn't. All these things are easy to do with AdRoll, even without a marketing background.
Increased Conversions and Reduced Acquisition Costs
The most obvious benefit of using AdRoll has been seeing a jump in conversions. Coinrule saw a jump of 3–5% in conversions in just one year, which brought 342 new registrations to our platform. We've also significantly reduced acquisition costs, seeing a 77% decrease in CPU since we began working with AdRoll—and we will continue optimizing that cost over time. The other benefit we gained from AdRoll was the ability to understand our audience. Every data point offers insights we can use to scale and ultimately gather more information about channel acquisition costs.
Our initial foray with AdRoll was a great time of experimentation for us, and we were able to expand our knowledge (and customer base) by a significant degree. But as founders know, obstacles are inevitable—and with the crypto marketing slowing at the end of 2022, we knew we had to cut back on marketing. We were really sad about this, especially since we had made so much progress, but with uncertainty on the horizon, we didn't want to burn through capital.
That said, we kept thinking about AdRoll, and in late spring 2023, we were comfortable investing in marketing again. Even though the crypto market hasn't rebounded completely, my team sees the value in optimizing and experimenting with campaigns and steadily building audiences. AdRoll welcomed us back like we'd never left; the same great people were waiting for us when we walked by through the door. We're still enjoying our bi-weekly check-ins, where we can exchange ideas and insights.
So what do our marketing channels look like today? We're still running all three—SEO, affiliate, and paid marketing—in various capacities. But while SEO and affiliate marketing are difficult to scale, paid marketing lets us grow quickly and reach a broader audience more effectively. And the more investors see you have marketing channels that scale, the more likely they are to bet on your business.
AdRoll Helps Founders Become Good Marketers
I didn't come from a marketing ad growth background, so my knowledge of marketing possibilities is limited. And while I certainly see the benefit of running traditional digital ads, I've realized there's a lot more I can customize and control with AdRoll compared to other options.
DSPs are an excellent way for non-marketers to easily get started and maintain focus on their products. You don't need to be a marketing genius; with AdRoll, I can make sure I'm making the right moves and lean on the professionals to help me accomplish tasks I don't know how to do myself.
Building campaigns is similar to technical work: You start with a small experiment, keep iterating and experimenting, and then scale it up as it begins to work. For many people in difficult industries, finding the right places to run these experiments is tough. But AdRoll offers a fast, effective, and safe place to make this happen—backed by a team who genuinely cares about your success. DSPs have been foundational in learning how to market as a non-marketing professional. And for myself and the Coinrule team, AdRoll has been the best way to get there.