How to Optimize TikTok Ads
Topics Covered:
When it comes to social media, TikTok is the hippest kid on the block. If you're familiar with launching ads on the platform, give yourself a pat on the back — you're way ahead of the game. 
Success with TikTok advertising doesn't come overnight, though. If you're struggling to achieve impressions and engagement despite dedicating significant time, creative power, and resources, this post is for you: Check out these essential tips to optimize your TikTok ads and improve campaign performance.
Psst: If you need help getting started — from setting up TikTok Ads Manager to launching your first campaign — check out this guide. 
Update Your Campaign Goals
The first step to any TikTok campaign is choosing your campaign objective. The platform offers five options:
Reach: Display your ad to as many users as possible

Traffic: Send users to a website landing page or your app

App Installs: Promote app downloads

Video Views: Get more users to watch your videos

Conversions: Encourage users to take a desired action, such as purchasing from your site or signing up for emails
If your instinct is to choose conversions as your goal, it might be time to take a step back. For brands starting out on the platform, TikTok recommends opting for either reach or video views to boost brand awareness and build an initial connection with users before tackling the hard sell.
Review Your Target Audience
Even if you know your customers like the back of your hand, it's worth the time and effort to regularly review the targeting approach for your TikTok ads. 
Although TikTok offers numerous audience targeting filters — including gender, age, location, and interests — manually creating and testing each one of your audience segments can be a time-consuming process. Instead, consider:
Allowing the platform to optimize your targeting based on who watches and interacts with your ads the most — select the "automatic" button when prompted to choose your audience 

Letting TikTok help create lookalike audiences based on your existing high-value customers — it'll boost the chances that your audience will engage or convert
Get (More) Creative
TikTok is a social media platform that rewards creativity, so start creating short-form content that genuinely entertains, delights, and informs. 
Create at least five different creatives for each ad group — it'll reduce the chances you bore your target audience, or even worse, cause ad fatigue. The platform recommends not using the same creative for more than a week. 

Try to feature inexpensive products under $50 that users can purchase more impulsively. 

Use vivid color to grab attention. 

Add text, voiceovers, and visual effects to aid your storytelling. 

Make sure your most important message is conveyed within the first few seconds. 

The shorter your ad, the better — under fifteen seconds is the sweet spot. 

Place your most important elements (e.g., your product, text, or logo) in the middle of the screen to minimize the chances that it'll get cropped or covered by buttons. 

Don't be afraid to experiment with trending sounds, songs, or even transitions. 

Triple check that every ad meets TikTok's video ad and image ad specifications.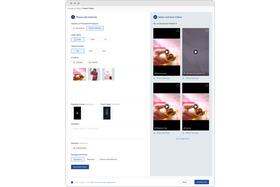 If you're strapped for time or don't enjoy the process of video editing, TikTok's got your back with its Smart Video tool — all you have to do is upload video clips or images, and it'll automatically create a finished, edited ad. 
TikTok offers an Automated Creative Optimization tool too, which tests different combinations of your ads based on the creative assets you provide (images, videos, CTAs, and text) in an effort to find the optimal creative for your target audience. 
Experiment With Your Bid and Budget
Another way to level up your TikTok ads involves tinkering with your bidding and budgeting strategy. 
For brands starting out on the platform, kick off your campaigns by choosing a budget that's approximately 1.2-1.5x your typical cost per acquisition. 

After changing your campaign budget, avoid touching any element in that ad group (e.g., creative or targeting) for at least two days. 

Experiment with different bidding strategies — here's a list of the different ways you can bid on the platform. 

Don't make wild bidding changes overnight — when making any changes, try to stay within 20% of your current bid. 
For more best practices on setting the ideal TikTok ad budget, check out this guide. 
Partner With Influencers
Move over Instagram — TikTok is the place for influencers. Though you may not be able to afford to partner with some of the platform's biggest names, there are tons of affordable micro-influencers who draw strong engagement despite having fewer than 10,000 followers. 
If you're not sure where to start with influencer marketing, TikTok is behind a Creator Marketplace, a platform for discovering and connecting with influencers relevant to your niche, complete with various profiles' demographics, engagement metrics, and existing partnerships. 
You can also find influencers by conducting a simple search on the app itself. Just type in hashtags related to your brand or industry (or even ecommerce, such as #tiktokfinds or #tiktokmademebuyit), and filter the results according to popularity. 
Need more tips and tricks on acing your influencer strategy? We've got you covered right here. 
A/B Test Whenever Possible
The easiest way to determine your ideal creative, targeting, and bidding strategy is by conducting A/B tests — where your ads are kept constant except for one element that you're testing — and comparing results. 

For your A/B tests to yield concrete results, make sure to run your ads for at least two weeks (that don't overlap with high-traffic holidays or important seasonal moments, which may skew the results).
Track Your Performance
The only way to know if your optimization efforts are paying off is by regularly tracking your results on the TikTok performance dashboard. 
If you've implemented these tips and still aren't seeing any impressions for your ads, something wonky may be going on behind the scenes. In that case, conduct this quick review:
Are your ads approved?

Are the ad groups and ads active?

Are the ads properly scheduled according to your time zone?

Is the resolution of your ad video less than 640x640 px?

Do you have enough funds in your account to cover your ad costs?

Is your targeted audience too narrow? 

Is your bid too low?
You're a TikTok Expert Now
Once you're familiar with optimizing your campaigns, it's just a matter of time before you'll start seeing more impressions, engagement, and conversions. But remember: Change doesn't come overnight — even after making adjustments, it could take a few weeks before any massive performance impacts occur. 

If you need help getting started — from setting up TikTok Ads Manager to launching your first campaign — check out this guide. Discover how AdRoll's TikTok ads tool can help with campaign management and reporting.
Last updated on May 10th, 2023.