Reviewing Your TikTok Performance: A Monthly Reporting Template
Topics Covered:
Are you having fun with your TikTok marketing yet? If you're looking to take a quick breather from the latest dance trend, we've got a perfect new challenge: reviewing how well your content is performing on the platform!
Just like any other social media channel, evaluating your results on TikTok involves diving into key metrics for insights into what content resonates the most with your audience. After all, while jamming to Lizzo's latest hit is fun, it may not be the best use of your time if your videos aren't successfully driving visits to your store.
The challenge? While it can be tempting to create a shiny monthly slideshow for your boss displaying the thousands of views, likes, and comments you've amassed, vanity metrics shouldn't be the basis for your TikTok strategy. Instead, you need to do some math to determine the genuine gold nuggets of engagement and growth.
Luckily, we're here to help you demystify your TikTok stats with this handy reporting template. Simply download or bookmark this sheet, then fill it out with the data provided by the TikTok app at the end of each month. Over time, you can uncover key trends on what makes your audience tick, as well as what types of videos you should invest your time and money in creating. Good luck!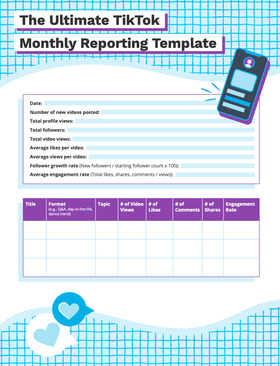 Add TikTok Ads to Your Social Strategy
Looking to do even more on TikTok? TikTok ads can be a fast-track to brand awareness and engagement for your brand. Learn more about blending organic social efforts + paid in the resources below!
Already Running Ads on TikTok?
With AdRoll's TikTok ad management platform, you can create, launch, manage, and measure your ads in a single dashboard. Bonus: you can streamline your other social ads, display ads, and email, too. Better data, better decisions. Get started!
Last updated on May 10th, 2023.