Viral Growth Strategies for E-Commerce Businesses
Topics Covered:
Wondering how Old Spice managed to generate 40 million views with their viral video and increase revenue by 107%? Or how DollarShaveClub turned into a $1 billion subscription business using viral marketing? This article explores the most efficient viral growth strategies you can apply to your business case to generate more revenue without burning your marketing budget.
Six Viral Growth Strategies
Here are six viral growth strategies for successful viral marketing campaigns:
Social media giveaways
Incentivized social media sharing
Referral marketing campaigns
Cooperation with influencers
Data-driven PR campaigns 
We will next explore how you can analyze the efficiency of these strategies with more data. Let's get started!
1.) Utilizing Video Marketing
By getting an engaging product video to go viral, you can increase your revenue overnight without investing a dime into paid ads. Just take a look at the DollarShaveClub video, which got over 27,000,000 views on Youtube as of October 2020.
When choosing a video format for a viral campaign, remember about the rampant competition trying to apply video marketing strategies as well. About 48 hours of video content gets uploaded on Youtube every five minutes, and only a fraction of the videos go viral. So how can you cut through the noise?
The good news is that viral videos have certain things in common, which you can learn and replicate for your business. Harvard Business Review has analyzed the topic of why some videos go viral. They have explained the two key factors driving success: psychological response (how a video makes one feel) and social motivation (why one would want to share a video).
2.) Running Giveaways
Giveaways can be an excellent tool for driving traffic and user engagement with your brand. According to the Easy Promos study, the majority of brands run giveaways once per month. And that's not all — brands are also getting more interactive with their giveaways.
For example, in this giveaway campaign, Farfetch online store engages people through a quiz asking to guess a designer by hovering over a designer's object. Users can try their chances to win £500, £300, or £200 vouchers to shop at Farfetch. The quiz results can then be shared on social media, which provides broader coverage for a brand.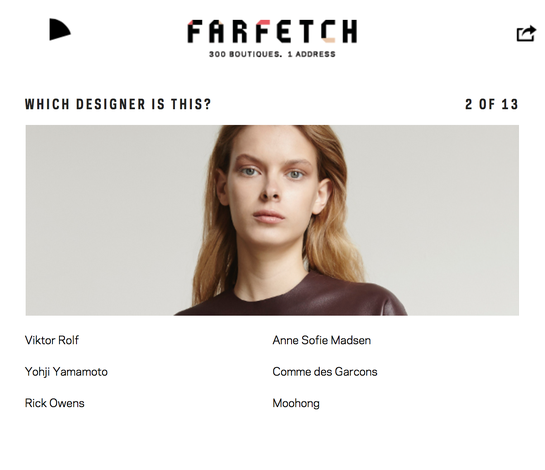 Not all giveaways get traction and lots of user engagement. Sometimes, brands don't put enough effort into promoting the campaigns and attracting user attention. In some cases, the incentive for taking part in the campaign is not strong enough. There are a lot of reasons where one can fail. To avoid these, you have to be tracking social media analytics to identify campaign bottlenecks and improve giveaway campaign performance in due time.
3.) Using Incentivized Social Media Sharing
Users often expect some rewards from brands for spreading the word about them on social media. For example, if they leave their email address, they expect to get a promo code or a discount for the next purchase.
If you want to get your brand viral with your store visitors and clients' help, you have to create strong incentives to nurture user engagement. People won't share information about your products if you don't give anything in return.
So, instead of merely including a sharing button on a purchase thank you pages, ask to spread the word about your brand on social media in exchange for a promo code or some exclusive content. 
Here is how the social share and promo codes can be used as popups or widgets in your e-commerce store: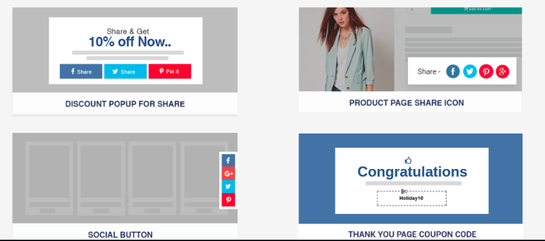 Check out Socialmonials tool, which can support you in incentivized social media sharing.
4.) Unleashing the Power of Referral Marketing
Organize a customer referral program to use word-of-mouth marketing. With a product that has a reasonably good NPS score, you can get your loyal customers to become the most powerful marketing engine of your e-commerce brand.
The secret to success in referral marketing is an attractive offer. You have to encourage referrals by creating attractive conditions for both a referring client and their friend who catches a bait. 
Take a look at how True&Co creates an incentive for participation in a referral marketing campaign by offering a $15 discount for both referring and referred participants: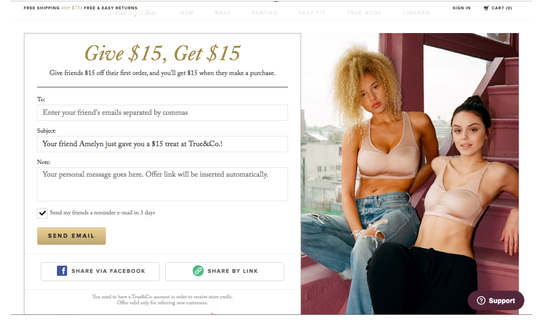 5.) Teaming Up With Influencers
Instead of spending years building your social media following, you can give it a significant boost by working with influencers — 17% of companies have admitted to spending over 50% of marketing budgets on influencer marketing campaigns!
Check out the influencer marketing campaign conducted by Audible. In this one, famous photographer, Jesse Driftwood, recommends Audible to his audience and encourages using it as a tool for business education: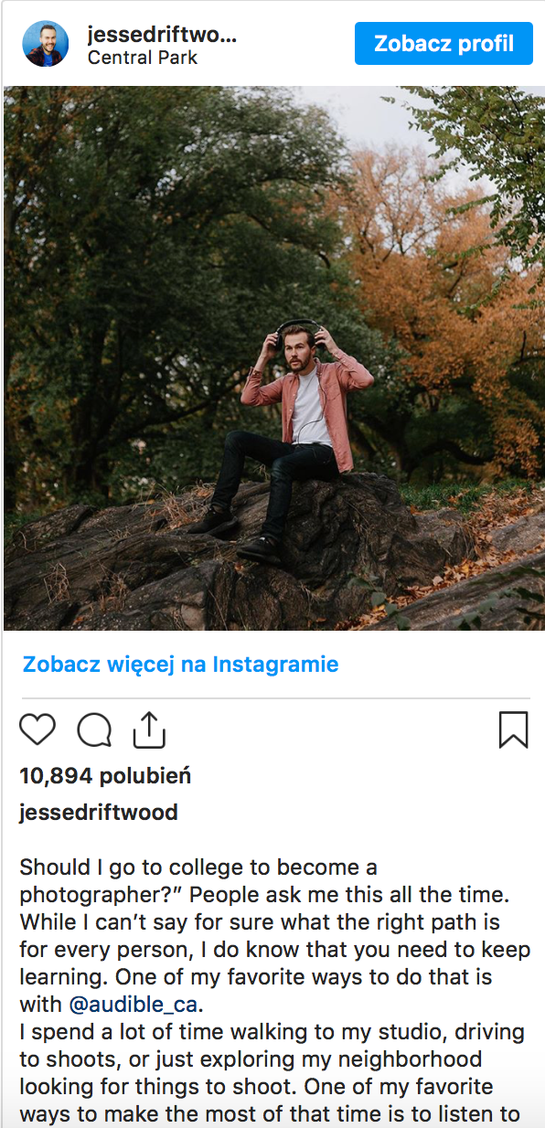 Another great example of influencer marketing comes from ASOS. They used live quizzes in their campaigns to create a closer bond with brand ambassadors and the ASOS audience. They wouldn't have achieved the same engagement rates by getting the audience to consume video content passively.
With that being said, you don't need a development team to incorporate interactive quizzes into your influencer marketing activities. Consider using Kyleads as a tool to create quizzes in a glimpse of an eye.
6.) Creating Data-Driven PR Campaigns
Incorporating data in your PR campaigns puts your brand in a better light, making it look more credible. A research element can become a backbone to your PR strategy and create a more cohesive image for media to encourage spreading PR mentions more frequently.
Check out the examples of the PR campaign conducted by Canine Cottages. They attempted to identify the feelings behind the dog's actions by measuring the dog's heartbeat in response to different situations with their owners.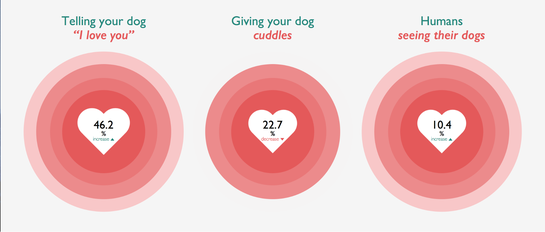 With this data-driven campaign, Canine Cottages got some links from the leading UK newspapers and blogs. Check out for yourself on Ahrefs!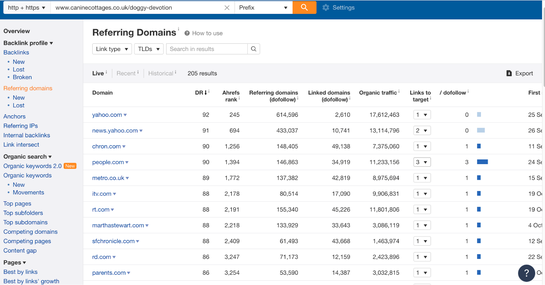 How Do You Uncover Losing and Winning Campaigns With Data?
When running your viral marketing campaigns, you should keep an eye on data to help identify your winners and losers — the campaigns that either bring you revenue or make you lose money. 
Remember that you can't improve what you can't measure. That is why if you want to speed up your business growth with viral marketing, you should track your analytics more often — before, during, and after a campaign.
Let's take a look at some of the activities which can help you collect relevant information about your campaigns and make sense of data:
Run A/B testing campaigns 
There is no guesswork when it comes to viral marketing campaigns. You should not be relying on your gut feeling but trusted data. Harness A/B tests to understand what prize type, message, or video performs the best in your viral marketing campaign.
However, if you have a small sample of visitors to run the A/B test, you won't get relevant results. In this case, you can consider sending traffic via paid channels, and that's where AdRoll can be of great help to run it smoothly.
Ask your users
When A/B tests can provide you with quantitative data and help understand how users react to your viral marketing campaigns, you should also make an effort to understand why users do certain things. 
If analytics data is not sufficient to give you evidence on user behavior, run quick surveys. Ask users specific questions that will help identify the "whys" behind user engagement and campaign bottlenecks. Surveys will help you understand your users' motivations better and give hints on improving your campaigns. As a SaaS copywriter, I know precisely how powerful surveys can be. Here are some of my favorite customer survey questions. 
Analyze what works for your rivals 
The best source of inspiration for your campaigns are your competitors. They are also the first to give you an understanding of what viral growth strategies work and which fail. Instead of testing the ground by yourself, rely on the work done by others in the past. 
For example, you can find out what works best for your competitors on social media with Content Studio analytics. Curious about who your competitors are engaging in their marketing campaigns? Use BrandMentions to check what influencers your competitors are working with this month.
Consider using this competitor analysis template to understand your rivals' strong and weak sides.
Next Steps
You have learned about six tried-and-tested viral growth marketing strategies and the way you can start testing them with your brand today. You are also well-equipped with measuring the results of your campaigns. Now it's time to get down to work and prepare a strategy for your next viral marketing campaign, which will help your brand grow!
Last updated on September 16th, 2022.