Competitive Analysis Template for Marketers
Topics Covered:
How well do you know your competition? Are they introducing a new product that will cut into your share of the market? Do you they have a strong presence on social? Are they a direct or indirect competitor? These are just a few of the questions you should be asking yourself prior to launching any campaigns. That's why conducting a competitor analysis is a vital step when developing your marketing strategy.
By conducting competitor analysis, you can gain a better understanding of the tactics your competitors are implementing, their strengths and weaknesses, potential opportunities, and untapped niches that can then be used to reach a wider audience. But getting started on competitor analysis can be challenging. To make it easier, we've created a competitor analysis template to guide you through the process.
Competitor Analysis Template: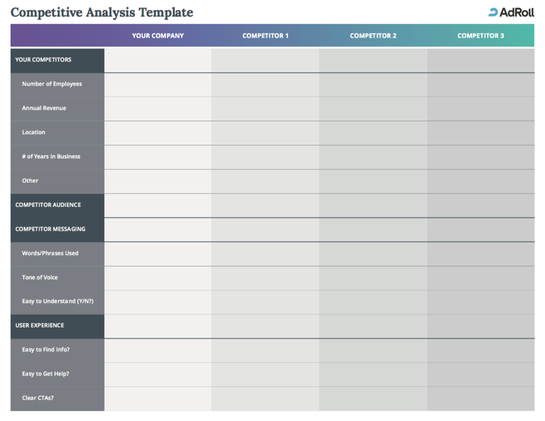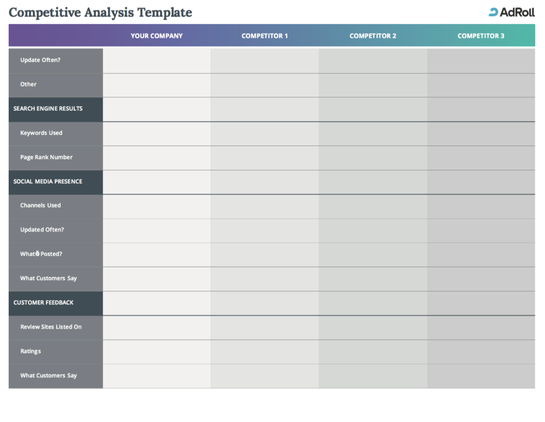 Here's how to fill out each section of our competitor analysis template:
1. Your Competitors
The best way to start competitor research is to identify who you're competing against. Which companies sell the same things you do? Start by searching for the products you sell and for companies that sell complementary products. List those companies in the template.
Underneath each company, write down:
Number of employees
Annual revenue (you can get this from their investor page or an annual report)
Where they're located
Number of locations
How long they've been in business
Sources of funding (if applicable)
2. Competitor Audience
To help you identify your target audience, it's helpful to see who your competitors are chasing. You can also use this information to look for new audiences that your competitors don't serve. Sometimes their websites will say it outright—and so will their products. For other competitors, you might be able to figure it out by their tone; a company that uses tongue-in-cheek product descriptions might be aiming for a younger audience.
3. Competitor Messaging
Seeing how your competitors describe themselves and how they structure their messaging can help you shape yours. If your competitors aren't clear on how they describe themselves, this can be an opportunity for you. How do your competitors talk about what they do? What kinds of words do they use? What's their tone? For example, a custom dog collar retailer might use language like, "Treat Fido like the prince he is."
In the competitor analysis template, make a note that the competitor uses simple words and a cheeky tone. You should also include:
Types of words or phrases they use
The voice and tone of their messaging
How easy it is to understand what they do or what their products are
4. User Experience
Knowing how easy (or difficult) it is to use your competitors' websites can help you make yours more user-friendly. Poke around on their websites for a bit, on both a computer and mobile. Make notes on a few things:
How easy is it to find products?
Is there a quick way to get help? How long does it take for them to respond?
What's the quality of their product photography?
How detailed are product descriptions?
Are their calls to action clear? Or do they get lost on their site?
Do they have a blog? How often is it updated?
Where are their social media icons placed?
How often do they run specials?
Do they have a way to save your shopping cart?
How does the site look on mobile?
5. Search Engine Results
Learning where competitors rank in search engine results can help you with keyword research, and ultimately, finding the right keywords for your brand. Before you start snooping around, we recommend slipping into your web browser's Incognito or Private mode. This lets you search anonymously without all your past cookies and location data.
Next, plug in the same terms you used to find your competitors, and note where they rank on different search engines. Are they the first result on Google? On the second page of Bing? Do they have rich text snippets appearing below their website titles in the results? Their rankings will give you an indication as to how effective your current SEO strategy is.
6. Social Media Presence
Social media can be a gold mine of information to see how your competitors position themselves—and what their weaknesses are. Visit all the social media sites for your competitors. Jot down how often they're posting, what their posts consist of (e.g., do they post a lot of promotions or do they also post educational or lifestyle content, too?), and most importantly, what their customers are saying about them.
If they've disabled visitor posts on Facebook, that's a red flag that customer service needs improvement. Check the comments on posts to see what's being said. Your competitor may have a gorgeous Instagram feed, but if its customers are complaining in the comments about missed deliveries or poor customer service, there's your opportunity to outshine them.
7. Customer Feedback
Where there's smoke, there's fire. What customers are saying can help you press on the weaknesses of your competitors and market yourself as the antidote to their pain point. Go to some of the review sites that would cover your competitors, like Trustpilot and Yelp, and even the Better Business Bureau. Read through the overall ratings, then dive into what customers are saying. You'll be able to see where your competitors are struggling and use that to improve your own products and marketing.
Check out our Ultimate Guide to Growth to help you with your competitor analysis, and to use it to improve your own marketing.
Last updated on October 28th, 2022.