The 5 Most Important Numbers When You Site Audit With Google Analytics
Topics Covered:
Your odds of getting audited as a taxpayer are now about 1 in 220, according to recent reports. The odds of auditing your website should be far higher.
In both scenarios, it's perhaps a daunting prospect, but it shouldn't be in the latter. It's kind of like going to the doctor for a basic checkup to ensure you're healthy and operating at top form, and address any problems early on. Similarly, websites can benefit from periodic check-ins on SEO and usability.
While it certainly helps to pay for an SEO platform with more advanced tools to address the numerous potential issues that could impact site rankings and performance, it's entirely possible to conduct a basic site audit using free reports from Google's powerhouse analytics tool, Google Analytics. Not only can you create your own custom reports in Google Analytics based on the unique needs of your business, but it's also easy to find custom reports already created by experts, which do a lot of the heavy lifting for you.
Here's a closer look at the five most important aspects of a site audit you can tackle with Google Analytics — and the numbers you'll want to keep in mind while doing so: 
0: The Number of Broken Links and Pages Your Site Should Have
Broken links and pages not only create a bad user experience, but they also diminish link equity — or the authority Google deems your site has based on the quality of inbound and outbound links, which can cause your site to drop in search engine results pages (SERPs). That's why it's a good idea to periodically check for broken links and pages on your site, which result when whoever you've linked to no longer supports a given resource.
To see if your site has any broken links via Google Analytics, select a timeframe and scroll to Content by Title in the navigation bar. Then, add a filter with your site's unique 404 error message. AdRoll's, for example, is "Sorry, this page is trippin'." Once you've added that page filter, select "go," and click on the page title to see how many times your error page was displayed in that time period. From there, you can better determine what is causing the errors and how to fix them.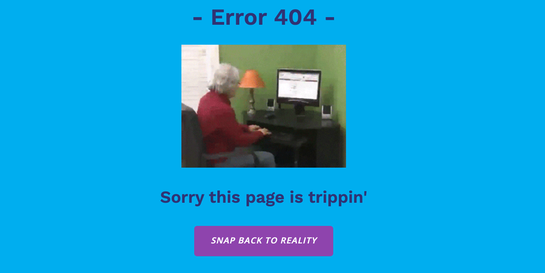 From: AdRoll
1: The Maximum Number of robots.txt Files on Your Site
According to Google, a robots.txt file tells search engines which pages their crawlers can or cannot request from a website. This helps prevent overloading a site with requests, which may hurt performance. And so if you don't already know if your site has a robots.txt file, it's a good idea to include this in an initial audit.
You can easily check by appending /robots.txt to your domain. So, for example, on AdRoll's site, it would be www.adroll.com/robots.txt. Google provides clear instructions about how to create and test robots.txt files for your own site if you don't have one already. 
>2: That's Google's Recommended Page Load Time (in Seconds)
While most traffic comes from mobile devices (more on that below), you shouldn't ignore overall page speed.
In 2018, Google added page speed as a ranking factor for mobile queries — that's above and beyond desktop, which has been a ranking factor since 2010. At the same time, the search engine also added a mobile speed score for Google Ads to prevent those ads from sending users to slow landing pages, which would likely annoy Google users. As a result, Google itself recommends site owners to use tools like PageSpeed Insights, which analyzes the content of a web page and offers suggestions about how to make it faster. The analysis includes suggested opportunities, as well as estimates of how much time Google anticipates will be saved by implementing those changes. Keep in mind that some changes may require hiring a professional developer. 
3: The Number of Tactics at Your Disposal to Configure Content Groupings Within Google Analytics
Google Analytics can also help gauge the performance of your existing site content and help guide the creation of new content. In fact, by using a feature like content grouping, you can sort site content into groups to see which category generates the most page views, unique views, and average time spent on page. This explainer does a great job of walking you through three different ways to set up content groupings within Google Analytics so you can take advantage of this feature.
51: The Percentage Share of Mobile Devices Compared to Other Devices
Mobile searches surpassed desktop more than five years ago, and they haven't slowed down since. The trend toward mobile continues if you look at data comparing how consumers use their mobile devices, desktops, and tablets today. The implication for your site audit is therefore clear: You have to make sure your website is mobile-friendly.
Google offers an easy-to-use Mobile-Friendly Test in which you simply enter a URL and click "Test" to perform the analysis. The results display clear findings and provide alerts about potential issues, along with suggestions about how to fix minor errors. However, bigger problems may require hiring a developer to sort things out.
It's also easy to check where site visitors are coming from in Google Analytics. In the navigation bar, select "Audience," followed by "Mobile" and "Overview," and Google will display a device breakdown for your visitors. 
As Many as Possible: The Number of High-Quality Links You Want Pointing to Your Site
A basic site audit should also assess opportunities for generating additional links to your site to enhance link equity. Links help build what is known as E.A.T. in SEO, or Expertise, Authority, and Trust, so you'll want to focus your efforts on sites that will help boost your own profile rather than simply anything out there. (We've covered the basics of how to grow links here.)
A good place to start is the status quo: How are the existing links pointing to your website helping (or hurting) your rank? To gauge the quality of traffic generated by these links, you can easily explore referral data — and other traffic sources — in Google Analytics. 
For more information on how to grow links:
0: The Dollars You'll Spend With Google Analytics
Site audits can get incredibly technical — and may require the assistance of an SEO professional or a developer. After all, you get what you pay for. But if you're on a budget and looking to get a basic idea of how your site is performing and where it could improve, Google Analytics is the solution. 
By tapping into existing tools and reports, you'll walk away with a better understanding of links, speed, user behavior, and more. And while this certainly isn't a comprehensive view of site performance, it's a great place to start. 
As you get more familiar with Google Analytics, you may even find yourself building your own custom reports for even more comprehensive intelligence.
Last updated on November 1st, 2022.