The Ultimate Cheat Sheet for ALL Your First-Party Data Sources
Topics Covered:
With the industry's shift away from third-party cookies, it's no secret first-party data is an invaluable data gold mine. If you're thinking, "Ugh, all I have is my email list," we've got good news: You have more first-party data sources than that.
Enter this cheat sheet — use it as a checklist for gathering first-party data you can use to tailor your messaging and marketing. We've also included nifty recommendations on how to put this gold mine of first-party data to action and level up your brand. Have fun!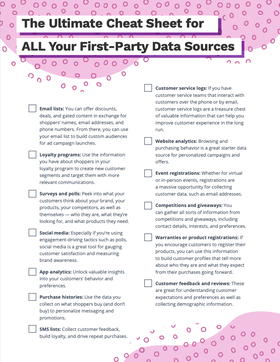 With a treasure trove of first-party data, you're one step closer to launching A+ targeted ads. For that, you need a marketing partner like AdRoll — we're the ultimate one-stop-shop for launching campaigns across the web, email, and social media. 
AdRoll ingests first-party data from your customer data platform, ecommerce store, and CRM contacts. We unify and enrich these contacts to create holistic profiles — you see everything from products they've viewed to emails they've opened. Marketers can then create custom segments based on these profiles' behaviors and interests (e.g., viewed a featured product, signed up for the newsletter, hasn't purchased in more than 30 days). These audience segments feed into campaigns that combine web and social ads, as well as email, to achieve your marketing goals of increasing conversions, site visitors, and brand awareness.
Psst: We've curated even more resources for you to learn all about first-party data and marketing strategies — check them out below!
Last updated on August 18th, 2022.