How to Use Retargeting to Acquire and Retain an Active Customer Community
Topics Covered:
In ecommerce, vibrant communities prosper. At the beginning of the pandemic, Higher Logic reported that 81% of their clients saw an uptick in online community engagement. As we all became more disconnected, shoppers looked for ways to fill the gap and connect over their points of passion.
But, many merchants think they have a fully established customer community when they don't. Meaning their retargeting isn't as accurate as they'd like. Turns out, a community is much more complex than you may think. 
Here at LoyaltyLion, we help merchants turn their unengaged customer base into an active community. To understand who makes up a community we carried out consumer research. From the results, we identified four community personas: Lurkers, Supporters, Drifters, and Insiders. 
All of these community personas need to be engaged in different ways to encourage them to return to your store, repeat purchase and become more active community members (ultimately contributing to your bottom line). In this blog post, we'll explore how you can use retargeting to engage each persona. 
Time to Meet Your Community
First, let's meet each of the personas that exist and the different levels of value they bring to your brand (based on participation and interaction). 
Drifters make up 14% of a community base. They are unengaged and only purchase from you now and then
Lurkers tend to constitute 17% of a customer base. These shoppers follow you on social media and have opted in for your emails but they don't engage as  a fully active community member
Supporters make up 51% of a community base. They share your brand with others (by making referrals and leaving reviews), engage with your community, and make regular purchases
Insiders make up 18% of your community. They constantly advocate for your brand and bring in new customers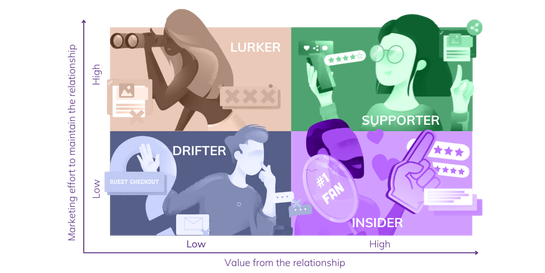 Ultimately, you should be striving for a community of Insiders. They're your biggest spokespeople and spend the most with you. But that's not all, they increase your brand reputation and help you acquire new customers. 
So how do you get more Insiders using retargeting?
How to Engage Drifters With Retargeting 
Drifters are guest checkouts and merchants need to turn bounces into buyers to get these customers to contribute to getting a positive ROI from their marketing. 
To encourage Drifters to create accounts be crafty. Use retargeting to show customers who have browsed your site, but haven't converted, that they can get loyalty points for creating an account or signing up to your newsletter. 
The swimwear brand Cupshe achieves this by showing customers that being part of their loyalty program is a more rewarding and cost-effective way to shop with them. They offer shoppers 300 points for signing up and 5-7 points per $1 spent.

When you reward passive customers for signing up, and engage with them through retargeting ads, you will be able to reach out to these otherwise phantom shoppers down the line.
Connect With Lurkers Through Brand-Centric Retargeting
Lurkers tend to sit on the sidelines. To convert Lurkers into engaged community members you need to give them something to connect to. 83% of Lurkers log in to complete a purchase, meaning that they're open to a relationship with your brand. But you have to be proactive and offer something more for them to emotionally connect.
Retarget them with ads that showcase your brand values. Tell them what you stand for and give them a reason to connect with you on social media and over emails. The pet food brand Edgard & Cooper uses social posts to show customers that they can trade in loyalty points to support charitable initiatives. Their custom rewards let shoppers exchange their points to plant a tree or donate a meal to an animal in need.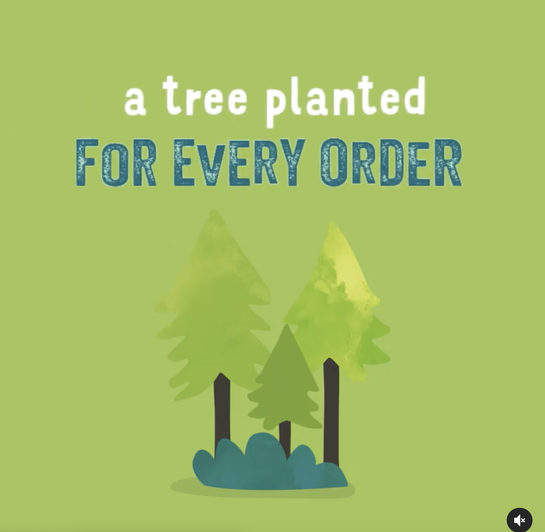 Edgard & Cooper are a great example of how you can use retargeting to showcase your brand values. They display their core values upfront. That's the best way to turn Lurkers into Supporters. 
Connect With Supporters Through Positive Experiences
Supporters are always up for leaving reviews and speaking positively about your brand. You can use their enthusiasm to create targeted, tailored content that makes Supporters become more active community members. 
Use retargeting to reach out to the segment of customers who leave reviews. Serve Supporters personalized ads that show them they'll get additional points for referring friends to your brand. This has proved to be effective for the gym brand EXO who gives their Supporters 1,000 loyalty points for a referral. Make sure you are taking advantage of the previous positive experiences your Supporters have had with you. Sometimes they just need a little nudge.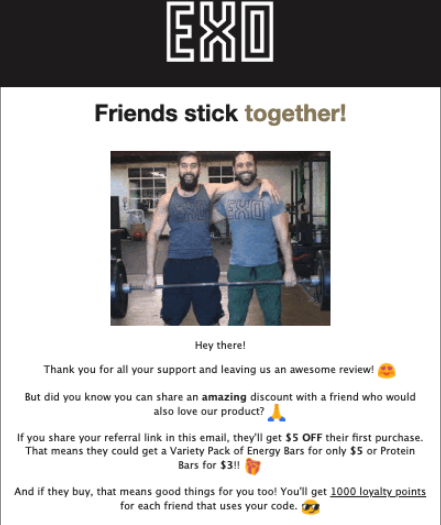 Then you can use reviews and referrals made by Supporters to build trust and convert new customers. Referral leads have a 30% higher conversion rate than leads from any other channel. Incorporating reviews and referrals into your retargeting ad is a reliable and effective marketing strategy.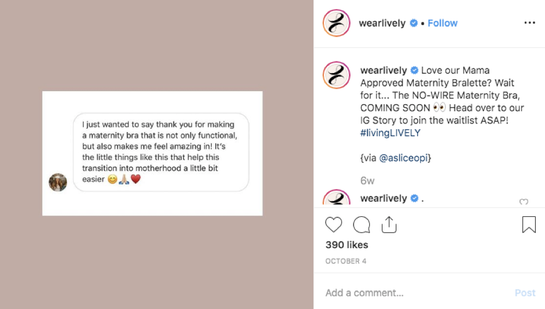 Show Insiders You'll Treat Them like VIPs
Insiders like to be made to feel special. You don't want these incredibly valuable customers to churn or forget about your brand. Treat Insiders influencers and their loyalty will pay dividends. 45% of customers say they would join a community if it makes them feel like a VIP. Don't underestimate the value of premium experiences and authentic communication. 
Brands can then use retargeting to re-engage their most valuable segment with reminders of the VIP experience they serve. For 72% of Insiders, invites to exclusive events are crucial. Remind them of the member-only experiences you've provided. You could create an ad showing them they've got early access to sales before others, or you could invite them to an exclusive brand event.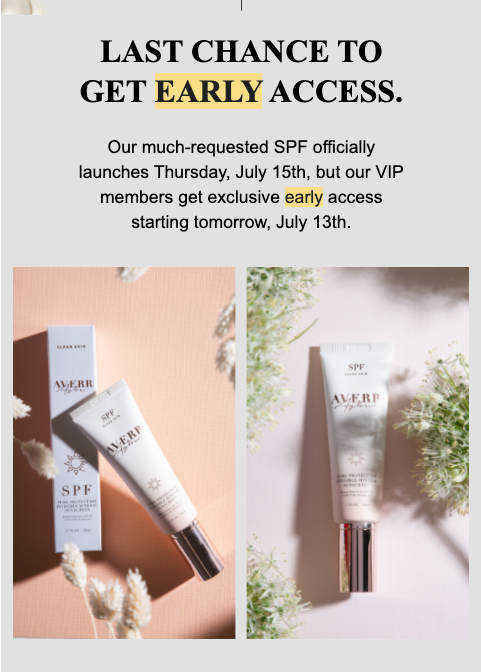 The beauty brand Farmacy gives its Insiders a first-look at sales so they can shop for their trusty favorites at a fraction of the cost before other customers.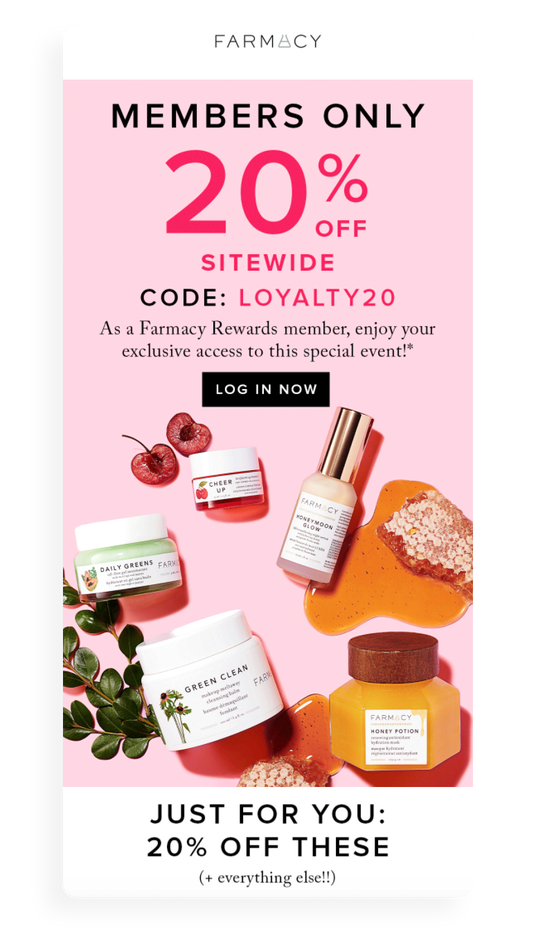 Use Retargeting to Grow Your Customer Community 
Retargeting can help you understand exactly what kind of offers your Insiders desire gives you the best chance of strengthening your relationship. You can then roll out retargeting ads that promote that experience to the rest of your customer base. This will incentivize shoppers to behave more like Insiders to get the perks. 
Ultimately, a customer community is complex. You need to use retargeting in new and inventive ways to engage the different types of consumers that exist in a community. 
Check out our Community Matters Report to see how brands in the ecommerce space have set up their communities for success and to learn more on how to drive long-term ROI from yours. 
Last updated on September 16th, 2022.