How to Build a Successful TikTok Ad Strategy
Topics Covered:
Whether you want to discover a new beauty product, social media challenge, emerging artist, dance routine, or #lifehack, the addicting TikTok can help. While it's not the only short-form video-sharing platform on the market (nor the first), it is the best, touting 1 billion monthly active users though it's only four years old.
Thankfully, due to its ever-growing popularity (it was the most downloaded app in 2021), TikTok can specifically help businesses build brand awareness and find high-quality leads, especially among the 16-34 age range. As the No. 1 app for consumer spending, TikTok helps brands more effectively sell their products and services and engage with target users who, on average, spend 10.85 minutes per session on the app.
While you may be nervous about getting started on such a well-known app — with such a young demographic — you don't need to be. Not only is it easy to get acclimated on TikTok, but it's exciting, too. With the following seven tips, you'll be more than equipped to map out an effective TikTok ad strategy that'll convert — and possibly learn a new dance or two.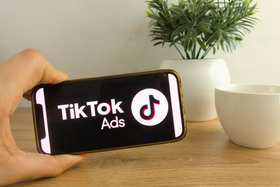 1. Make a TikTok Business Account
Before you can successfully launch an effective TikTok ad campaign, you need a TikTok business account. (While you can carry out some business from your personal account, it's best, like in life, to keep personal and business affairs separate.) A TikTok business account lets you run paid ads, track your marketing performance, and access TikTok influencer partnerships. Here's how to create one:
Navigate to your personal TikTok profile page (or create one in a flash).

In the top right corner, select Settings and Privacy.

Click Manage account.

Click Switch to Business Account, located under the Account control tab.

Select whichever category best describes your business, like Personal Blog, Fitness, or Arts & Crafts.

Add your business website and email address to your business profile.
2. Set Marketing Objectives 
Once you've established a TikTok business account, it's time to outline what you hope to accomplish on the platform. Do you want to boost brand awareness or turn prospects into customers? Are you seeking to expand your current market because you recently launched a new product line? Or maybe you want to engage more consistently with your existing fan base? By knowing what your specific goals are, you'll be better able to map out a plan to get there effectively and efficiently.
3. Do Your Homework
Think of TikTok like a class — signing up for an account and establishing a few marketing objectives is like receiving the syllabus. Now you need to eat, sleep, and breathe all things TikTok before you can take the final exam — that is, create effective content. Compared to Instagram, Snapchat, and Facebook especially (which most Gen Zers would hate to see even lumped in the same category), TikTok is its own animal — following its own set of rules, trends, and user patterns that seem to change daily.
As long as you're at least familiar with the app's most popular features — like filters, sounds, effects, and Branded Hashtag Challenges — it'll be much easier for you to jump on board when one of them is aligned with your marketing goals. (Pro tip: Check out the app's Business Learning Center for a crash course on all things TikTok.)
4. Research Different Ad Types
By learning all you can about TikTok's most popular ad types, you'll be able to pick the best ones to target your ideal audience. And, as your TikTok business experience and overall brand strengthens, evolves, and scales, you can throw different ones in the mix to keep your prospects and customers engaged. To effectively play the TikTok ad game, you have to know the major players: in-feed ads and brand-managed ads.
In-feed ads help you drive traffic to your brand website or TikTok account, thanks to clickable CTA buttons. One type of in-feed ad is video ads — which include a video and display image with text and brand name. The other type is Spark ads, which help brands turn their own TikTok content or organic posts made by other creators (with their permission) into published ads. Compared to standard in-feed ads, Spark ads are also exceptionally more effective — touting a 142% higher engagement rate.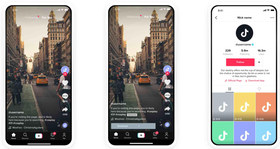 If you have some extra cash to spare, TikTok also provides ads to managed brands that collaborate with a TikTok sales rep, including:
TopView ads — 60 seconds long, full-screen, auto-play with sound, and best for brands looking to repurpose existing creative content

Brand Takeover Ads — 3- to 5-second videos or 3-second images, directing viewers to either a hashtag challenge or landing page (especially pricey, considering TikTok users can only see one per day)

Branded Hashtag Challenge Ads — Multi-day ad campaigns featured at the top of TikTok's Discover Page best for brands looking to improve brand awareness and user engagement

Branded Effects Ads — For brands to create flashy, branded stickers and filters their customers can share to boost brand identity, exposure, and engagement
5. Implement User-Generated Content (UGC)
One of the best things about advertising on TikTok is that you can start experimenting with various types of ad content with little to no experience, including leveraging creative, informative, entertaining, and relatable UGC that helps users learn more about your brand. (Feel free to repurpose UGC, too, with a brand slogan hashtag to further capitalize on customer engagement.)
Just don't break your marketing bank with UGC on TikTok. The platform is known for relatable authenticity so ads that look too professional, high-def, or expensive can turn people off from wanting to get to know — and trusting — your genuine brand.
6. Invest in Influencer Marketing
Though snagging an influencer is easier said than done — especially if you're just starting out — it is a priority if you want to catapult your TikTok ad strategy to the next level. Ads with hard sale pitches and a lot of text will turn off TikTok's young users who are looking for authenticity. That's why the key is finding someone who truly understands, respects, and reflects your brand to help viewers forget they're even viewing an ad. To find an influencer who best aligns with your brand and advertising objectives, check out influencer search platforms like Grin, Klear, and Creator.co.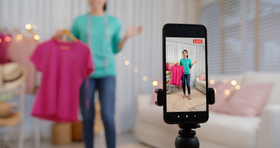 7. Learn From Your Competition
All's fair in love and TikTok rankings, so make sure you find three to five similar brands (as well as applicable TikTok influencers) to analyze — ones that have more followers than you and track a similar audience. By studying their UGC, most-liked content, and overall app engagement, you'll discover TikTok best practices without having to make many mistakes yourself. You'll also be able to better identify what's working and what's not to enhance your future campaigns — including understanding what type of ads to post and when and how to post them.
If your competitors aren't on TikTok, use that to your advantage — create powerful, memorable content that will impress prospects and customers alike.
Use Your TikTok Data to Learn + Optimize Your Marketing Strategy
With AdRoll, you can create, manage, and measure Facebook, Instagram, Pinterest, and TikTok ads. You can build a seamless cross-channel marketing strategy utilizing paid social, display ads, and email. Our TikTok ads platform also makes campaign management easier than ever. Learn more today!
Last updated on May 10th, 2023.