5 Tips for Reviewing Your TikTok Ad Performance
Topics Covered:
The party doesn't stop once your ad goes live on TikTok; ask any seasoned marketer, and they'll likely agree campaign launch day marks the beginning of a long journey. To make the most of any channel, you need to consistently monitor your results and dig for insights that'll help you optimize your creative, targeting, and overall strategy.
We're here to help you uncover gems of wisdom from your TikTok Ads Manager dashboard and distill complex numbers into actionable next steps. Let's dive in!
Tip 1: Distinguish Between the Macro and Micro
To get a big-picture perspective on how your TikTok ads are performing, we recommend first heading to the Tik Tok Dashboard where you can quickly compare results, ad spend, and status across all your campaigns.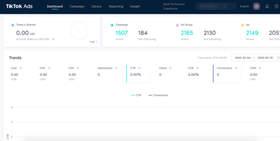 Then, to look at the more nitty-gritty details of each ad, ad group, and campaign, visit the Campaign page. The good news is there's no need to waste your time navigating through each row for every single campaign. You can use the Filter button to select relevant data for specific campaigns, as well as create and save custom filters for easy future access.
Tip 2: Customize Your Reports
Each brand has its own unique needs, which is why TikTok's Custom Reports button lets you personalize how your data is displayed. (It's an easy-to-use drag-and-drop!)

Feeling a little intimidated by the vast options? Don't worry. TikTok also has pre-defined report templates that simplify the process. Learn more about creating and managing reports here.
Tip 3: Choose the Right Metrics to Look At
Just like any other ad platform, TikTok offers a wealth of data for marketers and brands. But if you don't know where to look, it can feel a little overwhelming. Luckily, we're here to help — here are some good starting metrics you can use to evaluate your ad performance:
Additionally, you can check out data related to who's watching and engaging with your ads. Keep these insights in mind as you create your next batch of ads!
Gender

Age

Country/area

Traffic sources
Tip 4: Download the Shopify-TikTok Integration
Did you know that if your store is powered by Shopify, the Shopify-TikTok integration lets you create and manage your TikTok campaigns without having to leave the Shopify platform? Thanks to the one-click pixel installation, it's also a fantastic way to see your important campaign performance data in terms of how your TikTok ads are driving results, such as site conversions, for your Shopify store.
Tip 5: Use a Cross-Channel Marketing Tool
If you're looking for a more efficient way to review all of your ads, it might be time for a cross-channel marketing tool. AdRoll connects all your social ads (Facebook, Instagram, TikTok, Pinterest) to provide a holistic view of your cross-channel campaign performance — all in one place. Say goodbye to disjointed and cobbled reports and hello to better marketing insights and optimizations!
Your TikTok Results Are Ticking
Thanks to TikTok's 1 billion-plus active users, brands on the platform have a massive opportunity to reach a giant audience — but the truth is, few truly manage to go viral without a little help.
Luckily, with these tips, you're one step closer to getting the TikTok advertising results of your dreams. Don't stop there! To manage and analyze your campaigns across all your social media platforms, make sure to check out our automation builder — it's the best way to ensure your social media ads are delivered to the right audience at the right place and at the right time. You'll also unlock unified data, more streamlined analytics, and better results, so get started today! Our TikTok ads tool also makes TikTok campaign management easier than ever.
Last updated on May 10th, 2023.