How to Create an Effective Abandoned Cart Strategy
Pandemic restrictions may have ended, but shoppers' purchasing habits have forever changed, with many having grown accustomed to purchasing everything online, from everyday necessities to holiday gifts. Unsurprisingly, digital retailers have gladly capitalized on the online shopping frenzy, capturing more market share than usual. 
However, it hasn't all been sunshine and rainbows. With more people perusing digital storefronts, clicking on ads, and browsing products as an activity to pass the time, abandoned cart rates skyrocketed to over 18.5%. Nowadays, consumer goods worth more than $4 trillion are left abandoned in carts. That's a significant amount of lost revenue! 
But no need to worry: There are easy solutions to combat abandoned carts and ensure every potential customer's click and interaction contributes to a conversion — rather than just eat up your marketing spend. 
Here is everything you need to know about creating an effective abandoned cart strategy, from recovery tips to platform solutions. 
Why Does Cart Abandonment Happen?
From small startups to major retailers, most companies see cart abandonment rates that hover between 70 to 80%. A higher percentage indicates the presence of friction points in the customer journey, which you should pinpoint and resolve. 
Some common reasons why shoppers abandon their carts include: 
Poor or confusing checkout processes. How many fields are shoppers required to fill out? How long does it take? Can they checkout as a guest? 
Unexpected costs. The top reason for cart abandonment is unforeseen costs during the checkout process — shipping, taxes, extra fees. 

Lack of payment methods. Do you only accept a handful of credit cards? Is PayPal a payment option? 

Unoptimized mobile experience. More than 50% of shoppers do their online shopping via mobile devices. Is your checkout process optimized for different screen sizes? Or do shoppers have to pinch and drag? 
Iffy platform security. Can shoppers trust you with their credit card and personal information? 
Limited delivery options. How many shipping options do you provide shoppers? Do you offer in-store pickup for those who live close to your brick-and-mortar location (if you have one)? 
What Is Abandoned Cart Recovery? 
Despite grimly high abandoned cart statistics, uncompleted conversions are not always a lost cause. To convince shoppers to return and hit the checkout button, brands must spend the resources to invest in creating effective recovery campaigns. This process requires you to take a deep dive into your customer journey and squeeze your creative juices to develop genuinely compelling ads.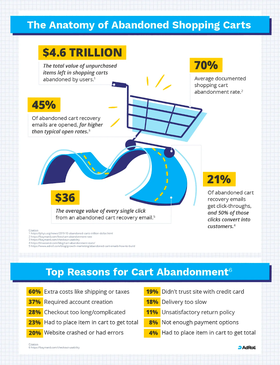 4 Steps to Create a Cart Abandonment Strategy
Modern customer journeys are topsy-turvy, bouncing from mobile to desktop and spanning dozens of touchpoints. As a result, an effective cart abandonment recovery campaign should encompass all the channels your shoppers spend time on: email, social media, websites, search engines. 
A multi-channel approach ensures that you will reach your target audience some way or another. Our research reveals that shoppers who receive both retargeting emails and ads are not only twice as likely to convert than those who see emails or ads alone, but they also convert twice as quickly. 
1. Segment your cart abandoners
The first step to recovering your abandoned carts is segmenting these shoppers. In other words, you're categorizing these shoppers according to specific parameters you set — from demographics to interest to behaviors. Consider it a customer profile. 
Here are some popular ways that marketers segment cart abandoners:
By interest. Which site pages did they click? What product pages did they spend the most time browsing?
By shopping frequency. Are they first-time or returning customers? 
By product. Which products did they add to their cart? Did all these products belong to a particular product group?

By cart value. What's the sum of products in their carts? Are they more interested in high-value products or low-value products? 
By generating insights into each segment's needs and desires, you can then craft and target them with more personalized ads, persuading them to return and check out. 
For example, you can:
Provide return shoppers with a "thanks for being a loyal customer" message of appreciation that's coupled with a small discount code

Promote add-ons, such as product personalization, to high-value shoppers 

Show ads that belong to the same or adjacent product groups to the one that the cart abandoner showed interest in

Have a more aggressive ad frequency for first-time shoppers who may not be familiar with your brand
2. Send abandoned cart emails
Email is one of the top tools that marketers have at their disposal to target cart abandoners. Shoppers open 46.1% of abandoned cart emails, and these emails yield a conversion rate of 4.64% compared to 0.17% for regular promotional emails. Email retargeting works because it reminds and encourages shoppers to check out. (It helps that most working Americans are addicted to checking their inboxes.)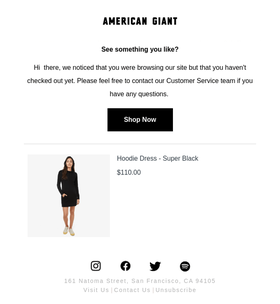 Here are some best practices when developing an abandoned cart email campaign:
The headline is everything. Most people's inboxes are inundated with work, personal, and marketing emails, so these potential customers typically only spend a second or two to scan the headline before deciding to delete or open it. Therefore, you'll want your headline to be as irresistible as possible — your email body is useless if shoppers don't click on it in the first place. Go for bold and catchy messaging, and if it's right for your brand, don't be afraid to use some emojis in your headline. 
Get the timing right. Marketing whizzes suggest that your first abandoned cart emails should arrive in shoppers' inboxes within an hour of them exiting the page. That way, their shopping experience is still top of mind. 
Don't make it convoluted. Remember: Cart abandoners are already familiar with your brand (after all, they've already spent the time exploring your site.) Opt for messaging that conveys a sense of urgency and reminds shoppers of your products' value propositions. If you can tie it all together with copy that also addresses shoppers' pain points, kudos to you — you've got yourself a winning formula. 
Add low-risk deals. Consider offering something to sweeten the deal: A 5% off coupon, free shipping, or anything that gives shoppers an extra incentive to check out. 
Always follow up. If the first email doesn't work, the second one might. Just be sure to space out your emails to avoid coming across as being spammy. 
3. Develop retargeting ads
Dynamic retargeting ads are the name of the game here. Whether for social media or website sidebars, dynamic retargeting ads that are personalized according to each shoppers' unique behaviors and interests can increase click-through rates significantly (0.7% compared to 0.07% for regular display ads.) 
Here is what you'll want to do:
Nail down your CTA. Short and punchy is the key to success. Your CTA should focus specifically on checking out, instead of something vague like "shop now" or "browse more items." You can even consider linking directly to the checkout page rather than your homepage. 
Choose the right platform. There are many platforms offering retargeting ad solutions. Do your research to see which features are most appropriate for your brand. 
Mix up the ad frequency. Experts recommend displaying your ad 17-20 times a month, but the perfect number will depend on your industry and specific audience. Experiment with your ad frequency to see how it impacts engagement rates. 
4. Keep these best practices in mind
There are various ways you can recover abandoned carts with ads and campaigns — but at the end of the day, these are the best practices that'll help you score big wins: 
A/B test product images, headlines, and offers. Regardless of the marketing channels you decide to invest in, don't fall for the trap of a "set it and forget it" approach. Without A/B testing, you won't figure out whether social proof in the form of product testimonials or five-star reviews works better than a free shipping offer. Perhaps user-generated social images are more appealing to cart abandoners than product shots in the studio. The winning creative will only reveal itself when you tinker with the ad components strategically. 
Develop a series of messages. Rather than display the same "You forgot to check out!" headline over and over again, opt for a clear progression of messages, with the final one presenting a last-chance deal or discount of some kind. 
Personalize whenever possible. Use the data you have from segmenting your shoppers. Don't treat all cart abandoners the same way.
Keep messaging consistent across all channels. No matter which platform you leverage, all your branded copy and imagery should work cohesively to support a larger brand story. Some research shows that consistent brand presentation can boost revenue by up to 23%! There's nothing more jarring than seeing wildly different cart recovery campaigns from the same company. Even if you're offering free shipping in your retargeting Facebook ads and 15%t off in your email campaign, use a consistent design style and copy voice. Of course, to avoid contradicting yourself, try to keep it as concise and straightforward as possible.
How Do You Prevent Cart Abandonment?
Although there are plenty of ways to aid cart recovery, the easiest method to reduce your cart abandonment rate is to encourage shoppers to complete the checkout process in the first place. Here are a few easy tips to remember when you're developing a preventative cart abandonment strategy:
Sitewide improvements
Update product descriptions. Be clear about how your product can solve your shoppers' headaches and improve their lives. Keep them as simple as possible while still driving desire and conveying the value of the product.  

Add trust badges sitewide. From the perspective of a consumer, online shopping is a trust exercise. You're trusting that the online retailer won't sell your email address or phone number to other entities. You must also believe that they will safely store your credit card information. To better instill this sense of trust in digital security, brands can add familiar trust logos to their site — one survey revealed that 48% of shoppers find trust badges reassuring. But don't just say it — make sure to implement customer security and privacy, too. 
Create an enticing homepage. Your homepage — the most important real estate on your site — is how shoppers form their first impressions of your brand. Make sure that it includes enticing images and copy that drums up excitement while conveying your brand identity and attitude succinctly. 
Generate FOMO. You can drive desire by emphasizing limited quantity and high demand for your products. One popular plugin you can easily add to Shopify or BigCommerce is live notifications of sales from real shoppers (which also helps build social trust). Or, if you're running an awesome sale for a limited period, you can create time pressure by adding a countdown timer on a global header. And, of course, you'll want to dedicate some marketing dollars to develop a campaign encouraging existing customers to leave a review or rating — a robust comments section is a great form of social proof. 

Personalize the web experience for return shoppers. You have a treasure trove of data, so use it. With a marketing solution like AdRoll, you can effortlessly feature personalized product recommendations based on shoppers' online behavior or past purchases. If you help them make their online shopping experience more efficient and purposeful, it'll be harder for them to abandon their carts. 

Help shoppers find answers. When shoppers are confused, they may end up exiting the page rather than spend time searching for the answer. So, help your shoppers find answers to their questions about your products, policies, or brand with ease — you can add a customer service chatbot or include quick links to FAQ pages at the checkout page. 
Checkout changes
Be upfront about all costs. It's easy for shoppers to add a bunch of items into their cart without realizing how they all add up. Be transparent early on in the shopping process — you can include shipping prices, handling fees, and taxes in the cart dropdown menu, rather than only display them at the final checkout page. 

Simplify the checkout process. With every unnecessary field that shoppers are required to fill out before they can complete their purchase, their patience dwindles. Marketers must remove friction points: Allow shoppers to check out as "guests," add a progress bar to set expectations, and let them remove products at every step, lest they have to exit the checkout process and type in all their information all over again. 

Offer easier ways to checkout. Shoppers are most likely to check out when their preferred payment method is available. If possible, expand to more credit cards and payment options such as PayPal. You can also provide the option of paying via an installment plan, including Klarna, Afterpay, or Sezzle, to alleviate some of the pressure that shoppers may feel from a large purchase. 
Operational updates
Improve shipping and return policies. Research varies, but between 18 to 36% of shoppers cite long shipping and delivery times as the reason they abandon their carts. In addition, 10% of shoppers will abandon a cart because of a poor return policy. Don't over-promise on delivery times, and make sure to convey shipping delays early on. Offer expedited shipping options to help out those shoppers who may need their products more urgently. At a time when people are navigating new routines and juggling a ton of responsibilities, brands that show empathy via reasonable shipping costs and flexible return options will reap the benefits. 
Abandoned Cart Solutions to Explore 
Luckily, you don't have to tackle your abandoned cart by yourself. There are many tools and platforms out there that can automate this process with just a bit of upfront work from you:
Marsello. Marsello's abandoned cart recovery app, which can easily be integrated with Shopify, includes a plethora of functions designed to help brands target abandoned carts. These features include reminder emails, SMS updates, on-site pop-ups, Facebook Messenger reminders, and more. 
Omnisend. Omnisend's cart recovery tool allows marketers to create automated cart recovery emails and track browser cookies quickly. Its dashboard is extremely user-friendly, so marketers can gather all the data they need to analyze their email campaigns' effectiveness. 

AdRoll. Also fully integrated with Shopify, AdRoll's marketing software provides everything that brands need to grow and capture market share. You can easily create abandoned cart email campaigns using hundreds of premade (but customizable!) email templates. AdRoll also provides retargeting ad solutions and a robust data analytics interface, so you can easily personalize your strategy for each customer profile. And best of all — most of its features are available for free!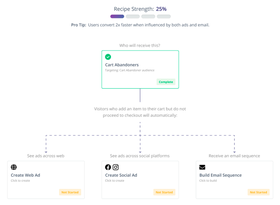 Key Takeaways
There is a lot marketers can do to recover lost carts, but it can feel a bit overwhelming. Whichever solution, platform, or strategy you decide to use, here are the main takeaways to remember:
Continuous measuring and experimentation are key. As with any digital campaign, don't just let your data collect dust. Analyze all the information you have and test multiple strategies to see what works best for your brand. 

Be creative with your offers and ads. The ecommerce landscape becomes noisier by the day. With shoppers bombarded with marketing materials across the interwebs, it pays to be bold. 

Simplify the shopping process as much as possible. More than ever before, people are strapped for time, and online shoppers are seeking fast and convenient user experiences. If you come across information fields that aren't absolutely crucial while reviewing your checkout process, get rid of them. The more you can make it easier for shoppers, the better your cart recovery rates will be. 
Operate with empathy. While you want to recover lost revenue via abandoned cart recovery programs, you'll want to consider every marketing effort from the shopper's perception. Is your ad frequency too high, causing your brand to come off as spammy? Are your retargeting ads following them everywhere they go in a way that feels a tad creepy? There's a fine line between persuasive and annoying, and you want to steer clear of the latter. 
You're All Set!
Cart abandonment isn't necessarily a setback — as a savvy marketer, you should view it as a huge opportunity. Now that you are armed with more data about each lead, you can maximize your marketing dollars to push them to convert. 
With AdRoll, you can easily transform your cart abandoners into repeat customers. Our marketing solution works, and it works well — cart abandoners who see or interact with an AdRoll campaign convert at a 23% higher rate than other shoppers. As an all-in-one answer to email marketing, retargeting ads, and cross-channel measurement, it's the only growth platform you need. 
If you're ready to conquer those abandoned carts (or interested in learning more tips and tricks to level up your efforts), sign up here to download our retargeting eBook today.
Last updated on November 17th, 2022.