The Top 5 Abandoned Cart Recovery Solutions
Topics Covered:
Marketing for e-commerce retail is about optimizing your opportunities to engage with customers and maximizing the revenue generated from every interaction. That means finding ways to connect with consumers even after they've left your website or digital shop.
One of the most common ways that this occurs is through cart abandonment. Research shows that nearly 80% of online shopping carts are abandoned, meaning that almost 4x as much value is lost from customers leaving the shopping process as is actually collected as revenue. That's a massive chunk of revenue that brands will never see, possibly because of preventable issues dissuading or distracting customers from completing transactions.
However, with the right abandoned cart recovery solution, it's possible to recapture nearly half of this lost revenue effectively. Let's explore why online shoppers abandon their shopping carts and how brands can maximize the results of each customer interaction.
Why Do Customers Abandon Their Online Shopping Carts?
There's a wide variety of forces that impact a customer's buying decision, from timing and costs to the web experience and the product itself. Fortunately, some recent research by Baymard sheds light on the details.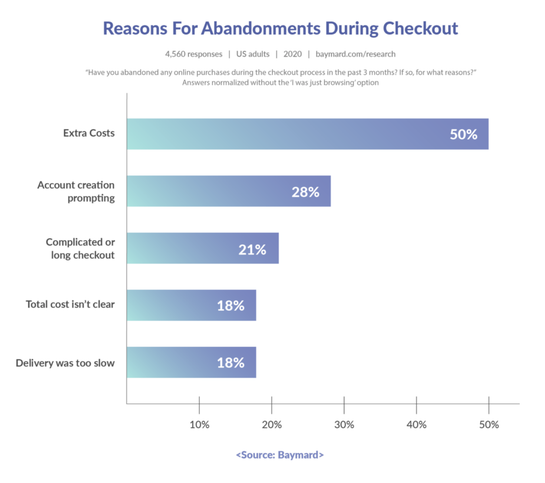 The research shows that the most common reason online shoppers abandon their carts is that they never really intended to buy in the first place and were just browsing or looking around to compare products. Many consumers use their shopping carts as running wish lists and will only infrequently make a purchase, if at all.
However, almost 45% of shoppers reported a different reason for leaving their carts without buying anything. Of this group, the most common reasons were:
Extra costs were too high: Customers may leave a cart behind if they feel taxes, shipping, and other costs have made the final price too expensive.
Account creation: About 28% of respondents in this group said they abandoned carts because they did not want to create an account to make a purchase.
Overly long or complicated checkout process: Too many steps in the checkout flow can frustrate users.
Couldn't calculate costs up-front: Customers value transparency and may abandon their cart if they don't feel they're getting an accurate picture of the final costs.
Delivery is too slow: Customers may leave their cart behind if the product can't be delivered promptly.
How Do You Prevent Abandoned Carts?
Many brands have adopted software solutions that help them combat the abandoned cart problem consistently using automation. These abandoned cart recovery solutions generally analyze your conversion funnel's data to target customers who have abandoned their shopping carts with reminders. The goal is to find the customers who intended to make a purchase and entice them back to the shop to complete the transaction.

5 Excellent Abandoned Cart Recovery Tools
Each abandoned cart recovery tool offers unique features and a different user experience. Here are five that have demonstrated positive results.
1. Omnisend
Using emails tailored to recapturing customers who abandoned their shopping carts, Omnisend's cart recovery tool tracks email addresses as well as browser cookies to power its automated email campaigns. Their user-friendly dashboard makes it easy to track your email success rate and recapture data so that you can continue to refine your shopping experience to minimize cart abandonment.
2. AdRoll
AdRoll's marketing software features a host of benefits for e-commerce brands. Its capability of running coordinated ads and email campaigns make it an ideal abandoned cart revenue recovery solution. To start, AdRoll is fully integrated with Shopify, with most features available at the free plan level along with a wide range of data tools that will help you maximize sales opportunities and recapture shoppers who have abandoned carts.
AdRoll's abandoned cart revenue recovery solution includes the following tools:
Hundreds of professionally built email templates that can be customized with AdRoll's email builder.
Retargeting: Create automated reminders and ads that retarget customers who have abandoned carts with new offers and products.
Rich data analytics: Utilizes audience segments, geography, shopping behavior, demographics, and device usage patterns to create abandoned cart strategies personalized to every individual user.
3. Marsello
Marsello's Abandoned Cart Recovery App offers a bevy of useful functionality specifically crafted to help e-commerce brands recover revenue from abandoned carts. Easy to install and implement on Shopify sites, the Marsello app does more than send shopping cart reminder emails—it can also reach your shoppers via SMS and messaging. Their features include:
On-site pop-ups to remind customers that they have items in their carts when they visit your store.
Social media messaging: Marsello's app sends reminders by Facebook Messenger as well as email.
Cross-device cart preservation: Persistent carts are a must-have for e-commerce brands. Marsello ensures that when a user adds items to their cart, those products will be saved in the cart and appear when the user accesses your shop on desktop, tablet, or mobile.
4. CartStack
CartStack is a popular option for recapturing revenue from abandoned carts partly because of its robust non-email tools. While cart abandonment emails are a key part of CartStack's functionality, even better are its on-site capabilities, aiming to target customers with cart reminders earlier in the shopping process.
Using what they call Conversion Tools, CartStack attempts to intervene in the customer experience to prevent carts from being abandoned in the first place. These features include:
Exit intent offers: Catch a user before they leave with a special offer or opportunity to sign up for emails
Abandoned tab notifications: Gently remind users when they've left shopping tabs open without making purchases
Push notifications: Send reminders to customers' devices when they've left a cart behind
5. Keptify
For e-commerce brands looking to provide a holistic customer experience while reducing lost revenue from abandoned carts, Keptify delivers an array of useful functionality to refine the conversion funnel and entice customers to continue the process. Cart abandonment emails, SMS and Facebook Messenger notifications, and cross-browser functionality are all supported, but what makes Keptify unique is its revenue-based pricing model. Its features include:
Real-time offers based on shopping behavior: Allows brands to provide discounts when a shopper crosses a spending threshold or indicates interest in a particular set of items.
Offers and reminders for returning customers, as well as for first-time shoppers.
Location-specific offers and experiences.
Protection for technical errors during the checkout process: Keptify keeps your customers happy by preserving their carts should an error disrupt the checkout process.
Is Your Toolkit Ready?
With so many opportunities for revenue going uncaptured in the e-commerce world, brands need to develop toolkits to help retain the value of abandoned carts. With these cart abandonment recovery tools, your brand will be ready to maximize every customer touchpoint and refine the shopping experience.
And on the topic of tools, check out this ready-made cart abandonment recipe to help drive visitors with products in their carts back to your website and over the finish line!
Last updated on September 16th, 2022.