How to Create an Abandoned Cart Recovery Campaign
Topics Covered:
Do you find that a lot of your potential customers leave items in their shopping cart without completing their purchase on your site? You're not alone — shopping cart abandonment is something all online sellers experience. 
Studies have found that the shopping cart abandonment rate across ecommerce stores is nearly 70%. This means that nearly seven out of every ten customers who shop on your website will leave without completing a purchase. While it would be easy to look at this statistic as a roadblock, instead, try looking at it as an opportunity. 
Read on to discover how to build a strong abandoned cart recovery campaign that gives you the opportunity to win back these customers and increase your completed sales. 
What is an Abandoned Cart Recovery Campaign?
This is a campaign (ads and emails together are best!) designed to bring shoppers back to their ecommerce cart on your site. These campaigns should be highly personalized and can utilize a variety of offers, CTAs, and creative to entice shoppers to jump back in where they started. They are also best delivered strategically across channels, where your shoppers touch points are.
Why Should You Have an Abandoned Cart Recovery Campaign?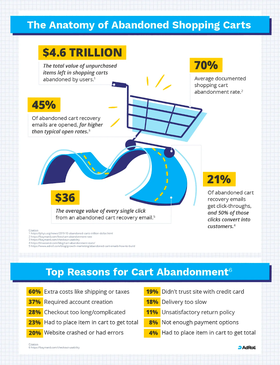 According to recent research, shoppers abandon an estimated $4.6 trillion (yes, you read that right — trillion) worth of merchandise in the shopping carts each year. In fact, on average, more than three out of four shopping carts are abandoned. Mobile shoppers have an even higher cart abandonment rate. It's clear: Having an effective abandoned cart recovery campaign would have a direct and positive impact on an online store's bottom line.
An effective email campaign is a must-have part of your abandoned cart recovery strategy. Studies show that cart abandonment emails have a 45% open rate and a 21% click-through rate, which are much higher than the average open rate and click-through rate of most marketing emails. 
However, email campaigns have two major limitations:
You can only send emails to shoppers with whom you have the email addresses.

You cannot control whether or when your shoppers open your emails.
As a result, abandoned cart recovery campaigns relying solely on email have only limited impact. To maximize the reach and effectiveness of your abandoned cart recovery campaign, you need to think cross-channel, as well as optimize the customer experience after you bring them back to your sites. 
4 Steps to Create an Abandoned Cart Campaign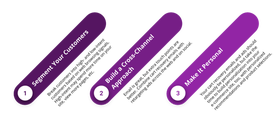 An effective abandoned cart recovery campaign contains three parts:
Audience segmentation: Define the segments of customers you want to target and the offers, if any, for each segment. 

Cross-channel campaign: Reach your shoppers with a consistent message across channels.

On-site personalization: Personalize your pages to engage with your shoppers after you bring them back to your sites.
#1: Identify Your Target Audience
You may think that an abandoned cart recovery campaign, of course, targets shoppers who abandoned their carts. But who should be included in the campaign? There may be thousands or tens of thousands of abandoned cart shoppers, but not everyone has the same level of intent or likelihood to purchase from you. Here are a number of ways to further segment your abandoned cart shoppers:
New vs. repeat customers

The type or value of products left in the carts

The time your shoppers spent on your site prior to abandoning carts
#2: Define Your Message Strategies and Offers
Different segments of your shoppers may require different kinds of messages and offers. For shoppers ready to make a purchase, a time-limited offer may work well to "push them over the fence." Meanwhile, shoppers in their early stages of the shopping journey may need more information about the product and social proof. Finally, repeat customers may just need a more personalized message and acknowledgment of their loyalty. 
#3: Create Your Cross-Channel Abandoned Cart Recovery Campaigns
After you have defined your audience segments, as well as the appropriate message strategy and offer for each segment, it's time to put your abandoned cart recovery campaign into motion, on multiple channels. 
Email is often the channel where marketers begin. It makes sense as email is one of the most effective marketing tools for brands of all sizes. To create an impactful abandoned cart email campaign, follow these tips: 
Tackle the timing. Every audience is a bit different on what time of day users will open emails. 

Write a well-crafted, enticing subject line.

Give one clear CTA (to complete their purchase).

Add images specifically of their cart items (personalized to each abandoner). 

Showcase reviews of their interested items.

Overcome objections upfront.

Optimize the email to be mobile-friendly.

Highlight your offer when applicable.
Retargeting ads are a common marketing tactic to tackle overall website browsing abandonment. But retargeting ads can also be used for abandoned cart recovery campaigns where brands will serve ads to users that almost purchased a certain item. Here are a few key differences in using retargeting ads for browse abandonment versus cart abandonment:
| | | |
| --- | --- | --- |
| | Retargeting ad for browse abandonment | Retargeting ad for cart abandonment |
| Audience segmentation | Simple — mostly based on page views and product categories, as we have little information about the shoppers. | Can be complicated and needs to be consistent with other channels — your email and ad campaigns have to deliver the same message and offer to the same shopper. It's important your cart recovery campaigns across channels share the same audience segment data.  |
| Personalization | Low — mostly based on the products your shoppers browsed. | Can be high and again needs to be consistent with other channels. You don't want to show different products or offers to the same shopper between email and ad.  |
| Cross-channel orchestration | None or little — as it mostly runs as a stand-alone campaign, it doesn't need to coordinate with another channel, especially when you use a platform (such as AdRoll) that enables you to advertise on multiple ad networks within one retargeting ad campaign. | High — in a cross-channel campaign, each channel needs to be aware of the actions taken by the same shoppers in another channel. The effectiveness of cross-channel campaigns increases exponentially when channels orchestrate with each other.     |
#4: Personalize Your Landing Page 
So, what do you do after your emails or ads bring the shoppers back to your site? This is the last part of your abandoned cart recovery campaign and often the last one marketers think about, if at all — however, it's also arguably the most important part of your campaign. 
Most cart recovery emails or retargeting ads simply send the shoppers back to the shopping cart page that the shopper abandoned or the related product page. But remember: your shoppers have already visited those pages. If there is no new information on those pages that are tailored to a particular shopper, what is the point of bringing your shoppers to the exact same places where they left last time? Here is where personalization plays a powerful role.
Consider adding personalized messages to your shopping cart and product pages to make them relevant to the particular audience segment and consistent with the messages in your emails and retargeting ads. If you give a promotional offer in your emails and ads, the landing page should not only honor the offer but also put the offer front and center on the page. And if your shoppers browsed multiple products on your site and have difficulty choosing the right products to buy, the landing page should provide a personalized product recommender. 
Get Started With a Cross-Channel and Integrated Abandoned Cart Recovery Campaign Now
Abandoned cart recovery campaigns should be an essential part of any brand's strategy. While a high percentage of shoppers leave items in their shopping cart without making a purchase, it does not mean you have to lose the sale altogether. 
But an abandoned cart recovery campaign is much more than an email campaign — it needs to be cross-channel and integrated to provide a personalized and consistent shopping experience to your shoppers.
While it may sound like a daunting task, with an appropriate tool, such as AdRoll's Marketing Platform, you can create and manage your abandoned cart recovery campaign with ease. If your ecommerce site runs on Shopify, WooCommerce, Magento, and BigCommerce, you can connect your stores with AdRoll and get started with your abandoned cart recovery campaigns in minutes.
Ready to get started? Check out this eBook for more tips, tricks, and tactics that'll help you transform your cart abandoners into new customers.
Last updated on November 15th, 2022.