How Scarlett Rocourt, Founder & CEO of Wonder Curl, Optimized Marketing with AdRoll
45%Email Open Rate Higher than industry standard
29.3%Click Rate Higher than industry standard
3xIncrease in Conversions Since adopting AdRoll Email
Discover how managing ads and email in one place can help you increase conversions and get time back. Learn More
⚙️ AdRoll features leveraged: Email, Social Ads, Shopify Integration
Wonder Curl is a plant-based, cruelty-free haircare line that helps nourish and define natural, curly hair. Wonder Curl's mission is to make people with curly hair fall in love with hair again by empowering them to wear their hair in its natural state with confidence.
There are benefits to being an entrepreneur setting up a small business. You call all the shots, and you don't have to consult anyone else when it comes to the look and feel of your brand. You also wear several hats and have a hand in every element of the business.
But as the business scales, you don't have time to become an expert in all areas, which can stand in the way of growth. That wasn't the future I wanted for Wonder Curl.
Wonder Curl is a plant-based, cruelty-free haircare line that helps nourish and define natural, curly hair. I started formulating my own products out of frustration because I couldn't find anything that worked for my thick curly hair. At the time, I was used to spending hours and using four or five styling products to achieve the look I wanted, only for the Florida humidity to ruin all of my efforts. I set out to create a product that keeps hair looking the same as it does when it's wet. That product became our best seller.
In a very crowded market, two aspects differentiate Wonder Curl products. Firstly, they actually do what they say they will do. Secondly, we keep things simple. I was tired of using so many products in my hair, and I'm not alone. "Curly chemists" have learned to mix and layer multiple products to get their desired effect, which is costly and time-consuming. With Wonder Curl products, curly-haired people don't have to do that anymore. Now, I personally use just two products: a moisturizing leave-in and a styling product.
Wonder Curl has grown a lot since I founded it in 2010. In the beginning, I fulfilled orders from batches made in my sister's kitchen. Eventually, I partnered with a manufacturer. Maintaining the quality of my products was important to me during this process, so they are still made by hand in small batches — just not in my sister's kitchen anymore. I grew from one to two when I hired someone to handle customer service. When starting a business, it's hard to find someone dependable and trustworthy to convey the right tone in your brand's communications. I'm fortunate to have a fantastic colleague who has come to know me and the Wonder Curl brand.
AdRoll Simplifies Marketing by Putting All the Little Pieces in One Place
I use Shopify as my ecommerce platform. I used to have a lot of difficulties generating ads in different places — I had a separate platform for my emails and then would have to log in to Facebook to create my Facebook and Instagram ads, manage different audiences, and keep track of performance. I also needed to hire someone to handle Google Ads because it's a different beast, and I didn't have the time to invest in learning it.
It took a lot of effort to keep up with all these little pieces of my marketing strategy. It was overwhelming — a full-time job in itself — and I still had to address other key parts of the business. Sometimes, I would forget to check on the results of a campaign. Other times, I would simply run out of time and energy and forgo running a campaign altogether. Additionally, my email platform was limited when it came to creating pop-ups and segmenting emails for specific audiences.
I needed help, and online research brought me to AdRoll. I had nothing to lose, so I signed up for a free trial. When you're a small business on a limited budget, subscriptions for every little thing add up quickly. I liked that I could start AdRoll immediately and play around with the platform. I also downloaded their free Shopify integration which allowed me to easily pull in my store's product feed and website visitor information to use in ads and emails. I got to see key features in action as part of the free trial and Shopify integration.
I ultimately subscribed to AdRoll because of how the platform simplifies ad and email management. Everything is in one place, and that's what I wanted: to open up a single site and see a snapshot of everything going on with my ads and emails. Having them together in one dashboard takes the guesswork out of developing an impactful marketing strategy.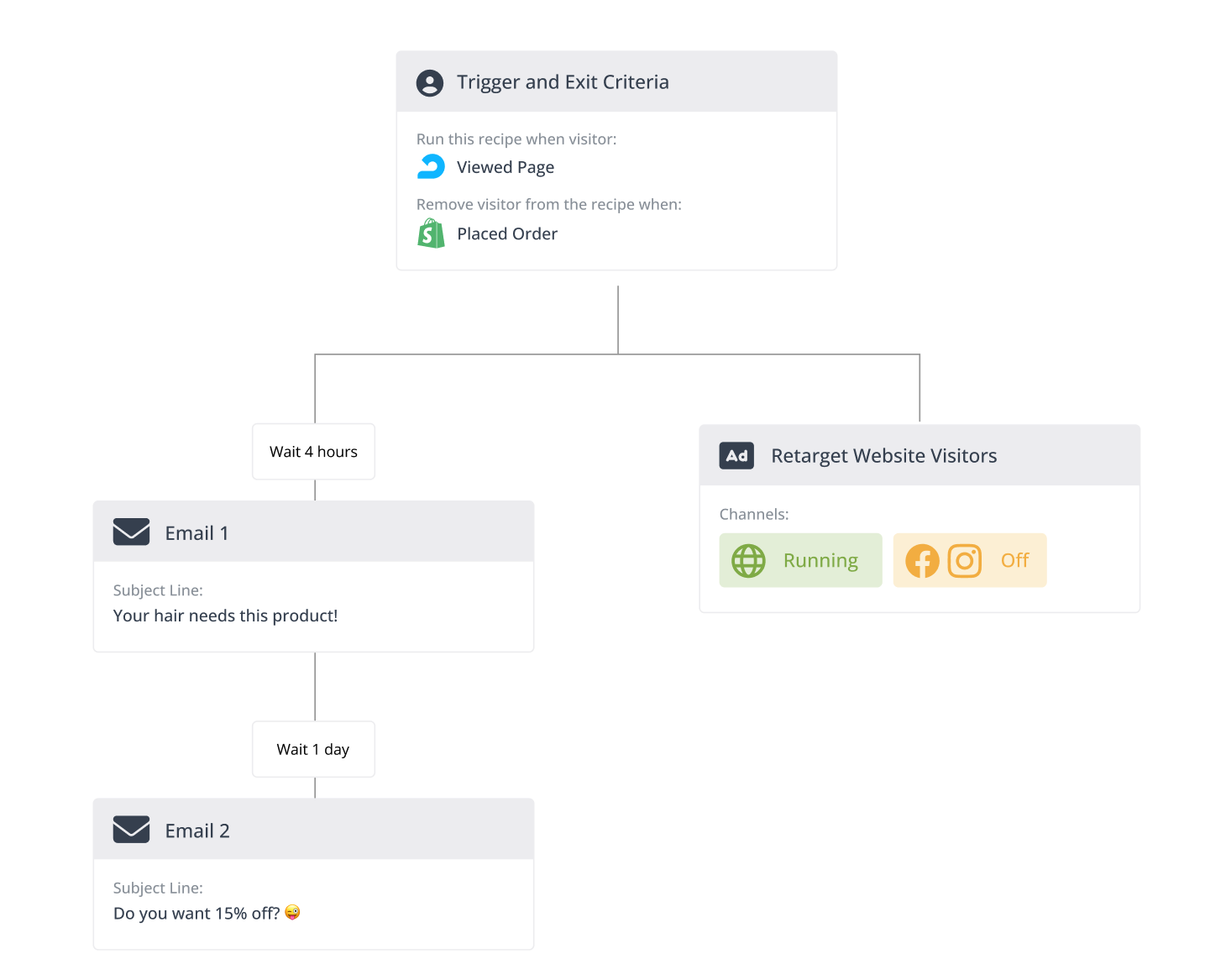 Expanding My Reach Through New Segmentation and Personalized Email Options
For my email marketing, AdRoll automatically creates segments, categorizing my best prospects, my best customers, and the ones I'm at risk of losing. I can then create customized email campaigns for each audience segment. Some customers only buy on promotion, for example, and AdRoll automatically creates a segment for them. I can also create my own segments, like customers who purchased a specific product whom I want to target for a related upsell.
Targeting customer segments is so much easier in AdRoll than it was across different platforms. I simply indicate my target audience, set my budget and the various places I want the ad to run, and AdRoll does the rest. I can then track how the ad performed and decide whether I want to allocate more money to it or try something different.
Behavioral segmentation is one of AdRoll's best features, and I realize its benefits through AdRoll's Shopify integration. The integration provides existing customers with product recommendations and feeds me information about cart and browser abandonment. If I see certain IP addresses continue to return without purchasing, I can explore the best ways to engage them.
With AdRoll, it's also easy to create customized emails that align with my goals. I can create templates that are perfectly on-brand and mimic my website. The Shopify integration then customizes product recommendations within the email to each individual recipient — a feature I didn't get with other email service providers I've used. I can automatically email customers who abandoned their carts, too. I'm all about automating as much as possible, and AdRoll makes that easier.
I also really like the pop-up options, which allow for further customizations based on audience segmentation. If someone is looking at their cart, I can create a pop-up to say, "Why not get an extra 10% off?" or set up different offers depending on where a customer is on their journey. If someone's not quite ready to purchase, they might benefit from downloading a free eBook. I can create as many pop-ups as I need to meet my customers where they are and bring prospects into the ecosystem.
A Marketing Platform that Delivers 3X Conversions
When I log into my AdRoll account, the dashboard gives me a complete snapshot of visitors, purchases, and abandoned carts, allowing me to adjust my strategy accordingly. Since I started using AdRoll's browse abandonment feature, we now have a 45% email open rate and a 29.3% click rate, both above the industry standard. My sales are better, too, with 20 conversions and $700 in revenue directly attributed to AdRoll-supported email newsletters. Since adopting AdRoll, I've seen a 3X increase in conversions.
After becoming an AdRoll customer, I expected to see results, but I didn't expect to build such a great relationship with the AdRoll team. It began during my free trial, when I had a 1:1 call with a customer service rep to ensure I got the most out of my initial experience. Ever since then, AdRoll has had my back. If I ever encounter a hiccup, someone from the AdRoll team notices and proactively contacts me to help. They also respond to my feedback with added functionality, such as when I asked to be able to duplicate an email. Instead of saying, "We don't offer that, sorry," they turned my suggestion into a reality.
AdRoll has become an extension of my small team. If I can't get my graphic artist to create an ad for me in the sizes I need, I can contact AdRoll and they will produce professional creative for me in less than two days.
I don't have a huge budget, a marketing team, or an agency doing these things for me, but AdRoll steps in to fill that gap. It's great that I can handle all my digital marketing initiatives in one place. It's also inspiring that, despite my budget limitations, AdRoll treats me like one of their most important customers. I love having such a personalized relationship with AdRoll. This kind of customer experience is rare.
AdRoll Lets Me Compete Against the Big Players in a Crowded Market
In all of ecommerce, the customer journey has gotten longer and more complicated, with more noise getting in the way of your message. For Wonder Curl, much of that noise comes from more prominent beauty brands that can afford to pay $5,000+ per day on ads. I'm not there yet, so having a strong voice and being able to compete in my niche market is super important. AdRoll has helped me expand my knowledge about display ads, where to find my customers and prospects, and how to follow and reach them in ways that increase sales. If it weren't for AdRoll, I wouldn't have the reach I have, and I couldn't compete against other beauty brands.
Using AdRoll helps me make more informed decisions about my business strategy. I already wear so many hats and have so much on my plate, so I don't have time to become an expert in all the different ad platforms. But with AdRoll, I don't have to. I get all of the benefits of multi-channel advertising without having to put in a lot of energy.
Micro and small business owners are always looking for ways to get the most value — not just the best deal but also the best results. AdRoll gives me the biggest bang for my buck by extending my reach across multiple channels, giving my company a voice in a crowded space.
Learn How You Can Save Time and Grow
AdRoll is the industry's only streamlined platform for running display ads, social ads, and email together, all in one place. Learn how pairing marketing channel unification with award-winning advertising technology can help you market your business more efficiently and effectively.