Topics Covered:
It's Black Business Month — and as black-owned businesses continue to be hit hardest during the COVID-19 pandemic, it's more important than ever to show support. Enter Virgil Abloh: DJ, artist, architect, designer, and first person of African descent to lead artistic direction at a French haute couture house. Abloh grew from humble origins as the son of Ghanian immigrants to dominating an industry famous for its lack of diversity.
Abloh's story is more than one of a black man conquering a predominantly white business. It's not just a narrative of the son of immigrants rising to the American Dream. It's also a lesson in what it takes to succeed as an entrepreneur — a series of reinventions, remixes, adaptations, and anticipations. It's the story of channeling skills and creativity in unconventional ways to achieve more than the sum of those parts would on their own. 
Here are lessons that every challenger brand should learn from the story of Abloh's career. 
Windy City Dreams
Virgil Abloh was born to a seamstress and a paint company manager, both immigrants from Ghana, in the Chicago suburb of Rockford. When he wasn't learning how to sew from his mother, he spent time with friends and was intensely interested in skateboarding and graffiti culture. In many ways, he had a mostly unremarkable middle-class childhood experience on the outskirts of Chicago.
College marked a real turning point in his life: Abloh studied civil engineering at the University of Wisconsin — Madison, with a dream to become an architect. While in school, a side job designing t-shirts for a Chicago screen-printing store led to a chance meeting with Kanye West's manager, John Monopoly. That serendipitous encounter led to the beginning of a collaborative partnership. As he completed a Masters in Architecture, Abloh worked with Yeezy, ultimately laying the foundation for his future rise.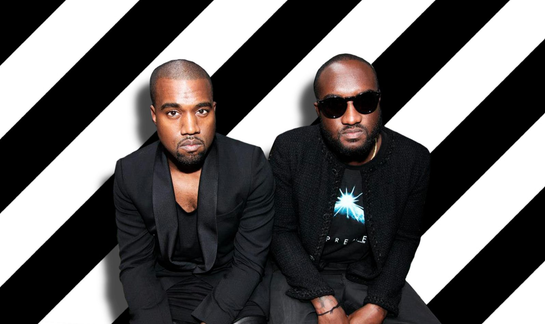 Inspired by a campus building designed by the legendary Rem Koolhaas, Abloh decided to dive headfirst into fashion after graduation. Although he worked with Kanye on collaborations with Louis Vuitton and other fashion houses, he felt he needed a more formal education. 
So, in 2009, though already a rising star in the celebrity streetwear world, Virgil and Kanye went to Fendi to… intern. This period in Abloh's life was marked by contrasts — delivering coffee for designers at Fendi by day, taking meetings with icons in hip hop and fashion by night, and building a collaborative network of like-minded young and ambitious creatives to surround himself with inspiration and opportunity.
The next few years lead to an incredibly prolific, diverse, and groundbreaking period. Crashing fashion week events in streetwear styles that raised eyebrows from the conservative, high fashion world. (At one point, Kanye compared his crew to Rosa Parks, showing up and refusing to leave from a place where black men weren't wanted.) Throwing parties and events with a star-studded coterie under the Been Trillin collective umbrella. Creative directing Kanye's agency, DONDA — a mysterious project that seems almost ephemeral in its simultaneous impact and lack of impact. A small art project masquerading as a fashion brand called Pyrex Vision. And enough travel to make even the most intrepid globetrotter's head spin.
All of this frenetic activity led to the culmination of what Virgil Abloh was about — the fashion and art brand Off-White. The brand is described by Abloh as "the grey area between black and white, the color off-white." Since its launch, the company has made headlines by reimagining Nike sneakers (leading to some of the most in-demand Nike shoes ever made), a wide range of collaborations (even one with Ikea), and becoming the vanguard of the new high-low streetwear style. And then, as if having a best-selling, Milan-based fashion house wasn't enough, Abloh was tapped to lead Louis Vuitton, becoming the first black man to lead a storied Paris fashion house.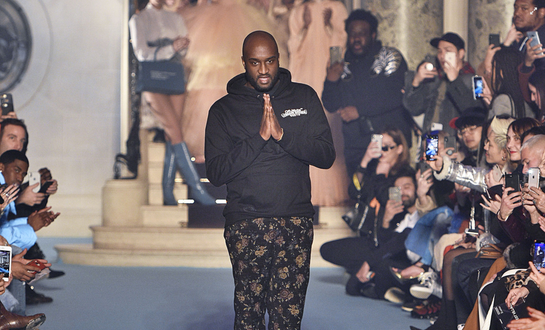 Finding Your Colors
Virgil Abloh, through his work with Kanye, LV, and his own brands, managed to position himself squarely at the pinnacle of culture. His clothing is worn by celebrities, imitated by knock-off manufacturers and fast fashion brands, and inspired and collaborated on by world-famous artists and musicians. But what lessons does he offer startups and challenger brands?
Think Wider
Many think of architecture as a focus on designing and building homes, offices, skyscrapers, bridges, and other structures. But the best practitioners in the field know that architecture creates social change — whether that be in behavior, living standards, economies, or attitudes. 
Virgil Abloh reached new heights by taking his engineering and architecture background and expanding it to encompass all of design — taking the problem-solving skills he learned as an architect and applying them towards solving more complex issues in various media including furniture, footwear, and museum exhibitions.
Part of the reason he could go as far and as fast as he did was his relentless willingness to reapply himself to the new and the different. In the mashup era, businesses must be willing and open to combining and recombining their skills in unusual ways or towards unusual ends to accomplish ambitious goals. 
Just as Abloh combined his DJing and love of music with his affinity for skateboarding and his design training, companies need to identify opportunities to remix their brands to stay ahead of the curve.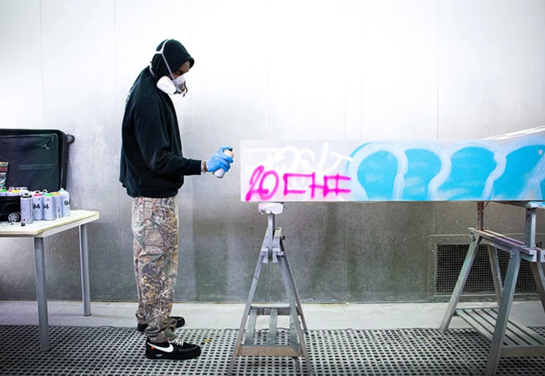 Build a Success Network
Virgil Abloh spent most of his twenties meeting people — from avant-garde artists to up-and-coming musicians to business managers. Much of his success can be attributed to the fact that he was at the right place at the right time with the right connection. 
His willingness to put himself out there earned him a job at a screen-printing shop. That job led him to the opportunity to meet West's manager. And that, in a long and indirect way, got him to Louis Vuitton. 
For marketers and owners of startup brands, that means saying yes to every meeting that comes their way. It means being relentless in pursuing opportunities: many of Abloh's career breakthroughs came out of cold calling people and offering his services and talents. Even when rejected, he pursued friendships and professional relationships. 
Challenger brands need to put themselves in the same mindset — push for what you want, make connections, reach out to strangers to see if there's an opportunity to work together, and take "no" to mean "not now, but let's keep talking." 
Build From the Bottom
One of the hallmarks of Abloh's career is his constant reference to trends from those younger than himself. While many fashion designers draw inspiration from vintage and heritage styles, Abloh insists on surrounding himself with influencers and tastemakers from future generations. This allows him as a designer to stay on top of current trends and identify and tap into what will be big next year and five years down the line. 
A constant refrain from those close to Abloh is that he often has a queue of projects waiting for the right time — and finding that right time often comes down to the kids that look up to his work. They're the ones that influence Abloh's next move.
Challenger brands need to tap into the market they're currently serving and the market that will be buying their products in the future. Instead of making strategic decisions fueled purely by current trends, companies that want to outpace competitors need to anticipate where a movement is headed. The easiest way to do that is to be open to feedback from those below the c-suite and potential customers. 
The Roll-Up
It's painfully hard to make it to the very top of fashion — or any industry. Even more so as a member of a marginalized group that is often underrepresented in the field. Virgil Abloh's success, despite these odds, is inspirational. It's a story of unabridged hustle, proving that success is planned and not happenstance. 
More than anything, Abloh's story describes the kind of foundation-laying that anyone, individual or brand, needs to do to reach the top of their industry. There's a playbook, and Abloh's career is the quintessential guide:
Engage. Find a passion. Figure out what you love, what you stand for, what makes you excited. And then engage with it. For Virgil Abloh, that was skate culture, street art, graffiti, and music. He spent his youth pursuing these passions with unwavering dedication. For brands, this can be identifying what made them a brand in the first place, then distilling it down to the root essence.
Learn. Pick up skills: any skill, every skill. Skills are transferable and can be shored up with the right partnerships and collaborators. They're critical to success. Learning how to do one thing well opens up tremendous possibilities for doing other things well and trains you in how to apply a process to any problem.
Remix. Take those skills and passions, and branch out from the obvious path. Apply them in strange and wonderful new ways. Solve a problem completely unrelated to what you do. Practice applying what you know to what you don't.
Meet. Network. Make cold calls and cold introductions. Talk to people about what you do, and share your passions with others, even if they aren't an obvious business connection. Build a fleet of relationships that can be used as sounding boards, support, and introductions to further relationships. At the end of the day, 90% of success is knowing who to ask for what you want and having the chutzpah to ask.
Participate. Give back to the community. Be transparent and always give before asking for anything in return. When looking for partnerships, don't think about what you can get out of something — think of things you can provide to others first. And, don't focus on how collaborators can help your brand but rather how your brand can help collaborators.
Win. You might not become the next creative director of Louis Vuitton, but you can grow a fulfilling, engaging, and successful brand by following these steps. Success is about more than making it to the very top — it's about looking back on what you've accomplished and not seeing any regret.
Last updated on September 16th, 2022.