Unrolling: Museum of Ice Cream
Topics Covered:
In just four years, the Museum of Ice Cream (MOIC) transformed a sprinkle of an idea into a $200 million empire with over 400,000 Instagram followers. Consider it a place of contradictions where magic, unicorns, and rainbow sprinkles masked a darker side that didn't come out until after the young company made a big rainbow splash.
There are lessons in the meteoric rise and potential fall of the Museum of Ice Cream. The experiential company is almost an ideal case study in what to do and what not to do — a microcosm of the supercharged world of startups, influencers, and direct-to-consumer (D2C) brands. It's also the subject of Unrolling: Museum of Ice Cream, as we take a deep dive into the cutthroat world of turning dreams into reality.
Sweet Dreams
The Museum of Ice Cream is the brainchild of Maryellis Bunn, who on landing in New York for school found herself alienated in her new home after growing up in community-minded Laguna Beach. Her degrees in business and design, from NYU and Parson's, eventually landed her a position as the head of Forecasting and Innovation at Time, Inc. There, she identified trends to help Time shift their business model to engage millennials — keeping her finger on the pulse of a generation and advising older executives about the correct shade of pink for branding campaigns.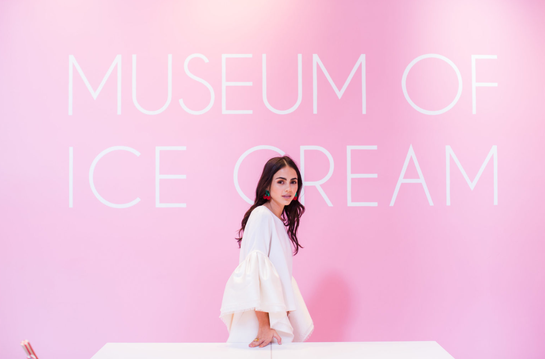 Something about that position failed to click, and Bunn spent much of her time thinking about the nature of New York's institutions. The Guggenheim, the Museum of Modern Art (MoMA), and the Museum of Natural History may have been good enough for the drab generations of yore. Still, they simply didn't offer the kind of FOMO (fear-of-missing-out) eye candy that the millennial market requires. 
Now, the story intersects with another phenomenon we often discuss: the explosive growth of e-commerce and the D2C revolution. Increased reliance on digital shopping, combined with excessively high rents and sweeping changes in the way people live and shop, left New York with a preponderance of empty storefronts. 
As New York struggled to figure out what to do with these spaces, creative landlords and companies started to rent them as pop-ups: short-term concept stores that worked as real-life beta tests or marketing experiments, often for digital-first brands.
Turning a Sweet Tooth Into an Empire
This was the world that Bunn found herself in: highly educated, far from home, alienated by place and institutions, and surrounded by empty storefronts. And like the 1960's incarnation of Batman, the one with the inimitable Adam West, Bunn took this grim origin story and turned it into a magical experience for children and child-like adults. 
In July 2016, the world's first Museum of Ice Cream was born in a New York City pop-up space.
During the first week, 30,000 tickets sold, giving thousands access into a social media-driven playground filled with over-the-top, sensory experiences. The exhibits included the now-famous pool full of rainbow sprinkles, climbable unicorns, banana swings, and small ice cream and cotton candy tastings. And plenty of opportunities for selfies. Lots and lots of selfies.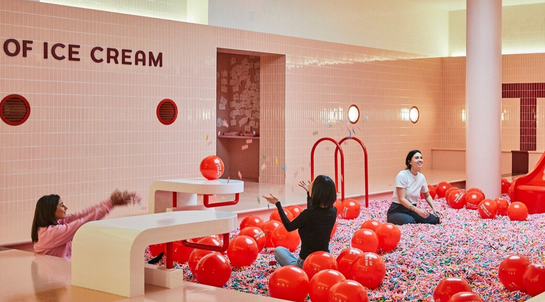 That first exhibit at 100 Gansevoort Street in New York City's Meatpacking District ran through September 2016, extending its NYC run several times due to overwhelming demand. In 2017, additional pop-ups appeared in LA and Miami, and a permanent flagship location opened in San Francisco. Finally, December 2019 saw the opening of the global flagship in New York's SoHo neighborhood, which was formerly occupied by H&M, another victim of the relentless pressure facing retailers. Pay attention to that date, because it's going to be important later.
Besides the "museum" aspect of the MOIC, parent company Figure8 began selling branded ice cream pints, creating makeup collaborations with Sephora and consulting with large brands like Facebook on how to make their offices a little less corporate and a lot more ice cream. In August 2019, the company received $40 million in funding based on a $200 million valuation.
The Secret Ingredient
How did a small pop-up comparable to a PlayPlace for adults turn into a national phenomenon? How does a four-location selfie-booth receive a $200 million valuation? And what can other startups learn from their success?
Start with all the ingredients
The first MOIC location was entirely self-funded by two co-founders: Bunn and her fiance and president of MOIC, Manish Vora. That didn't stop them from pulling out all of the stops, from flashy ads to a star-studded opening night lineup of celebrity guests. It helped that both Bunn and Vora had significant assets — the former is part of the famed coffee-maker family and the latter spent most of his career in finance. 
Access to financial resources allowed the MOIC team to eschew many compromises other young businesses are forced into. The lesson here is it's critical to start from a well-capitalized position. Too many startups and small businesses fail when they don't have enough cash to bring their vision to fruition. Many more are lost as they fail to account for expenses, such as marketing and sales or additional product development costs that arise. Having a cash cushion isn't just nice. For many businesses, especially retail, it's essential to deal with the countless unexpected problems.
Having cash on hand early also has the benefit of allowing business owners to delay taking outside money until they are in a position to get good terms. That can be the difference between retaining control or being subsumed by investor interests.
Stay off the top shelf
You can find hundreds of articles about luxury as a critical driver for millennial consumers. In fact, we briefly touched on it when talking about Supreme and Dolls Kill. But the magic of the MOIC (and Supreme and Dolls Kill) is they managed to make an experience that is both luxurious and affordable — in other words, exclusive but attainable.
That's part of the magic of the social phenomenon Bunn tapped into. For $39 per visitor (up from $12-13 at opening), customers recreated experiences shared across Instagram by Real Housewives stars, musicians, athletes, and other pop culture figures. It offered a taste of a life better lived to masses of people looking for lives to emulate. At a price of almost $40, it's expensive enough to be seen as a luxury splurge by many of its visitors but cheap enough to still be affordable for tourists who flew or drove into San Francisco or New York.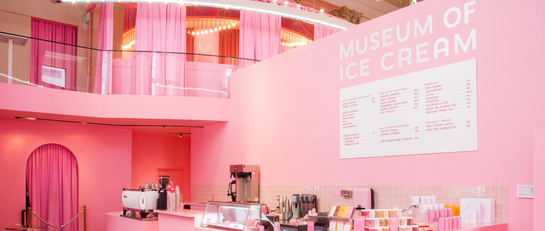 In picking the right price point, the MOIC created a feeling of high-end living beyond what the actual experience offered. By carefully limiting attendance, that feeling was reinforced with a dash of exclusivity. That's in stark contrast to much of the other aspirational content available on social media — most consumers aren't going to jet to an underwater hotel in the Maldives for a week or rent an Italian convertible for a ride through Napa. 
Brands trying to shine in a social-media-powered market need to walk a tightrope between these two competing forces. Make the experience or product too common and easily obtainable, and it gives up power as an aspirational brag. Make it too expensive and out of reach, and it turns into little more than eye candy to be liked, shared, and ultimately forgotten or written off. The secret is people don't want to do something no one else can — they want to do something that everyone else is doing.
Pick the right flavors
The best advertising, pricing, and positioning in the world won't help a business if it's facing what advertisers call the "Dog Food Problem": the food looks great on camera, and the commercial is produced with all the flair of a young Ridley Scott — but dogs just won't eat it. 
Perhaps the biggest key to the MOIC's success was Bunn's ability to read the market to figure out exactly what was missing. She realized experiences aren't created equal. Those that could be touched, felt, and shared on social media performed substantially better.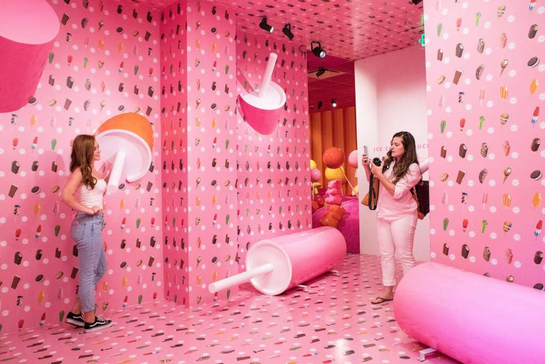 The careful attention Bunn paid to picking the right colors, exhibits, and experiences is a lesson in market research any brand should pay attention to. Making a market-moving brand requires a more than surface-level understanding of the trends shaping consumer behavior. Despite the many competitors that popped up in this space, the MOIC is still the one most people remember.
The Unfortunate Meltdown
No dive into the MOIC would be complete without touching on the challenges the brand has experienced, culminating in a full meltdown as COVID-19 transformed our economy. The missteps and issues facing the MOIC (and how to avoid them) are some of the most important lessons that brands can take away. 
A sticky expansion 
As early as 2018, the MOIC began experimenting with products that brought their pop-ups to store shelves: ice cream pints sold at Target. The pints launched to big fanfare but disappeared from shelves by early 2020. The ice cream simply didn't sell, so Target ended their partnership.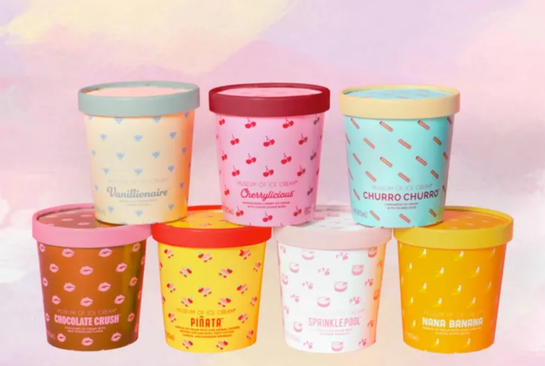 It may seem strange to think the MOIC couldn't sell ice cream, but it's actually not surprising. The MOIC was never about ice cream. It was about selling an inspirational, aspirational dream. People don't visit because they love ice cream — they visit because they don't want to be the only person on Instagram who didn't get a photo in the sprinkle pit. Product expansions need to capture what consumers love about the brand. Eating ice cream alone at home is hardly the experience that made influencers gaga over the MOIC.
Catching more flies with ice cream than vinegar
The MOIC seemed like a wonderful place to visit, but reports alleged it's a terrible place to work. Staff members — from retail workers who mopped floors to senior executives — report life at the company was miserable. When the economy contracted as a result of the pandemic, that negativity started leaking out to customers. 
Customers impacted by COVID-19 closures were refused refunds. Then an email to customers excused problems by calling the MOIC a "small business" (remember, they were just valued at two hundred million dollars). Finally, rumors began circulating that MOIC had required employees to work while sick. 
A business can't function without customers or employees. Brands, especially young ones that aren't well-established, need to pay careful attention to how they communicate and the systems they put in place. When giants like Amazon face backlash for their treatment of employees, a brand like the MOIC simply cannot afford to take the same hit. And when small businesses around the country are failing, some consumers found it tone-deaf to refer to a nine-figure company as a small business. 
Communication and culture are how the public identifies with companies, and it cannot be an afterthought. Even the MOIC's plan to survive the pandemic — selling a $60 gift box of sweatshirts, socks, and other swag — seemed out of touch while their Instagram feed was filled with comments from customers asking for refunds so they can buy groceries.
Keep some cookie dough in the freezer
Remember those ambitious expansion plans we mentioned earlier? The SoHo location opened in December of 2019? That turned out to be incredibly poor timing. Of course, the pandemic is a black swan event that took thousands of companies by surprise, so we can't blame the MOIC for that particular bit of bad luck. However, the way they responded to it is a textbook case of trying to grow quicker than cash flow would allow. 
Despite recently receiving a significant investment, the company found itself in a cash crunch. Massive numbers of employees were let go, company credit cards were reportedly declined, and the company claimed that they couldn't afford to give refunds to customers affected by closures. 
Quick expansion is a goal for many challenger brands as they grow, but it's essential companies keep enough cash on hand to weather disasters. Epidemiologists predict pandemics will become a regular feature of our lives. Even worse, global warming is threatening unprecedented changes, and political instability is near all-time highs. Businesses need to have reserves they can draw from.
The Roll-Up
The Museum of Ice Cream exploded into our social consciousness from nowhere, grew to be a globally recognized brand, and now is at serious risk of not making it to 2021. It's a high-flying tale of success and hubris — a metaphor that could apply to any number of startups from the 2010s that flared brighter than the sun and then disappeared. 
What they did right (and wrong) can help challenger brands avoid the same fate. As you work on building your brand, consider the following:
DO: Understand the cultural context of the market you're entering. Not just what they like — but why they like it, too.
DON'T: Try to expand products and services into categories that don't match your customers' motivation.
DO: Use FOMO to build urgency in your customer base. Remember, the components of FOMO are shareability, accessibility, visual attractiveness, and the relative social status between those who've participated and those who haven't. 
DON'T: Make your product or service so exclusive that customers give up hope of joining. FOMO is a snowball — the more people who partake, the more others will want to as well.
DO: Have enough resources to cover your bases. This is important when starting to ensure your brand gets the launch it deserves. In general, this makes sure a sudden shock doesn't send the whole house of cards tumbling.
DON'T: Take customers and employees for granted. At one point, MySpace was the most prominent social network in the world. They took their customers for granted, and Facebook ate their lunch. No matter how big a brand gets, its two most essential resources are customers and staff. Taking either for granted will lead to a downfall.
Last updated on September 16th, 2022.