Shopify vs Shopify Plus: What Works Best for Your Brand?
Topics Covered:
Millions of brands worldwide love Shopify — and for good reason. It's a fantastic platform for entrepreneurs to make their small business dreams come true. With convenient, affordable features, Shopify helps ecommerce brands of all kinds generate buzz, skyrocket sales, and expand like never before.
Beyond the excitement of operating a store on Shopify, getting down to business can be overwhelming. Fulfilling a never-ending stream of orders, investing more in inventory, and growing a team are all tricky in their own right. That's where Shopify Plus comes in, a powerful solution for enterprise businesses requiring a more customizable, feature-heavy, and supported experience compared to the main Shopify platform.
Buckle up! We're diving into everything you need to know about Shopify vs Shopify Plus.
What's the Difference?
Think of Shopify Plus as an enhanced version of the base Shopify plan. You'll use the same dashboard and editor, plus new features, more support options, and extended integrations, among other benefits. Not bad, right?
Here's a deeper look at some of the biggest advantages to Shopify Plus:
1. A dedicated Account Manager — just for you!
Regular Shopify plans already offer excellent support to users via phone, email, live chat, and Shopify Experts — but Shopify Plus takes it one step further by assigning you a Launch Engineer (if you're migrating from another platform or are looking to build a new site) and a Merchant Success Manager.
Consider them your dedicated account managers, ready to support you every step of the way — from store setup and migration to implementing third-party integrations to even optimizing your store.
2. Taking theme customization to the next level
A fantastic Shopify theme is an absolute must for your brand. While Shopify's Theme Marketplace hosts numerous beautifully designed, optimized themes — all of which you can customize via the editor — Shopify Plus unlocks access to Liquid, the platform's theme language. In other words, you can use Liquid to customize your themes further using back-end coding.
3. Unlimited staff accounts
As your Shopify brand grows, so will your team size. Shopify Plus allows you to set up an unlimited number of staff accounts, meaning any member of your team can easily pop into the platform and tinker with your store. As the store admin, you'll also have access to new permission settings.
4. New (exclusive!) apps
Regular Shopify stores enjoy a wealth of different apps and integrations that cover everything from marketing to fulfillment. Take it up a notch with Shopify Plus, which offers a line-up of exclusive apps:
Transporter for simple migration of customer, order, and product records to your Shopify store.

Launchpad can help marketers plan and automate important store events, including flash sales, product launches, and campaigns. Rather than stressing out about whether or not your site will be updated correctly on Black Friday, you can eat your turkey and green beans in peace, knowing your holiday sales are running smoothly on autopilot. Your site will revert to what it was after your event is over, and you can use its dedicated analytics dashboard to review the success of your event.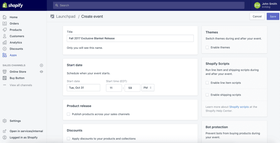 Shopify Scripts allows you to design personalized checkout experiences, perfect for brands looking to offer unique discounts to shoppers — in fact, it's a great way to reduce cart abandonment. You can bundle products, add a freebie to shoppers' carts, or offer specific customer groups a discount. (More on this later!)

Shopify Flow uses a straightforward visual builder to help brands automate daily tasks and back-end processes across apps. For instance, if you need to send out reorder requests after a certain amount of time. (Think of it as a more user-friendly version of Zapier.)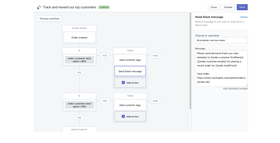 5. Tons of support and resources
Shopify cares about its users' success, as demonstrated by its robust support ecosystem, from Shopify Partners to its comprehensive YouTube channel to Shopify Academy— and Shopify Plus is no different. By upgrading to Shopify Plus, you'll gain access to:
The Merchant Success Program, a team that offers 24/7 support on everything from answering product questions to troubleshooting third-party integrations to helping you find Shopify Plus Partners

A Facebook community exclusive to 3,000+ Shopify Plus users and partners

Shopify-related beta programs

Shopify Plus Academy, a library of online training videos to guide you through the Shopify Plus platform, as well as business best practices and SEO, among other topics

A weekly newsletter that'll keep you updated on platform updates and enhancement features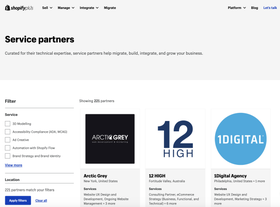 6. Even more checkout customization
A streamlined checkout experience can do wonders for cart abandonment rates. Trust us: With average abandonment rates hovering around 70%, this is one optimization opportunity you don't want to sleep on.
Through Shopify Plus, you can take your checkout process to the next level by using the Script Editor to customize shoppers' experience based on conditions (such as their cart value), as well as offer additional shipping methods, payment options, and checkout incentives — no special apps needed. You can even add more branded elements to the checkout process. (With the basic Shopify platform, you don't get full access to its underlying code.)
While we're on the topic of ordering and payments, Shopify Plus comes with a feature in Shopify Pay that allows customers to quickly check out by entering a six-digit verification code received via phone. Yup, you read that right — no more entering shipping and payment details once a shopper chooses to save their information in the Shopify Pay network.
7. A whole new world of analytics
While the base Shopify plan offers an invaluable analytics dashboard — which offers access to conversions, top products, and most popular referrers — Shopify Plus provides an even deeper level of analytics, insights, and recommendations, thanks to a partnership with two leading analytics companies, Glew and Looker.
8. Access to wholesale channels
As your brand grows, you'll start to experience customers who want to purchase in bulk. Remember: Wholesale expansion equals reaching new audiences and boosting your product volumes. Unsurprisingly, as an enterprise-level platform, Shopify Plus is here to help facilitate these wholesale sales.
Shopify Plus's wholesale channel allows companies to create a password-protected storefront (which mirrors your online store), offering products at wholesale prices or even exclusive products just for wholesale.
9. More API integrations
APIs are software intermediaries — think of them as what connects your Shopify store to external apps. To allow shoppers to make the most out of all the available third-party apps out there, Shopify provides even more API integrations and resources. You can also integrate custom apps for needs related to third-party logistics, warehouse management, or enterprise resource planning — very helpful if you're a high-volume merchant who needs to connect to outside vendors and partners.
10. International sales
Here's a feature that was recently added to Shopify Plus: Stores can sell in multiple currencies with Shopify Payments. With Shopify's regular plans, users can manually select their local currency. However, Shopify Plus automatically selects the local currency based on customers' IP addresses. With the ability to launch up to nine clone stores for different countries and the option to customize the currency conversion rules for your store, you'll have a lot more control over international sales.
Similarly, if you're looking to reach your global growth dreams, basic Shopify requires you to install third-party language translation apps (and a theme that supports different languages, complete with a language selector). Even then, you're limited to five languages. On the other hand, you can support up to 20 languages with Shopify Plus.
Don't forget about international tax rates. While it's easy to gloss over how much tax your shoppers need to pay, it's critical to get it right. With Shopify Plus, you can integrate your store with third-party tax company Avalara. They'll handle all the details surrounding tax rates depending on country and jurisdiction — in real time! That means no more worries about tax audits, incorrect tax law information, and having the wrong data. Whew!
Shopify vs Shopify Plus: Pricing
One reason why Shopify is the go-to ecommerce platform for growing brands is its affordability. Plans range from $29/month to $299/month, and the company offers a two-week free trial. Regardless of your sales volume, you enjoy a flat subscription fee.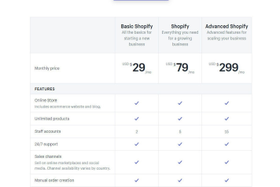 Because Shopify Plus targets enterprise-level brands, it comes at a steeper price point: $2,000/month. However, when a store reaches $800,000 or more revenue per month, the pricing transitions to revenue-based. Get a custom quote here.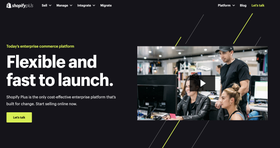 Compared to other ecommerce platforms' enterprise solutions, Shopify offers one of the more affordable options out there, considering your fees also include hosting costs (maintenance, updates, and monitoring). In other words, if your site has crashed during flash sales, holiday events, or product launches, the cost is worth it. Fun fact: Shopify Plus can handle up to 10,000 checkouts per minute.
Getting Started With Shopify Plus
Shopify vs Shopify Plus: When should you make the upgrade?
We're not going to sugarcoat it: When it comes to Shopify vs Shopify Plus, the latter is a hefty investment for smaller brands (despite the perks.) Unless you're running a multi-million dollar store, the regular Shopify platform can easily cover everything you need.
With that being said, we recommend Shopify Plus for larger-scale stores with at least $1 million in annual sales. Based on our research, companies of that size can seriously benefit from the extra support and features, allowing them to focus on growing other parts of their business.
I'm In! How Do I Sign Up for Shopify Plus?
Ready to make the leap, say hello to Shopify Plus, and transform your business? You can upgrade your store to Shopify Plus here.
If you're looking to take your store to even greater heights, make sure to check out AdRoll for Shopify. When the two platforms work together, you can rest easy knowing your store will be an unstoppable success.
Last updated on December 2nd, 2022.