Shopify Community: Everything You Need to Know to Grow Your Business
Topics Covered:
Calling all Shopify ecommerce entrepreneurs: Are you looking for partners, tools, and resources to help grow your store? If your answer is a resounding yes (as it should be!), listen up — the Shopify community is here to help. 
While Shopify's easy-to-use interface, helpful customer support, and robust app store make it incredibly convenient to set up your ecommerce business, it can be a challenge to rise above your competitors and attract more customers. 
Luckily, the ecommerce platform has launched several initiatives within the Shopify community — from industry experts to creatives to service providers — so you can better navigate your way toward success. 
However, if you're a Shopify newcomer, it can be challenging to utilize the full benefits of its vibrant ecosystem, which is rife with Shopify-specific language. That's why we're here to dive into everything you need to know to leverage the Shopify community, leading you to form beneficial partnerships and find solutions for your website, marketing, and sales operations. 
In this article:
What Is the Shopify Partner Program?
Are Shopify Partners and Shopify Plus Partners the Same Thing?
What Is a Shopify Expert?
How Do You Become A Shopify Partner?
Are You Ready to Dive Into the Shopify Community? 
What Is the Shopify Partner Program?
With over one million online businesses worldwide powered by Shopify, it's clear that there's fierce competition in the ecommerce space. And that's not even counting the stores supported by BigCommerce, Magento, or WooCommerce.
To stand out from the noise, you must customize your website, optimize your shopping experience, and remove all friction points from your sales pipeline. 
That's easy to say but hard to do — running a successful ecommerce business is a time-consuming process that requires tremendous expertise, resources, and dedication. This is where outside partners typically come in — marketing agencies, development teams, and customer service providers. 
Shopify knows how frustrating it can be to find high-quality yet affordable vendors who are familiar with the ins-and-outs of their platform. As a result, they created the Shopify Partner Program, a curated network of third-party designers, marketers, business professionals, developers, and other ecommerce affiliates.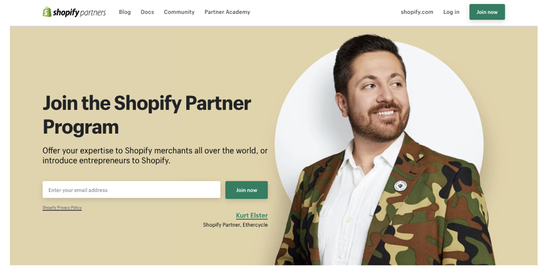 Shopify Partners are incentivized to join the program for several reasons: It's an excellent opportunity to grow their business and win over new clients in the ever-expanding ecommerce space. It's also a way for them to receive monthly revenue whenever they refer clients to the Shopify platform or if they build developer widgets, websites, and themes for the Shopify marketplace. They also receive free training courses, insider information about Shopify's latest products and features, streamlined support, and other useful resources that can help them grow their Shopify-related skills. 
There are four main categories of the Shopify Partner Program that provide targeted solutions for different business needs:
Shopify Developers. From building apps to expanding the functionality of your ecommerce site, developers are specialists in Shopify store development. 
Shopify Designers. If your website is looking a little lackluster, consider hiring a Shopify designer to help create more eye-catching graphics or revamp your branding. Shopify Designers typically work closely with developers. 
Shopify Marketing. Digital campaigns, social media, and offline advertising are challenging beasts to conquer, often requiring full-time dedicated marketers. Rather than trying to master every facet of marketing (and there are a lot of them), check out what Shopify marketers offer. From optimizing existing channels to redesigning your sales funnel, leveraging the skills of a Shopify marketer can provide you with peace of mind that your marketing efforts are a well-oiled conversion machine. 
Affiliate Marketing on Shopify. Anyone with a following — influencers, content creators, entrepreneurs, educators — can become a Shopify affiliate marketer and earn monetary compensation for every new business they refer to the platform. 
In other words, if you need quick and easy help, such as integrating a new site function or adding SEO-optimized descriptions to your product listings, the Shopify Partner Program is the way to go. 
For a list of Shopify apps to optimize your store and boost sales:
Are Shopify Partners and Shopify Plus Partners the Same Thing?
Yup, you read that right — beyond the Shopify Partner Program, there's also the Shopify Plus Partner Program. And no, they are not the same thing. 
Shopify Plus Partners are world-class providers of Shopify services and solutions. Only top-notch Shopify Partners who demonstrate a high level of "product quality, service, performance, privacy, and support" can qualify for the program. Unlike Shopify Partners, Shopify Plus Partners are typically digital marketing agencies, design and web development firms, enterprise consultants, and system integrators rather than sole proprietors.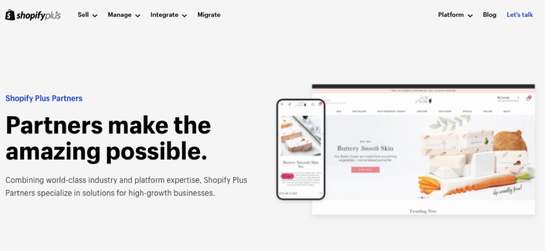 As of now, the Shopify Plus Partner Program consists of 65 technology partners and 127 service partners, of which 51 are agencies, and 76 are solution providers. 
Here are some examples of what Shopify Plus Partners can offer ecommerce brands: 
Customized web development 
UX and UI design
Digital marketing solutions and strategies
Marketing and branding solutions
Business planning consultations
Enterprise resource planning
Migration from other ecommerce platforms 
App integration help 
What Is a Shopify Expert?
What if you need help with more complex work but not to the extent of requiring a full team? Shopify has you covered on that front as well. Shopify Experts are the third group of solution providers in the ecosystem, offering their services in the Shopify Expert Marketplace. You can hire Shopify Experts for various requests, such as: 
Marketing and sales
Content writing
Visual content and branding
Store set up
Site development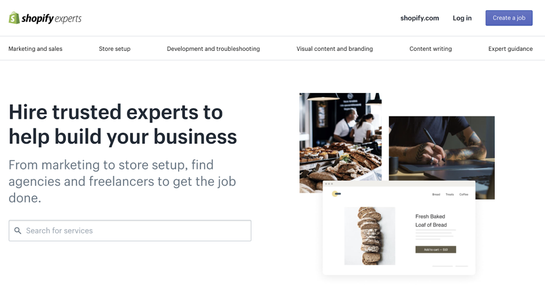 Though Shopify Partners and Shopify Experts may provide seemingly similar benefits, there is one key difference between the two. Shopify Experts start as Shopify Partners but have had their work reviewed by the platform. Shopify invites those doing exemplary work to become a Shopify Expert, allowing them to promote their services in the curated Expert Marketplace. 
How Do You Become A Shopify Partner?
If you're an ecommerce expert, joining the Shopify community is a great way for you to attract more clients, glean new insights, and better position your business (even if you're a solo freelancer!) 
Whether you offer web design, store development, or marketing services, the Shopify Partner Program provides relevant tools, resources, and networking opportunities for you to find success. 
To start your journey as a Shopify Partner, you'll need to sign up on their website. Then, take the time to consider all the ways you can make your skills stand out in what is otherwise a huge marketplace of great talent. It's all about branding yourself — the same way you would do for a client — and building mutually beneficial partnerships within the Shopify community. Here are some tactics that Shopify recommends:
Creating compelling content
Content creation is a valuable marketing tool for many companies, from major retailers to small startups. It's no different for agencies or freelancers who want to differentiate themselves in the competitive Shopify marketplace. Whether you're writing blogs or filming Youtube videos, your content must be captivating and well-produced while providing genuinely useful information that other partners or even potential clients will want to bookmark. For example, you can:
Pitch interesting blog ideas to Shopify's Web Design and Development Blog, a widely read resource. 
Contribute a guest post to a third-party blog to help educate the Shopify community. As a Shopify pro, you probably have unique insights that mainstream developers, designers, or marketers don't have. 
Create content about an intriguing new Shopify widget, unique trend, or potential hack you've come across, especially if it includes a novel solution to a common problem that others may also encounter. Whether your content lives in a written, video, or podcast format, sharing it with other industry members can earn you major kudos. 
Answer merchants' questions in Shopify's forums. Crafting educational answers and participating in these networks not only allows you to showcase your experience and skills but also enables you to gain insights into the latest ecommerce needs, trends, or concerns. 
Pro Tip: Once you've crafted a piece of content, make sure you repurpose it for other formats too. For example, if you've written a comprehensive response to a forum question, don't just let it sit there — you'll want to transform it into a blog post or branded e-book that you can distribute on your own channels. 
For more on creating content that moves people and helps rankings:
Collaborating with other partners, experts, and peers
One rookie mistake that people may have — regardless of what industry they work in — is viewing their peers as competitors. As a Shopify Partner, there's tremendous value in forming relationships with other partners, experts, and agencies. 
Forming these connections might lead to a future client referral or collaboration opportunity, which is especially useful if your network includes people with skills that complement yours. But more importantly, having someone to consult with is priceless. Sometimes, you just need a friend in the industry who gets it when you complain about Facebook's latest algorithm changes or share your struggles with third-party cookies. 
Luckily, Shopify provides a plethora of opportunities to engage with other digital professionals (meaning you no longer have an excuse not to network!) For example, you can:
Participate in Shopify's online communities, such as forums. 
Attend a Shopify meetup — most of them are online right now, making it super convenient for anyone to participate. 
Join the official Facebook group for the Shopify Partner and Developer community. 
Join the Shopify Partner Slack group, which hosts vibrant discussions on website development, design, digital marketing, and more.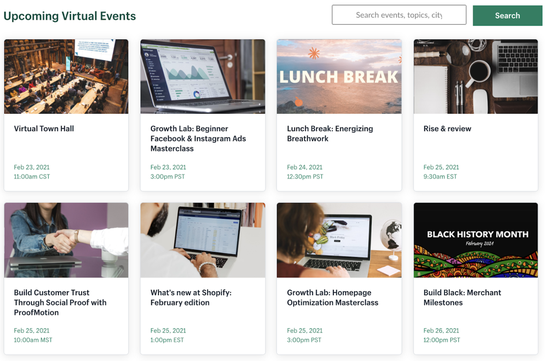 And beyond the Shopify ecosystem, you can also:
Attend a meetup or conference for ecommerce professionals. Here's a master list of all the ecommerce-related events in 2021. 
Write engaging content that can get a discussion going. (Asking questions is the key here.)
Take the initiative and approach an industry expert or peer you admire — it's as simple as sending them an email or leaving them a comment. 
For more information on upcoming ecommerce conferences in 2021:
Optimizing your Shopify profile
Your Shopify Partner profile is the page that merchants will see when they're searching for Shopify-recommended industry experts. Basically, you must optimize this page to make a lasting first impression — think of it as another iteration of your website's homepage. 
Your profile includes standard templatized information, such as your starting rate, reviews, and response time. Beyond that, you can also personalize a short description of who you are, what deliverables are included in your starting price, and any additional work or pricing information. 

With such limited real estate to work with, you'll need to be strategic about how you demonstrate your expertise. What information will best attract new clients? How do you express the value that you can offer? You'll definitely want to include:
One or two short sentences about who you are and your relevant background and experience. If you have experience working with big-name clients, pop the companies in here 
A summary of the services you provide. Be specific! Don't just say "marketing content." Instead, say "SEO-optimized short-form blog posts" or "promotional email marketing copy" 
Your pricing list with specifics on what it includes, such as the number of review rounds, word count limits, and other relevant items 
Examples of recent work (make sure your screenshots are high-res)
A link to your website for more information 
Updating your other marketing channels
Beyond marketing on the platform itself, you'll also want to promote your Shopify Partner status on your website and other social media entities. This is especially important if you've earned yourself the coveted title of Shopify Expert. You can:
Add the Shopify Partner badge to your website footer.
Include the Shopify Partner badge in your email signature. 
Create a Shopify-specific landing page on your website. This should include your platform-related expertise, portfolio, and even case studies with testimonials. Make sure you link to this landing page from your Shopify profile, so merchants who want to take a deeper dive into your work can see evidence of your credibility. 
Are You Ready to Dive Into the Shopify Community? 
For ecommerce businesses, the Shopify community is a great place to gather resources, hire experts, and outsource tasks needed for growth and success. If you're strapped for time and are unable to sift through thousands of potential agencies or freelancers, know that the Shopify community offers everything you need and more to grow your company. 
Meanwhile, for ecommerce experts, the Shopify community provides immense valuable opportunities. From collaborating with other Shopify Partners to creating compelling content about the latest platform-related solutions, putting effort into community development will allow you to build crucial connections with Shopify-related partners, vendors, and businesses. 
Looking for even more resources to grow your brand beyond the Shopify platform? Check out our Marketing Resource Library.  
Last updated on November 3rd, 2021.