How to Choose the Right Shopify Theme for Your Brand
Topics Covered:
With ecommerce booming, it's a great time to launch an online store. But with thousands of free and paid Shopify themes available, choosing the best one for your brand can feel like an impossible task. Luckily, there's no need to fear the Shopify Theme Store any longer! Here's the ultimate guide on how to choose a Shopify theme that's perfect for your brand. 
What Is a Shopify Theme?
A Shopify theme is a template that determines how your ecommerce store looks. Different themes provide different fonts, layouts, colors, integrations, and user experiences — dare we say that the options are nearly unlimited? 
Choosing the best Shopify theme is crucial because it can have a huge impact on your sales. A theme that works well with your industry, brand, and products can play a huge role in engaging customers and encouraging them to convert. 
Determine Your Budget
Before we begin to determine how to choose a Shopify theme, it's important to know that Shopify themes come at varying price points, from free to hundreds of dollars. Before you start browsing, you'll want to determine what your budget is. 
Wondering what makes some themes pricier than others? Are paid themes better than free ones? Not necessarily. Some factors that go into a theme's price are:
Flexibility. If the theme offers numerous customization options via drag-and-drop functionalities, you can expect it to be more expensive. 
The developer. Developers with more experience and name recognition will charge more for their themes. 
Functionality. Free themes may have more basic functions, while paid ones include SEO and other integrations. 
Before clicking "buy," make sure you carefully read what a theme includes. 
List the Features You Need
A huge part of how to choose a Shopify theme is having a clear idea of precisely what features and functions your store needs, such as:
Size charts
Image zoom
Marketing pop-ups
Landing pages
Newsletter sign-up buttons
A blog
A video player
Slider or carousel elements
Sticky navigation
Product quick view
Multi-column drop-down menus
By knowing what you need before you get started, you won't need to hire developers down the line to build these features out. Once you have that handy list of required features, you can head on over to the Shopify Theme Store, where the platform makes it easy to find what you're looking for. Click on "All Themes," then use the filters on the right to narrow down your options. 
Additionally, each theme preview page will list its top features:

Pro tip: While it can be tempting to cram as many functions into your Shopify site as possible, remember that the more elements you have (such as animations, scrollers, and images), the slower your site will load. That's bad news for search rankings, conversions, and bounce rates — you'll want to balance speed and functionality.  
Explore Shopify's Themes Based on Your Industry
Another good place to start your search is Shopify's industry-related themes: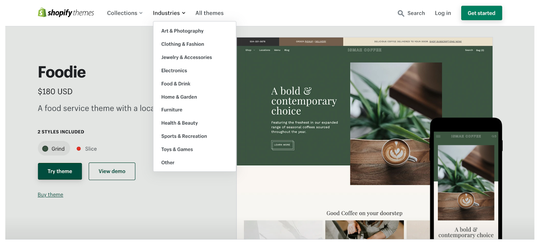 Whether you belong to the "Clothing & Fashion" industry or "Toys & Games," Shopify organizes its themes based on specific niches. For example, if you're a clothing store, you'll want a theme that allows shoppers to choose different sizes and colors. This is less applicable to a store that sells, say, toys. 
Once you're in the collection of themes for your particular industry, another good filter to use is "number of products":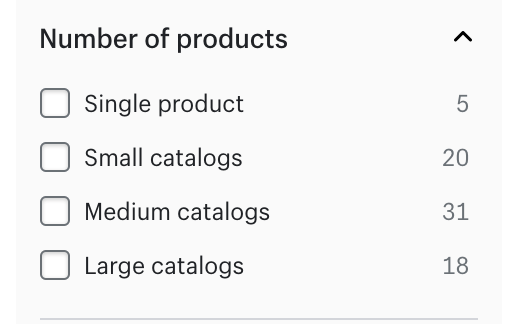 Ecommerce brands with more extensive catalogs will need additional functionalities, such as advanced search capabilities. 
Browse Themes on the Shopify Theme Store
A quick Google search will reveal dozens of third-party websites that host Shopify theme marketplaces. However, we recommend that you stick to the official Shopify Theme Store site. That's because Shopify screens and evaluates every theme that is submitted before hosting them, which guarantees that you'll get a high-quality and functioning theme. Purchasing themes directly from Shopify also ensures that you receive regular free updates and quick tech support. 
Find Themes That Match Your Brand Look
It may seem commonsensical, but if your brand look is clean and simple, you'll want a theme that reflects that. Comparatively, if you're a fun and bold brand, your Shopify store should be a lot louder. When figuring out how to choose a Shopify theme, use this checklist to evaluate potential contenders:
Does the theme grab attention?
Does it have color palettes that match those of your brand? If not, does it allow for customization?
Does it have a clean and well-designed user interface that encourages people to shop and check out?
Are the buttons clear and intuitive? 
Many themes on the Shopify Theme Store are customizable, meaning you can change background, font, and element colors. Some even have built-in style and color palettes to keep your creativity from going too out of hand. 
A great way to see if a Shopify theme will work well with your brand and listed products is via the "Try Theme" and "View Demo" buttons. This will allow you to see the theme in action for both desktop and mobile: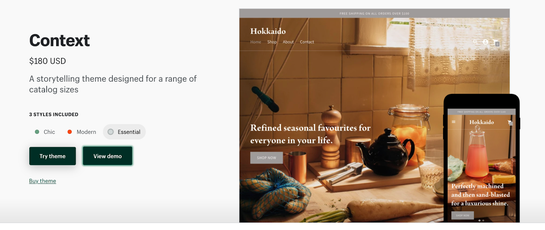 Prioritize an Optimized Checkout Page
The checkout page is one of the most important pages on your website. Studies have found that the average ecommerce store loses over 75% of sales due to cart abandonment. That's why it's critical that the Shopify theme you choose has an optimized checkout experience, which means:
Intuitive add-to-cart buttons 
The ability for shoppers to edit their cart without completely exiting the checkout process
An option for guest checkout
A short checkout process (and if it's even slightly more complicated, you'll want to add a progress bar to set expectations)  
You're All Set!
The ecommerce landscape is getting noisier by the day. To grab a piece of the pie, you'll need an attractive Shopify store that not only grabs attention but also balances user experience, aesthetics, and functionality as it encourages shoppers to browse and check out. 
We hope this guide on how to choose a Shopify theme that's best for your brand was helpful! For more on how to win at Shopify, check out the AdRoll app for Shopify today. 
Last updated on September 16th, 2022.