Getting Started With Pinterest Advertising
Topics Covered:
Pinterest is one of the web's biggest sources of inspiration. Millions of people visit the Pinterest platform daily on desktop and mobile for visual inspiration, whether it's a home improvement project, capsule wardrobes, decorating tips, or recipes. For businesses that thrive on sharing ideas and products, it's a great place to tell your story.
Pinterest isn't just a great place for organic, shareable content. It's a fantastic advertising vehicle for brands like yours. If you are passionate about sharing your product with visually appealing graphics, photos, and videos, your content can sing.
But how do you build your first Pinterest ad campaign? And how does it compare to advertising on other social media platforms? Let's walk through the basics of Pinterest advertising and talk about how anyone—from small businesses to large companies—can easily create Pinterest ads that drive clicks and conversions.
Pinterest Advertising Basics
Pinterest functions much like other social media platforms. You bid on ad placements, create ads, and target audiences based on several affinities. But what does creating ads for Pinterest look like at a granular level? Let's dive in.
Overview of Pinterest's ad formats
Pinterest offers advertisers different types of ad formats to serve different purposes. These ad formats can include the following:
Idea ads: Idea ads combine video and images with destination URLs to help tell a story to your target audience. In addition to brand use, creators can produce content as idea ads. These ads must be noted as a paid partnership.

Carousel ads: These ads are Pins with multiple images. Carousels are a great way to show customers different product features, advertise several products at once, or tell a multi-chapter brand story.

Video ads: For companies who need to make brief instructional content, showcase their products in motion, or have video assets to use for ads, a video ad can be a dynamic way to show up in users' Pinterest feeds.

Collections ads: Collections ads showcase a large hero asset and three smaller, secondary ones. Many brands use collections ads to showcase related items. These ads must be created on desktop and targeted to mobile users.
Ad specifications and requirements
Pinterest ad requirements vary by type. For example, Static Pins and ads feature a single image. There are also different character counts for ad titles and descriptions. The table below lays out the major specifications for Pinterest ads. Failure to adhere to these requirements may mean your ad doesn't perform well at best and is never approved at worst.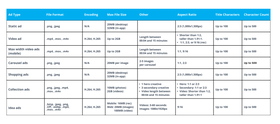 Ad placements
Ad placements describe where your ads appear for users on the Pinterest platform. Pinterest ads can appear in the following three places:
Browse: Show ads to people as they browse home feeds and related Pins.

Search: Show ads to users in search results and related Pins.

All: Show ads to both search and browse placements.
How Much do Pinterest Ads Cost?
Pinterest ad costs are relatively affordable for nearly any campaign goal. Online engagement boosts tend to run $0.10 to $1.50 per click. If you need to build brand awareness, those ads can cost $2-$5 CPM. CPC costs for ads that drive site traffic fall between $0.10 to $1.50.
Pinterest ads follow the same conventions as other online ad providers. Advertisers bid on ad placements, and more competitive industries, keywords, and target audiences lead to increased ad pricing.      
Set Up a Pinterest Business Account
Before you create ads, you need a Pinterest business account. It's free, and it gives you access to analytics on Pins. You can create a new business account with a new email address not used for other Pinterest accounts.
To get started on the web, find the Sign-up option at the top-right of the screen and click Create a business account. Follow the instructions provided. Don't forget to make sure the option to run ads is checked!
For existing Pinterest users, you can add an account by logging into your personal Pinterest account and clicking the Add Account menu. Follow the instructions.
Choose an Advertising Goal
Every Pinterest ad campaign needs a goal or an objective. Objectives influence everything, including how you bid in ad auctions and what formats are available. Your campaign objective should reflect your business goals.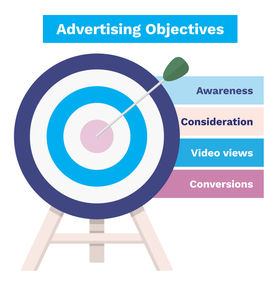 Awareness
Brand awareness campaigns help people discover your brand, products, and services. You can either have Pinterest set automatic bids or choose a custom amount and set a maximum CPM.
Consideration
The consideration campaign goal helps increase Pin clicks or outbound link clicks on your ad. You can choose to have Pinterest manage your bids automatically or set a maximum CPC for your in-grid ad clicks.
Video views
Want more video views? This campaign goal optimizes the quality of views, play times, and completion rates for people most likely to view your videos. Advertisers typically bid on this by setting maximum CPV bids for views lasting two seconds or longer.
Conversions
Conversion campaign objectives drive people to take action on your website, including checking out, signing up for emails, or adding items to the cart. Like all other ads, Pinterest can automatically adjust your bids. You can also customize the budget to meet a specific cost per action (CPA) you're willing to pay if customers click through your ad to visit your site.
Catalog sales
Help people find your products when they seek out inspiration through Pinterest. You can have Pinterest manage your bids or set your budget to target an average CPA.
Define Your Target Audience
Pinterest lets you target an audience for your ads in many of the same ways that other advertising options do. Some of these are similar, like remarketing campaigns, demographic targeting, and keywords. Where Pinterest really shines, however, is in its ability to target users by interest.
Demographics
Demographics include key details about your target audience's age range, gender, devices, location, and language. Examples of demographics can include:
A woman in her early 30s living in an urban area

A rural man in his late 50s who speaks Spanish

A college student who rents an apartment
Interests
Targeting an audience by interest is self-explanatory: You find audiences based on the things they're into. This information usually comes from their previous online activity. It includes hobbies, careers, types of pins, and more.
Keywords
You can also target customers with ads based on keywords. Keywords are words or phrases a person can search for within the Pinterest platform. Examples of keywords include things like "home office" or "quick recipe ideas." You can also exclude keywords to ensure your ad doesn't reach people who won't be likely to click.
Customer lists
You can upload customer lists of emails or mobile ad IDs (Android ad IDs) to target your ads. Customer lists have several rules attached. You can't include customer lists based on user activity from iOS devices. You also can't include individuals who have opted out of target advertising. For more rules on which customers may be used to target advertising, read Pinterest's detailed explanation about how to format the information.
Actalikes
Actalike audiences are comprised of people who are like one of your existing audiences. You can use them to find new customers, people who might engage with your Pins and even people who can visit your website based on the source audience you provide. Your source audience won't be part of the new actalike audience.
Expanded targeting
Expanded targeting automatically targets your ad to people searching for similar keywords or interests based on your chosen ones. For example, a company that targets topics like "snacks" might not consider "road trips" an appropriate keyword. But snacks are a road trip staple. Expanded targeting could put your ads in front of those hungry travel enthusiasts.
Create Your Pinterest Ad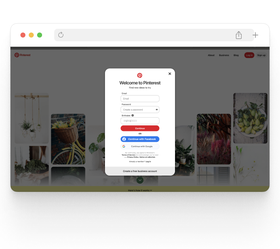 When you're ready to create your Pinterest ads, you must create a campaign first. Choose your campaign objective and enter the appropriate goals. If making a consideration campaign, you'll set your budgets at the campaign level.
After creating the campaign, you'll create ad groups. Ad groups are the middle ground between campaigns and ads. When creating your ad group, you'll set the ads' targeting, bid, budget, and run dates here.
With campaigns and ad groups in place, it's finally time to create your ad. Pinterest offers detailed instructions for ad creation, but most people will be able to create an ad by doing the following:
Log into your Pinterest business account.

Click Ads > Create ad at the top of the screen.

Select the Pins you want to promote. You can view all Pins or choose Pins from a specific board.

Under the selected Pins, click Review selected Pins and add details to your ads. Review and edit the ad name to change how it'll be labeled in reporting, and don't forget to edit the destination URL and any other tracking parameters.

Click Launch. If you see an error message, you're missing some information. Fix any errors.
Once you've clicked Launch, your Pins go through the ad review process to ensure they follow Pinterest's advertising guidelines. Get a step-by-step process for launching ads on each platform by downloading our 2023 Everything You Need to Know About Social Ads guide.
Best Practices for Pinterest Advertising
It takes more than a big budget to ensure your Pins perform well. The best content on Pinterest tells an excellent story and drives people to learn more about you and your products. Some of the best practices for high-performing Pinterest content include:
Designing visually appealing ads: There's a reason high-quality images stand out on Pinterest. Paying attention to things like aspect ratio, colors, and design is even more important on a visual-heavy platform like Pinterest. Put your product front and center, and don't forget to include your logo.

Write compelling ad copy: Titles and descriptions should be clear and concise. Don't write a novel. Just get your message across.

Optimize your ad placement: In many cases, Pinterest's "All" option for ad placements is just fine, but there may be cases where you only want your ad to show up in search or a user's home feed. Make a decision and stick with it.

Use Pinterest's targeting options: Making sure the right eyes are on your ads is just as much a part of a successful campaign as the creative. Target users based on their demographics, interests, keywords, and more.

Monitor and adjust your ad campaigns: Digital advertising isn't a "set it and forget it" formula. You need to monitor and adjust your campaigns as necessary. Use AdRoll's Pinterest Ad Management Tool for access to analytics information that can help better inform your advertising practices.
Advanced Pinterest Advertising Strategies
What happens after you've mastered the basics of Pinterest advertising? Consider the following advanced strategies for power users:
Use Pinterest ads for retargeting: Adding the Pinterest tag across every site page allows you to retarget site visitors with Pinterest ads. Add the correct event code to pages where you need to track actions you care about.

Create Pinterest ad sequences: With Pinterest ad sequences, you'll have the opportunity to target potential users at different parts of the customer funnel. Customers will see different ads based on their actions during their journey.

Collaborate with influencers on Pinterest ads: Influencers are an increasingly important part of the marketing strategy for all kinds of companies. Your brand shouldn't be an exception. If you're already building out visually appealing ad campaigns, there's a good chance you can benefit from partnerships with trusted authorities on the Pinterest platform. Find influencers that make sense for your business's size and products and forge those relationships.
Use AdRoll's Pinterest Ad Management Tool to Maximize Results
Managing your Pinterest ads can take time, but AdRoll's ad management tools can help streamline the process and reduce headaches. Whether you want better access to data or need additional support to optimize your budgets, use AdRoll's Pinterest management tools to make better, more informed decisions about your ad campaigns. Learn more today.
Pinterest Ad Management FAQs
If you're new to advertising on Pinterest, you might have a few questions. The list below details some of the most common ones we hear from our customers.
How does Pinterest advertising work?
Advertisers create Pins that they can use as ad collateral. These Pins can use static image or video assets. If you advertise a product or service, you'll create campaign-level objectives, ad groups, and individual ads. Advertising on Pinterest requires participating in the ad auction, where you bid on specific audiences, keywords, placements, or a combination.
How much does Pinterest advertising cost?
Pinterest ad costs can vary depending on your budget, audiences, and targeting strategy. Pinterest ads typically cost $0.10 - $1.50 per click and have a CPM of $2 to $5.
Is Pinterest good for advertising?
Pinterest is an excellent advertising platform because of its broad reach and active audience. Because Pinterest users go to the platform to plan their purchases and look for inspiration, it can be a great way to introduce customers to new products related to fashion, home décor, and food.
Are Pinterest ads cheaper than Facebook ads?
Pinterest ads can be more affordable depending on the competition and targeting options used. Pinterest CPCs can be less expensive than Facebook ones, especially for specific industries. While Pinterest ads often cost less per click, they require high-quality, visually impactful content. That can lead to higher production costs.
Last updated on July 17th, 2023.