Pinterest Ads 101: A Checklist for Your First Campaign
Topics Covered:
Your Facebook and Google ads are chugging along smoothly. Now it's time to get started on a platform with some of the lowest cost-per-clicks (CPCs) you can find: Pinterest. 
Don't write off Pinterest as just a place for DIYers and home chefs — Pinterest shoppers are highly engaged.
Here's everything you need to know about paid ads on Pinterest, plus a checklist for your first campaign. 
The Ultimate Pinterest Ads Checklist
✅ Create a Pinterest Business account. 
✅ Set up your profile and connect it to your ecommerce store. 
✅ Upload your product catalog. 
✅ Make sure your Pinterest tag is set up correctly. 
✅ Determine your Pinterest ad objective
Brand awareness, video views, consideration, conversions, or catalog sales
✅ Choose your Pinterest ad type: 
Idea Pin: Short video segments or a series of <20 graphics, similar to Instagram Stories

Try On Product Pins: A virtual "fitting room" experience using augmented reality (you'll need to work with a Pinterest account manager to get started)

Collections Ad: Either a featured video or image with three supporting media pieces (delivered to mobile users only)

Carousel Ad: Resembles organic Pins

Promoted Pins: A "boosted" existing Pin

Shopping Ad: A single image or video pulled from your product catalog
✅ Check that your creative follows the proper ad specs. 
✅ Choose your budget and bidding approach (custom or automatic bidding). 
✅ Select your campaign duration and run dates. 
✅ Create your target audience (age, gender, location). 
✅ Upload the creative, headlines, and copy for your ads. 
Consider adding a text overlay to your images to help users quickly understand your message.

Use Pinterest's trends page to see what's currently popular.

For titles, only the first 30-35 characters will show up in users' feeds, so make them count.

Ensure your video ads work with the sound turned off — add captions and text for silent storytelling.

Vertical images on Pinterest perform better than square ones.

Add your brand name or logo to your images or videos whenever possible.
✅ Launch your campaign!  
✅ Monitor your results continuously with Pinterest Analytics to identify optimization opportunities.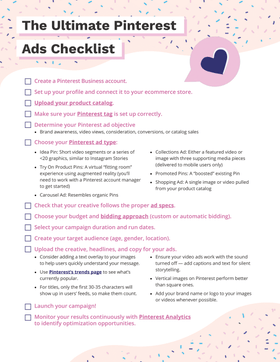 Step Up Your Pinterest Ad Game With AdRoll
AdRoll simplifies Pinterest advertising by streamlining your digital campaigns across Pinterest, other popular social media channels, and the web. Learn more today!
Last updated on May 10th, 2023.