How Tiny Tags Uses Personalized Marketing to Capture Customers' Hearts
Topics Covered:
People crave personalization in all things. Whether it's with their online ads or the content they consume, there's a psychology behind why we crave customized experiences, and jewelry is no exception. That's why Melissa Clayton, Founder and CEO of Tiny Tags — an ecommerce boutique that offers custom-made, personalized jewelry — created a brand that resonates with an audience that's most near and dear to her heart: Moms.  
We chat with Celine Cohen, Marketing Director at Tiny Tags, about how the brand has exploded in popularity over the pandemic thanks to their personalized marketing efforts.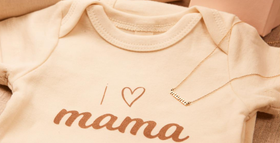 A Brand Made for Moms, Run by Moms With 30% YoY Growth 💖 📈
The idea for Tiny Tags came about after Melissa gave birth to her first son. Unable to find the perfect piece of personalized jewelry to commemorate this new chapter in her life, she decided to make her own. 
"And the rest, as they say, is history," says Celine. "That was over a decade ago. During the first few years, growth was slow and steady and relied heavily on word-of-mouth. Today, we're nine employees of mostly moms, and our year-over-year (YoY) growth has been well above 30% as we continue to introduce new products and campaigns." 
A Product That Never Goes Out of Style
While people have become more budget-conscious over the course of the pandemic, Tiny Tags' sales actually went up. "We've been fortunate that the brand has been able to not only survive but thrive during this time," says Celine. "We're in the business of selling keepsakes — they aren't frivolous purchases. Customized jewelry is considered an investment and doesn't lose value or meaning over the years." 

Other contributors to Tiny Tags' success include their revamped branding and marketing strategies, which can be summed up with the following six tactics:
Focus on educational content 
"We've pivoted the brand to be more of a lifestyle brand by introducing educational webinars around subjects that matter to our community of (mainly) moms, such as a parenting webinar with Dr. Gary Chapman, the author of The 5 Love Languages of Children."
Pro tip: Host educational live streams/AMAs for your audience. According to a recent report, live videos hold users' attention 10-20x longer than pre-recorded, on-demand content. Consider using a platform like StreamYard, which allows you to easily interview guests, share your screen, and much more through your browser. Not only will you educate your audience on a topic that's relevant to your business, but it's also an opportunity to deeply connect with your customers and give them a forum to ask top-of-mind questions.
Increased efforts on social media
"We've always been very present in this medium, but we're trying to make a more conscious effort to add opportunities for customers to engage with us in a meaningful way," explains Celine. "We do this by sharing compelling, original, and genuine content and listening and responding to our community. We don't just throw the word 'community' around; we take the responsibility of having built that community seriously." 
Pro tip: Use Instagram's Stories feature to connect with your audience. "You can find Melissa on Stories very often, answering questions and sharing personal stories," explains Celine. "This gives our community a reason to come back and check in every day." 
Refined advertising strategy
"Because so many people gravitated toward online shopping during the pandemic, we spent some time further refining our advertising strategy," says Celine. "We developed better awareness campaigns to bring our brand promise to life and spent more time crafting a compelling retargeting strategy, be it through emails, AdRoll display ads, or search."
As a Shopify Plus merchant, the Tiny Tags team is able to take advantage of AdRoll's Shopify integration. The Shopify Plus Certified App allows them to create dynamic ads directly from their product feed and target high-intent audiences based on shopper interactions with their store.
Pro tip: Run your emails and ads together. AdRoll's research shows that users who see emails and ads are twice as likely to convert. Running emails in tandem with ads will also help tell a cohesive and personalized story about your products and brand.
Support for charitable causes
"We have several programs throughout the year that revolve around giving back," says Celine. "Our Love Ambassadors program takes place on Valentine's Day and involves several community volunteers delivering flowers to elders in nursing homes around the country, which we coordinate. Our MaxLove partnership helps raise money for childhood cancer research during September. And several of our Story Charms have a percentage of proceeds going to specific causes year-round, such as the fight against breast cancer."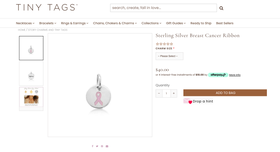 Pro tip: Ask your employees which charities or non-profits they're passionate about. If you support what they're passionate about, they'll have a stronger allegiance to you as a business owner. 
Revamping blog content with customer stories
"Our blog is a work in progress and a big priority for the second half of this year," says Celine. "Our most compelling blog series, 'The Story Behind the Tag,' features a collection of customer stories. Whether it's about infertility, a child's diagnosis, or a lucky chance meeting with their partner, we're open to featuring all customers who are willing to share their story and journey through motherhood. As a community of moms, we believe in the power of sharing, learning from one another, and being heard." 
Pro tip: Don't forget to optimize your blog for SEO. It's more than just publishing dozens and dozens of blog posts per month — quality counts. Here are a few tips to remember:
Make sure to use proper header tags (<H1>, <H2>, <H3>, etc.) for the headings to help illustrate the blog's structure.

Consider the word count — for a blog post to rank on search engines, it must contain a minimum of 300 words. 

Add 2-3 external and internal links throughout your blog posts.
And, of course, their unique way of showing moms that they care 
If there's one thing that Tiny Tags is excellent at, it's creating touching campaigns that pull at the heartstrings and make moms feel appreciated. 
"On Mother's Day, we launched our 'I Am Loved' campaign," says Celine. "This idea was rooted in the strong belief that it's often the little things that make children feel loved, like cooking their favorite food or reading to them, versus a big trip or new toy. We created a video montage of moms with their kids asking them how they feel loved, and then asked our community to do the same. Every week for the four weeks leading up to Mother's Day, we gave away a 14k gold personalized necklace. It's a beautiful reminder for moms that they're doing great. We're also revamping a series called 'Moms We Love,' which is all about sharing women's inspirational stories of business or advocacy. We've featured women like Nicole Phelps and Sarah Wright Olsen and have some wonderful new mamas lined up this year."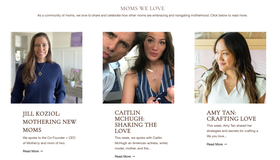 Pro tip: Weave emotion into your marketing and advertising to encourage your audience to act. The first step is to understand your audience enough to know which emotions would resonate most. Conduct some target audience research and then align your findings with your overall marketing goals. 
The Future Shines Bright (Like a Diamond) 💎
When asked about the future of the jewelry industry, Celine is adamant that it's looking bright. "Jewelry has always been a steady business, and we're lucky to be at the crossroads of that industry and the motherhood space. Moms are always going to want to celebrate their children, and investing in a piece of fine jewelry is a wonderful way to do that."
And similar to jewelry, Celine believes that the following marketing tips will stand the test of time:
Your site is your storefront; you have to make someone want to hang out. 

Do things strategically, not quickly. Think of your long-term objectives and align your short-term tactics to them. 

When given a choice between the two, choose to work with the influencer, brand, or partner that best aligns with your brand promise, even if their email list or followers is smaller. 
"At the end of the day," stresses Celine, "There are so many amazing free and inexpensive resources out there. Try different things, even if they might not work — and know that it's OK."
Last updated on December 9th, 2021.