How a Pet Care Brand Achieves 10x ROAS with AdRoll
Hunter Evans Performance Marketing Manager
at K9 Ballistics
The pandemic dramatically changed our world in so many ways—including the demand for dogs. A large number of people suddenly found themselves at home with a new capacity to care for a furry family member. This drove an inflation in prices for puppies along with explosive growth for the pet care industry. After all, dogs need food, toys, leashes, and (of course) dog beds.
Challenge 🤔
K9 Ballistics found themselves needing to keep up with the huge increase in demand for pet care products and carry that growth into the post-pandemic era.
Solution 💡
The team at K9 Ballistics partnered with AdRoll to create retargeting and prospecting campaigns that incorporate custom ads. They utilized the cross-channel performance dashboard and consulted with their dedicated account manager to inform their future ad strategy.
K9 Ballistics rode that wave, experiencing 65% growth year over year when comparing monthly sales of May 2019 and May 2020. We make a chew-proof dog bed that isn't just better than any other dog bed available—it's better for the animal using it, the people buying it, the people making it, and the planet on which we all live.
A Company That Loves People and Our Planet
Sean Farley, our CEO and co-founder, has put a lot of work into maintaining that original company ethos of caring for people and our planet. More than just providing good employee benefits, Sean offers mentorships and ensures career progression and development within the organization. This benefit extends to everyone in the company, including workers in our in-house warehouse and manufacturing departments. K9 Ballistics also supports peoples' ambitions and passions, which is reflected in our community work. We donate used returns to local animal shelters and our employees get paid time off for community service. We have a low employee attrition rate because people enjoy being a part of our team.
This commitment to people, community, and planet has led to our certification as a B Corp: businesses certified to balance purpose and profit, after having considered the impacts of their decisions on workers, customers, suppliers, community, and the environment. We promote sustainability in every corner of the business and throughout our entire supply chain. We are proud to stand alongside other well-known B Corps such as Patagonia, Ben & Jerry's, and Allbirds. The chew proof dog bed was our original product and we've only grown from there. Every product has sustainable features, such as items made from recycled plastic bottles or shredded leftover foam to ensure zero-waste manufacturing.
In everything we do, we are a little more intentional than your typical Ecommerce company. And when we became a B Corp in early 2021, we started educating our customers about this certification through marketing and advertising. We want our customers to see more than just our website. We want them to know that doing good for people and the planet is what our brand signifies. We are sprinkling it into our messaging for our current audiences and expanding our audience to people who might favor sustainable products in general.

Hitting the Ground Running for the Holiday Season
K9's well-rounded approach to sustainability was one of the reasons I decided to join the company. As the Performance Marketing Manager, I manage all the paid marketing channels and email marketing, and my role has continued to expand as the company grows. We have a lean team with only about six or seven of us in the front office. The benefit of having a team this size is that it's easy for us to pivot: we can decide to introduce a new line of accessories and then think about how to integrate our core values into that next generation of products. That keeps our work exciting and fun.
I came on board in September of 2020 just as Q4 was about to start. The holiday season is a hectic time of the year for Ecommerce, so I had to learn a lot very quickly. Adding to the pressure, I had to outperform the prior year. Luckily, we already had the marketing automation platform, AdRoll, in place. Even though I faced a steep learning curve, AdRoll's simplicity and the Shopify Plus integration made it easy to see where we had success and ramp up ad spend to focus on those areas.
We use AdRoll for both prospecting and retargeting. We've seen really strong click-through rates, which shows we're using the right creative material to reach the right audiences, and that AdRoll is getting ad placement correct. Strong click-through rates mean that people pause what they're doing and turn their attention to our product. Getting someone to change their course of action while on another website is the goal here. We have a high view-through rate, too; we've garnered a 10X ROAS for retargeting.
AdRoll has consistently come through with long-running creative material. Each quarter, the AdRoll team custom designs a dynamic product ad for us. The Q4 2020 holiday season ad featured animated snow falling and there were gift bows on each product. It looked really sharp and it was undeniably ours. I then ensured that our marketing campaigns across all channels were synced, including the hero image on our website. From our ads to our landing page to our social images, everything came together for a cohesive visual experience, whether for Black Friday or Cyber Monday. It yielded great results: our retargeting campaign during BFCM weekend saw an improved CPA (cost per acquisition) of 40% when compared with the previous period. That contributed to us having a great Q4—only to be matched by Q1 2021.
How the AdRoll Shopify Plus Integration and My AdRoll Account Manager Save Time and Resources
AdRoll helps our digital marketing team—me—save time and resources. Because I'm a team of one and am responsible for managing so many different channels, my bandwidth limits me from taking a super-deep dive into every single one of them on a daily basis. That's why it's great to know that our AdRoll account manager has my back, and I can draw upon her expertise as-needed. I like how she runs performance reports and provides context for those numbers.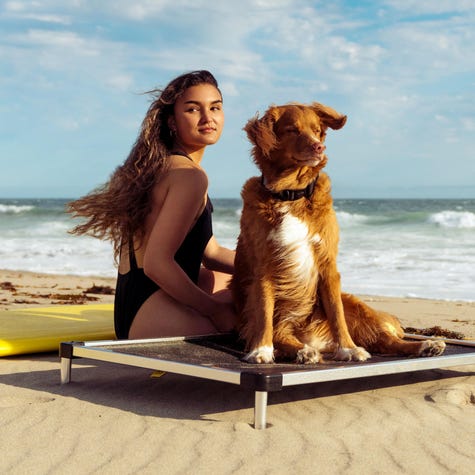 Most people these days touch multiple channels, and one of the great things about AdRoll is their free cross-channel reporting. Most of my background is in, so it's helpful to have our account manager's insights into metrics and KPIs from other channels. She will also suggest ideas, best practices, and new AdRoll features to help boost performance. It's a two-way, collaborative relationship, and I trust her recommendations.
As a Shopify Plus Merchant, we love that AdRoll integrates with our Shopify store. We use Shopify for payments, which is a very convenient and user-friendly option for customers. Our Customer Care team prefers Shopify because Shopify makes it easy for them to find the products, place orders, and issue refunds. One of the most powerful features of AdRoll's Shopify integration is the product feed, which we use in our dynamic ads. The integration has been seamless. It's convenient and straightforward, and that's the goal: plug and play. It's one less thing I have to think about.
Additional AdRoll Features That Help Us Get the Most Out of Our Ad Spend
We have had great success, but it's not a fluke. People continue to get dogs, and everyone who had a puppy in the early stages of the pandemic now has a dog that's bigger and stronger—and they need a chew proof dog bed. It's a premium item, but people have had fewer expenses as they've been working from home, they've spent less on travel, and they've become even more accustomed to shopping online. So far, 2021 is shaping up to be K9 Ballistics' strongest year yet, and as we ramp up our marketing efforts to set a new pace of sales we are using a lot of new features from AdRoll.
One of these features is the ability to have a flexible spend floor, which makes your budget dynamic. If an area isn't performing as anticipated and you're not on track to hit your goals, there's no reason to continue spending that money on the same thing. Even if you've already spent 80% of your budget, the flexible spend floor feature saves you that remaining 20%. You can then take that money and allocate it elsewhere.
I also appreciate AdRoll's cross-channel attribution feature, which is free on the display ad platform. With cross-channel attribution, you can see users' paths across multiple platforms. That data is incredible to see, and it helps me connect the dots across different channels. When I can look at the customer's journey and pinpoint how one of our AdRoll ads impacted their path towards conversion, it shows me that these ads have a notable impact.
AdRoll has simplified display ads for K9 Ballistics, and it's easier to use than other platforms such as Google Display Ads. It's a feature-packed platform that is very approachable and easy to understand. It saves me time and resources, and it connects with customers—and their dogs—at every step of the funnel.