Clearogen: How They're Connecting With Customers Through Educational Marketing
Topics Covered:
What if I told you that in just three steps — ✨bibbidi-bobbidi-boo!✨ — your acne can disappear? Sounds too good to be true (because yeah, that's magic), but there's a next-best option: Clearogen, a three-step acne treatment designed by Dr. Alex Khadavi, a board-certified dermatologist and researcher. 
We sat down with Kate Hamilton-Miller, who oversees Clearogen's digital brand assets and advertising campaigns, to chat about the brand's beginnings, their transition from dermatology offices to big-box retailers, and how they're maintaining success with educational marketing.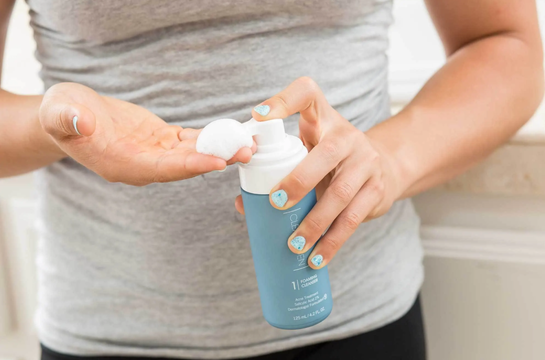 A Brand Born Out of Necessity 
"Clearogen is a brand born out of necessity," says Kate. "Dr. Khadavi understood that acne, or any issue related to appearance, is deeply personal and can have an impact on physical as well as social and emotional wellbeing. It's a matter close to his heart, and he was frustrated with the existing acne treatment options available to his patients. At the time, they all focused on addressing the symptoms of acne rather than the underlying cause." 
After extensive research on the hormone DHT (or Dihydrotestosterone), the root cause of acne, Dr. Khadavi set his sights on creating a safe and effective hormonal acne solution. He started Clearogen: a three-step acne treatment that effectively targets DHT production within the skin to clear existing acne and prevent future breakouts.  
The three-step formula was an instant hit — Clearogen made its debut at dermatology offices and quickly graduated to big retailers like Sephora and, Macy's, and Walmart. Since then, they've enjoyed over 20 years of success. But, how did they emerge from fierce competition to dominate the acne skincare market — even through a pandemic?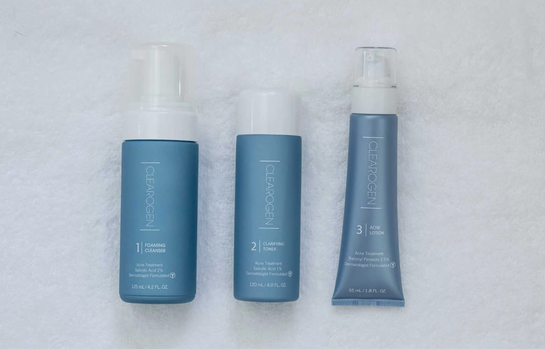 Going the Extra Mile to Nurture Customer Relationships
Like many other businesses, Clearogen was impacted by California's various shutdowns and nationwide shipping delays. "Things are much better now, though there were inventory challenges to work through," explains Kate. "When the first lockdown was announced, no one truly knew what to expect. We opted to offer customers deeply discounted products in the hopes everyone could stock up and maintain their skincare routine during quarantine."
As it turned out, the Clearogen team had little to worry about: "Acne is becoming more prevalent in both teens and adults, and the pandemic triggered some major shifts in personal skincare routines."
But it's not just this newfound shift in self-care that helped Clearogen maintain their success; they're also consistently sought out because they offer more than just the product. "Even if you work with an esthetician or dermatologist to maintain the health and clarity of your skin, you don't see them every day — people usually handle their skincare at home. Education and post-purchase support are key. By coupling high-quality, effective products with educational content, customers can feel comfortable and confident with their skin regime."
The Clearogen team nurtures their customer relationships with educational content across these channels: 
Their informative social media pages
"Acne, particularly for someone dealing with moderate or severe inflammation, can be extremely isolating," says Kate. "Social media has created pressures to be image-conscious. However, there's also an upside — social media has built communities like #AcnePositivity; celebrities and influencers are being more open and forthcoming about their skincare challenges, and conversations regarding hormonal acne and adult-onset acne reach a wider audience because of that. We do our part by publishing a combination of educational posts and reinforcing acceptance and positivity at every stage of someone's skincare journey."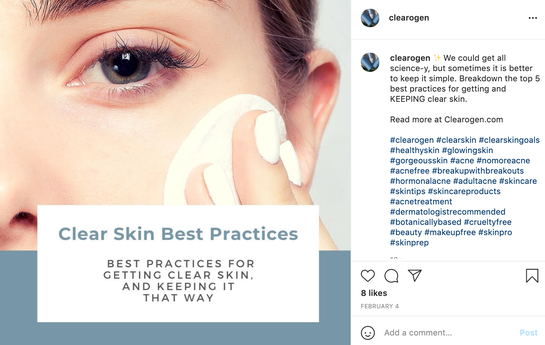 Pro tip: Create a hashtag for your brand. In addition to being a great resource of engagement, hashtags also help your brand optimize for discovery, cross-network, and increase traffic. "We have our own hashtag (#BreakupwithBreakouts), but it's more than a hashtag," says Kate. "We want to reach people who feel like they have tried everything to clear their acne, and nothing worked. "
Their inspirational ads 
"AdRoll is an essential part of our brand strategy," says Kate. "Cart abandonment campaigns help keep Clearogen top of mind in the customers' purchase decision. We also run brand awareness campaigns where we use contextual, native, and social media advertising to help raise awareness and engage with each customer segment – teens, male hormonal acne, adult on-set acne for people in their 20s, acne during pregnancy, and adult acne treatment for those with mature skin."
Pro tip: Don't over-optimize your campaigns in the pursuit of a particular performance metric. "Some campaigns may deliver less direct ROAS but serve as effective first touch brand introductions to your prospective customer base."
Their thoughtfully designed website 
"Clearogen's website was initially underperforming across all channels," says Kate. "Technical issues were interfering with a smooth checkout process, the site's look and feel were dated compared with competitors in the space, and the story of Clearogen's unique value and efficacy had gotten lost. So, we changed platforms and completely redesigned the site. We also revised the messaging to address different customer segments, rather than trying for a one-size-fits-all narrative, and developed a new asset library of product and lifestyle imagery to reflect the changes." 
Pro tip: Be agile in your website development and maintenance. "Websites and campaigns should be living, breathing things. I like to use a car analogy when discussing this with clients — whether you invest in a high-end supercar like a Bugatti or buy a Toyota Camry, if you don't change the oil regularly, it will not work well. It doesn't matter what the badge on the car or the name of the web platform is."
Change (and Good Customer Service) Is Constant
When asked about the future of the acne treatment industry, Kate knows that there will be a few challenges ahead. "It's an exciting space — more people speaking about hormonal acne than ever before," answers Kate. "However, unlike other beauty and skincare items, acne regimens walk a fine line. The desire to personalize messaging and create ease of transaction can conflict with digital privacy expectations. Technology and legislation will continue to evolve — as will marketing approaches. Unified customer profiles via universal payment IDs like PayID and Skymode presents interesting new insights and behavior patterns."
But no matter what, Kate is confident that one thing will remain constant, and that's the need for excellent customer service. "Good marketing requires communicating with the people who handle customer service," advises Kate. "Customer service reps have insight that pixels just can't capture. They hear the language customers use to describe their issues, desired solutions, and the products they're considering. Customer service also plays a vital role in retention. It should go without saying, but keep them informed of discounts, loyalty offers, or other items that may trigger customer inquiries."
Last updated on September 16th, 2022.