How TikTok's Shopping Ads Can Help You Win This Holiday Season
Topics Covered:
The holiday season is a time for loved ones, eggnog, and — for many brands — gift-giving. The key to massive success in Q4 is nailing down how your brand helps shoppers find the perfect gifts for their friends and family.
Enter TikTok's Shopping Ads, a powerful and relatively new advertising format that can help you unlock the audience you need to make this holiday season a rewarding one.
What Are TikTok Shopping Ads?
TikTok Shopping Ads include these:
Video shopping ads: in-feed video ads highlighting one or several products

Catalog list ads: ads that pull product details directly from your online store without you having to manually create original content (similar to how Instagram's "Shop" tab works)

Live shopping ads: product links during a TikTok Live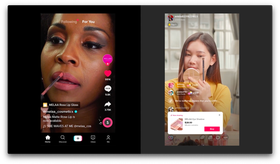 TL;DR: Shopping Ads are an interactive way for users to browse and buy your products without leaving the app. This is huge: fewer steps and less friction mean more conversions.
Why TikTok Shopping Ads?
The data speaks for itself: 56% of TikTok users have discovered new products and brands on the platform, and 48% are interested in purchasing directly on the app in the next three months. Additionally, 86% of brands that have tried this new ad format have seen higher ROAS from Shopping Ads compared to other ad types on the platform.
4 Tips for Launching Your TikTok Shopping Ads for the Holidays
Tip 1: Create and Manage Your Product Catalog
To get started with Shopping Ads, you'll need to connect your product catalog to TikTok, which you can do either manually or through an integration. Here's a step-by-step guide.
Once you've imported your product catalog, we recommend the following:
Creating product sets, which group products into easy-to-find collections

Setting up catalog rules that let you quickly update product information

Connecting event sources, so you can use TikTok for retargeting and tracking conversions
Much like for social shopping on other platforms, try to curate product sets that aid the shopping experience, such as Gifts for Him or Exclusive Holiday Deals.
Tip 2: Create Video Packages
Once you've imported and organized your products, you can instantly launch custom Video Shopping Ads. There are four types of templates for this:
Dynamic Templates: automatically generate standard video ads for your products

TikTok Templates: seasonal or industry-specific

Custom Templates and Fonts: create your own template (Lottie file format) you can then apply to all your Shopping Ads

External Templates: for templates created in Adobe After Effects
Alternatively, you can launch standalone Video Shopping Ad campaigns by simply tagging relevant products in any TikTok ad. Learn more about it here.
Psst: Later this year, TikTok will release more creative elements (including discounts, social proof, and star ratings) to further jazz up these templates and the social shopping experience — keep an eye out for it!
Tip 3: Use the Right Hashtags
Hashtags are an important way for users to discover new TikTok content. Here are some hashtags to consider leveraging in your holiday-related ads:
 #TikTokMademeBuyIt, #BlackFriday, #unboxing, #holidayhacks, #christmas, #christmasshopping, #christmasgift, #happyholidays, #holidaygifts, #holidayseason.
Tip 4: Use Clear CTAs
Beyond adding product links, make sure to add a clear call to action in your audio, text overlays, and graphics, such as by adding an arrow that points to the button. Remember: your Shopping Ads need to be as actionable as possible. It's also important to note that videos with Product Links go through an additional review process.
Add TikTok to Your Holiday Marketing Channels
TikTok may still be the new kid on the block, but it's the new frontier when it comes to automated, personalized, and native social shopping experiences. The possibilities with Shopping Ads this holiday season are endless, and with these tips, you're one step closer to getting your products in front of more shoppers.
Ready to take your TikTok strategy to the next level? Discover how AdRoll's TikTok ads platform simplifies campaign management and check out this guide to optimizing your campaigns.
Learn more about how you can integrate your social channels, consolidate reporting, and make edits to social campaigns with AdRoll's Connected Social Ads.
Last updated on August 8th, 2023.