Google Analytics Audit: A Checklist for Beginners
Topics Covered:
Until you have the resources to invest in a robust, fully integrated analytics solution, Google Analytics should be your best friend. As the saying goes, data is the new oil — comprehensive, accurate information has the power to provide serious insight into the best ways to spend your marketing dollars and optimize your brand strategy for ultimate success.
The problem? Google Analytics can be complicated to configure. With countless settings and parameters to define and monitor, the solution is an outright nightmare for beginner marketers who don't know where to start. 
We're here to help make the process as painless as possible with our Google Analytics audit checklist for beginners. Follow these steps to ensure your account is properly set up and running. Take it one step further by conducting this audit at least once per quarter to catch random, unexpected issues which commonly happen when you:
Make significant changes to your ecommerce site 

Update your CMS or plug-ins

Adjust your marketing and brand goals 
Pro tip: Once you finish conducting this Google Analytics audit, check out these resources to maximize every features the platform offers:
Google Analytics Audit: The Checklist
✅ Is the default URL correctly set up?
✅ Are your tracking codes implemented and running correctly? (Use Google Tag Assistant.) 
✅ Is the reporting time zone correct?
✅ Is the currency correct?
✅ Are your demographics and interest reports enabled?
✅ Are you filtering out internal and bot traffic?
✅ Are you reviewing and excluding URL query parameters?
✅ Have you integrated your Google Ads account with Google Analytics?
Is your pay-per-click (PPC) data appearing in Google Analytics?

Do your Google Ads clicks approximately match the number of sessions in Google Analytics?

Do campaign tags use a consistent naming convention?
✅ Do you have the practice of setting goals and goal tracking?
Are you applying goal values to each goal?

Are you tracking macro and micro conversions?
✅ Is Google Search Console linked properly?
✅ Are the benchmarking reports enabled?
✅ Is user-based reporting enabled?
✅ Are you tracking 404 error pages?
✅ Is site search tracking enabled?
✅ Are your traffic sources clean and clear? 
✅ Is cross-domain tracking implemented?
✅ Do you use a consistent naming convention for tracking events?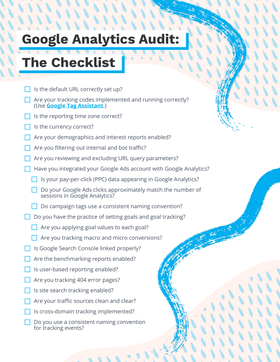 Last updated on March 10th, 2022.