5 Effective Attribution and Reporting Strategies
Topics Covered:
As a marketer, determining the what, where, and when of each sale is the easy part. But understanding the why may give you a run for your money. 
Most shoppers experience dozens of branded touchpoints, interactions, and marketing channels before hitting the checkout button. In other words, without the right tools and strategies, finding out what prompted a conversion can be an impossible task. 
The problem is this insight is key to boosting your return on investment (ROI). That's where attribution and reporting come in handy.
What to Know About Marketing Attribution and Reporting 
Marketing attribution and reporting refer to the process of measuring the effectiveness of your marketing efforts (paid ads, content, social media, in-person events) in driving conversions. In other words, it's all about analyzing the numbers to see what's working and what's not.
Consider this scenario: A shopper sees a Facebook ad on their phone, clicks on a different display ad on their laptop to visit your website for the first time, signs up for your email newsletter, clicks on the welcome email, and then purchases from your store. Which channel gets the credit? And more importantly, in this scenario, where should you invest your budget?
Given the topsy-turvy nature of today's shopping journeys, performance reports isolated to individual touchpoints won't cut it. Yet, with the dozens of channels and tactics in marketers' repertoires, acing your attribution and reporting has never been more challenging. 
We're here to help with these five strategies:
#1: Choose Your Attribution Model Wisely
Not all shopper interactions are created equal when it comes to conversions. Here's where an attribution model comes in.
An attribution model is a set of rules that lets you assign credit to different interactions and touchpoints:
First-touch attribution: The first marketing touchpoint a customer experiences before converting receives 100% credit.

Last-touch attribution: The last marketing touchpoint a customer experiences before converting receives 100% credit.

Linear attribution: Each touchpoint shares the credit equally.

Position-based attribution (or U-shaped attribution): The first and last touchpoints receive 40% credit each, while other touchpoints split the remaining 20% credit equally.

Time decay attribution: Recent touchpoints receive the most credit.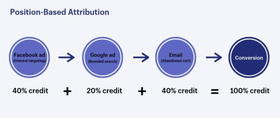 Each attribution model is oriented around a different approach to analytics. But which attribution model makes the most sense for your brand? The answer will depend on questions like these:
Do your top-of-funnel or bottom-of-funnel efforts contribute more to conversions?

How are your touchpoints distributed across your marketing funnel?

Do you have multiple touchpoints that interact significantly with one another (which would warrant a more complicated multi-source model)?

How many interactions do shoppers typically experience before they convert?
For more on choosing the right attribution model, check out this guide.
#2: Don't Be Afraid of Data-Driven Custom Attribution Models
When dipping your toe into the world of marketing attribution and reporting, you'll see terms like data-driven model, custom model, or algorithmic model, with most of them alluding to the same thing: an advanced attribution model driven by machine learning-powered algorithms. 
Compared to the rule-based, pre-defined attribution models we've mentioned, data-driven attribution is the best option for the most accurate and comprehensive reporting. It works by deciphering and distributing credit according to how each touchpoint in your customer purchase journey impacts conversions, other non-converting paths, and specific brand goals.
If you're looking for a custom method to measure precise performance in a way that's unique to your business, data-driven attribution is the way to go.
#3: Leverage the Right Attribution and Reporting Tools
You can be the most proficient marketer, but without the right tools, you will quickly hit the limit of what you can achieve — after all, data is everything when it comes to marketing attribution and reporting. We can confidently say that the most critical component of any attribution plan and strategy is having the right mechanisms to collect, visualize, and analyze your data.
There's no reason you have to approach your marketing attribution, data collection, and analytics tasks manually. Using the right software to automate, synchronize, and systemize all relevant data can help you say goodbye to guesswork and hello to crucial insights that'll help you improve performance.
With numerous tools available, we created this guide to ease the challenge of finding the right attribution software. When choosing which one to use, consider factors such as:
Speed

Accuracy

Cross-channel performance measurement

Ability to connect the data with specific brand goals and KPIs

Level of insight into non-conversion paths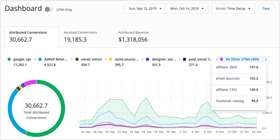 Pro tip: AdRoll offers one of the most comprehensive cross-channel performance dashboards on the market, with six attribution models to choose from. In just a few clicks, you can see how your various marketing efforts — search, social, display, and more — interact with one another and contribute to your conversions. The platform also breaks down unique customer journeys by path length, average order value (AOV), revenue, first and last interactions, and more. Learn more about what AdRoll can do for your brand here.
#4: Keep It Simple
When it comes to attribution and reporting, it's all about progress, not perfection. As with anything in marketing, creating quality attribution reports is not an overnight task. It comes with time and experience.
As you get started with your attribution and reporting journey, focus on the most important numbers. If you're feeling overwhelmed, it might be a sign that you're trying to do too much at once. Remember: It's better to narrow down your marketing efforts and do them well, rather than be everywhere halfheartedly. 
#5: Be Prepared to Pivot
If you're using a first-click or last-click attribution model simply because of its simplicity, here's a newsflash: You're probably missing out. 
If it makes sense for your brand, don't be afraid to pivot, test, iterate, and completely change how you're approaching your attribution and reporting. Switching attribution models can do wonders for unlocking new data and insights. 
It's Time for Better Attribution and Reporting
Attribution and reporting can feel extremely daunting, even if you're a seasoned marketer. But there's no reason to spend hours every week cobbling data from different dashboards or suffering from the headaches of crunching numbers in an Excel spreadsheet. 
The key to success is all about finding the right software and models to help you. Check out how AdRoll's attribution and reporting tools can help turbocharge your efforts.
Last updated on April 15th, 2022.