How Do You Analyze the Customer Journey?
Topics Covered:
Today's customers connect to the digital marketplace across many devices, channels, and platforms. There are many variables at play in digital marketing and a growing number of brands competing for audience attention. It's more important than ever for marketers to understand how consumers decide where they will spend their time and money. Regardless of how complex the evolving marketing funnel becomes, consumers will continue to expect brands to keep up. How will your company meet this expectation?
Customer journey analytics unlock the values, interests, and motivations hidden within consumer data. This information is gathered as consumers interact with various touchpoints in the conversion funnel, and it allows marketers to analyze the customer journey holistically. Customer journey analytics provide critical insights that help brands refine each channel and touchpoint. Without this type of analysis, it can be challenging to connect with today's astute digital consumers and build brand trust. To maximize your opportunities for success and sustainable growth, begin by adopting the following best practices.
5 Best Practices for Analyzing the Customer Journey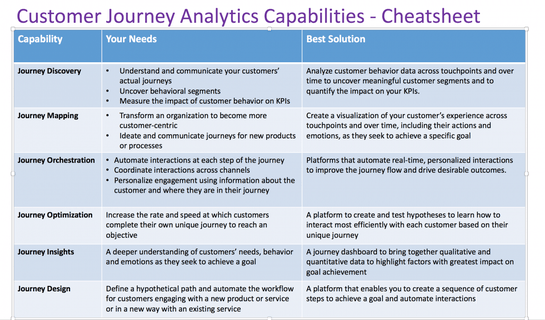 1. Use hard data as a roadmap
The consumer data that a company collects is the most useful tool for understanding how customers arrive at their purchasing decisions. Knowledge is power — the right information will help your business understand how customers engage with your marketing funnel. Each touchpoint provides a new dataset for each customer, including critical details like:
Device type
Geographical location
Channel type (email, social, organic search)
But that's just the beginning. Your marketing team can glean insights into how long it takes for customers to navigate the conversion funnel and which types of interactions are more effective at boosting conversions. Armed with this information, your team can make appropriate adjustments to streamline the purchasing process and create more enticing incentives.
For B2C and D2C brands, data can present a challenge and an opportunity. Many marketers become overwhelmed by the volume and complexity of the data they collect. That's why savvy marketing teams leverage the power of AI-driven analytics tools that do much of the work for them. The ideal solution will provide detailed analyses in user-friendly reports and dashboards based on the brand's custom parameters. These tools allow marketers to focus on the most relevant data points and determine how best to unlock the revenue potential.
2. Incorporate direct customer feedback
Even with today's robust data-collection tools, there's no better way to understand a customer than to ask them directly. Primary customer research continues to be an essential facet of analyzing the customer journey. Without it, even the most well-informed marketers will need to make assumptions about their target audience, which can result in limited engagement. Listen when your customers tell you about problems they have with the user experience, and take note when they react positively to various touchpoints in the marketing funnel. Include both quantitative data and qualitative responses in your customer journey mapping.
Brands cannot expect customers to engage with their messaging if it's not built for them. No two customers will experience your conversion funnel in the same way. The journey will vary wildly between groups, separated by generation, gender, and other key identifiers. Brands need to decide which audience groups are most important to their success and explore how they experience the customer journey differently.
For more on how to craft a customer journey map:
4. Streamline the customer journey
The vast array of available marketing channels can create a sprawling customer journey map. Marketers need to manage those touchpoints efficiently to get their desired results. Optimization of the customer journey should begin by analyzing each touchpoint for every segment of the target audience and identifying the weak points. Where do customers drop out of the funnel? Where is engagement lower than expected? 
For example, if your company successfully reaches customers and grows your market through email and social media, but consumers aren't clicking your display ads, it could be time to reevaluate your creative or ad spend. This analysis can help to optimize marketing campaigns and refocus efforts in areas with the highest ROI.
5. Test and re-test your customer experience
Today's marketing tools make it easy to test various strategies and tactics across channels and touchpoints. The end goal of customer journey analytics is to empower marketers to make iterative improvements to the customer experience at all points of the conversion funnel. To make those changes, companies must test each element of the customer journey thoroughly.
For instance, email lists are useful for testing different engagement strategies with distinct recipient groups. Develop original creative with different styles and voices, then observe how your audience reacts. Perhaps one segment responds well to video or moving imagery in emails, while another requires a bold CTA with clear language. Small adjustments can contribute to a more effective marketing strategy in the long-term. 
Likewise, audiences may interact with social media platforms differently. You can't expect one strategy to perform equally well across different apps or with all viewers. A/B testing is a core element of an excellent social media marketing strategy — try different headlines, CTAs, and images on each platform to find the ideal combination of tactics to quickly and effectively reach your audience.
For more on how to conduct A/B tests:
The Cornerstone of Any Effective Marketing Strategy
Customer journey analytics is the cornerstone of any effective marketing strategy. Luckily, the array of data tools and customizable dashboards available to marketers makes gathering detailed insights about your target customers more accessible than ever. Companies can now quickly analyze how consumers interact with the conversion funnel at each touchpoint and from a holistic perspective. This powerful information provides an excellent overview of the customer journey and empowers your marketing team to construct an enticing digital ecosystem around your brand.
Last updated on September 16th, 2022.