2023 Digital Advertising Outlook
Topics Covered:
As the 2022 holiday season is behind us, we have a complete picture of the consumer spending and advertising activities during the past holiday shopping season.
According to the Mastercard, sales of the 2022 holiday season rose 7.6% from the previous year. It's just slightly lower than the growth of 8.5% in 2021. Compared to Mastercard's projection of 7.1%, the actual holiday sales data came out slightly above expectation. Given the challenging economic situation, the 2022 holiday sales performance is encouraging. It indicates a slower but still strong growth. 
In terms of advertising cost, our data shows a lower average CPM in Q4 2022 compared to the prior year, reversing the trend from the first 3 quarters of 2022. We also notice the CPM dropped at a faster rate in December, compared to the previous years. These are signs that marketers started the holiday campaigns earlier in 2022 to mitigate the uncertainty caused by the economic conditions. 
2023 Advertising CPM Forecast
Looking ahead into the first few months of 2023, the January CPM was lower than a year ago, following the trend from the end of 2022. However, we expect the CPM will rise and reach a similar level as in the same period of last year. This is the first time we don't experience a year-over-year CPM growth in the beginning of the year since 2020. 
This signals a good opportunity for advertisers to take advantage of the relatively low CPM to test out new channels or ad types.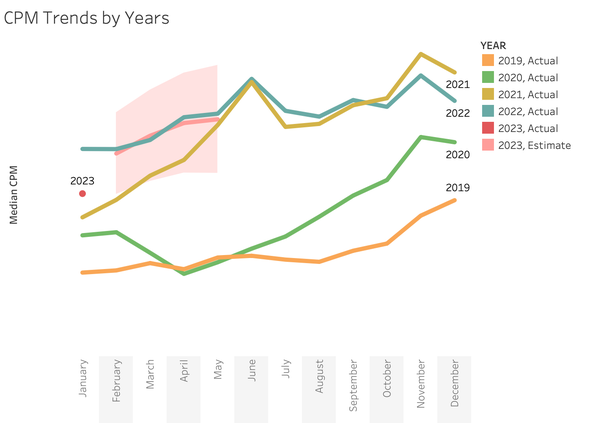 New Advertising Channels to Explore in 2023
Another 2023 trend worth highlighting is the growth of new advertising channels, particularly, TikTok. 
TikTok Advertising
Market research firm eMarketer has called out that TikTok's ad revenue growth rate in 2023 will be the highest, among all companies it tracks. It is expected to grow 43% in 2023 from the previous year.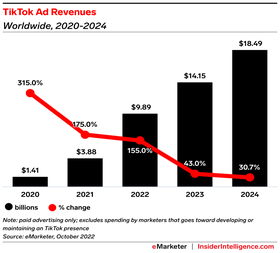 Besides a large user base and high engagement rate, TikTok  also has a relatively low advertising cost. Among social networks, TikTok, Pinterest, and Snapchat, have a lower CPM compared to the more established ones, such as Facebook, Instagram, and YouTube, according to Wordstream and Statista. 
For brands that have not used these relatively inexpensive social media channels, now is the time to get started. As the inflation remains high and the challenging economic condition is expected to continue, diversifying your channel mix to incorporate these new channels is key to improve your ROAS. Afterall, if you don't try to take advantage of these new channels now, your competitors probably will.  
How to Manage Multiple Channels Effectively
Traditionally, brands and advertising agencies take a channel by channel approach to channel mix management. When they adopt a new channel, they need to:
Learn, as fast as possible, how to use a new platform,

Set up new campaigns on the new platform from scratch, 

Evaluate the new channel's campaign performance and try to fairly attribute the final results to campaigns across the new and existing channels,

Last but not the least, figure out the best budget allocation across all channels to optimize overall ROI.  
In short, adopting a new channel is a big challenge and a huge undertaking. This creates an obstacle that prevents advertisers from fully taking advantage of the opportunities offered by the newer channels in a timely fashion. 
Manage Your Multi-channel Campaigns in One Place With AdRoll 
The good news is that there is a better way. Just as advertisers don't need to buy display ads from each website individually, you don't need to manage your social media campaigns on each channel one by one.  
With the help of AdRoll's multichannel marketing platform, you can manage your marketing campaigns across multiple social channels, including Facebook, Instagram, Tiktok, and Pinterest, on a single platform. Find out more how you can expand and optimize your channel mix with ease with our social media advertising management software.
Last updated on February 13th, 2023.