Comprehensive Guide
A Guide to Cross-Channel Marketing Strategy and Campaign Management
Effective marketing doesn't take place on just one channel. These days, the best marketers use their data to reach target audiences across several channels and various stages of the customer journey.
This type of strategy—cross-channel marketing—uses website content, paid social and search advertising, and email marketing to reach customers with the right message at the right time.
Understanding Cross-Channel Marketing
Cross-channel campaign management isn't a hard concept to grasp, but it does differ from other approaches. You'll need to have a good grasp on your customer data, including buyer personas and journeys, to target the right audience segments for each campaign.
The best cross-channel marketing campaigns use a strong media mix to reach customers at every stage of the journey, not just the top or bottom of the funnel. Highly personalized marketing across multiple channels allows your customers to feel like they're really seen and understood.
Advanced Testing and Attribution for Your Cross-Channel Marketing Strategy
Once you implement a cross-channel marketing strategy, your testing and attribution processes will probably become more complex. Advanced testing options give you more insight into how your campaigns perform, and multi-touch attribution shows you every step a customer takes to make a purchase.
Understanding and implementing both of these processes correctly will help you further optimize your cross-channel campaigns.
Start Increasing Revenue with Personalized Shopping Experiences
As competition for audiences and customers grows, marketers can't rely on a single strategy to connect with them anymore. Using a cross-channel strategy lets you personalize the shopping experience for your best customers.
When you use AdRoll's cross-channel marketing automation to manage your marketing processes, you can have more control over the multiple methods you use to reach those audiences.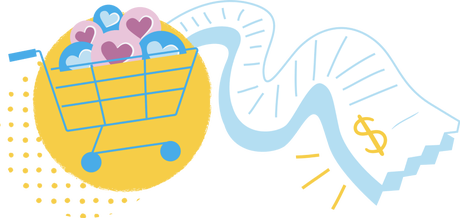 Joe Meyers Director of Digital Marketing
at DOGTV
"Our initial tests serving social and video retargeting ads to millennials proved successful. We started converting prospects visiting our website into sales by following them around the web and reminding them about our product. I then turned our attention to acquisitions and retention. I've tried dozens of marketing platforms with varying degrees of success; none have yielded the ROI or the consistent monthly results of AdRoll."
Frequently Asked Questions
What is the purpose of cross-channel marketing?

Cross-channel marketing campaigns create seamless, consistent customer experiences across several marketing channels and platforms. You can use a cross-channel marketing platform to build unified brand messages and tailor content to customers no matter where, when, or how they interact with your brand.
What is the difference between multi-channel and cross-channel marketing?

Where multi-channel marketing involves ensuing multiple channels to communicate with an audience, cross-channel marketing takes it a step further by integrating several marketing efforts to create consistent customer experiences. It leverages customer data and insights to personalize those messages to better serve customers.
What is the difference between omnichannel and cross-channel marketing?

Omnichannel marketing goes beyond cross-channel marketing's already expansive toolset to fully integrate the customer experience across all channels. It puts customers at the center of every interaction to ensure their consistent experience—whether that's in-store, online, or in other marketing channels. It's a holistic approach that fosters long-term loyalty and maximizes customer lifetime value.
What is the advantage of having a cross-channel strategy?

Cross-channel strategies have plenty of benefits. For starters, they help improve customer engagement. They're an excellent tool to increase brand consistency, too, because the experience and messaging are the same regardless of where the customer sees them. Highly personalized campaigns help foster stronger customer relationships.

Cross-channel marketing lets you drive sales and customer loyalty with a unified, customer-centric approach.