Topics Covered:
What would you do for a flavor-packed salad? Wait in a line that runs out the door and around the block? Take a spin class? Attend a music festival?
Salad fans have done all of that and more in the name of Sweetgreen. With its purposeful brand values, eye-catching marketing campaigns, and community-building efforts, the fast-casual restaurant has reached the top of the food chain. 
But how did Sweetgreen cement its reputation alongside beloved brands like SoulCycle and Apple? Here's the story of how three fresh graduates transformed something as simple as a bowl of leafy greens into a billion-dollar unicorn. 
Lettuce Eat 🥬
The story of Sweetgreen began in the early 2000s when three hungry Georgetown freshmen — Nathaniel Ru, Nicolas Jammet, and Jonathan Neman — shared a frustrating predicament: Their meal options were limited to either unhealthy fast grub or expensive fresh food. 
They identified a market gap: clean, healthy meals that were equally as convenient and accessible. The trio decided to take on the challenge themselves, so after graduating in 2007, they launched the first Sweetgreen store near Georgetown's campus.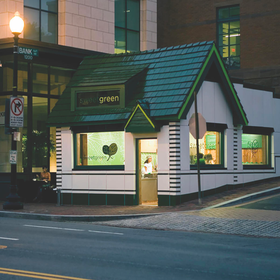 As customers rolled in and discussions on potential expansions began, the Sweetgreen formula was formed: a flexible supply chain featuring the freshest ingredients and close connections with the local community. The company borrowed strategies from tech startups, too — launching an ordering app, providing enterprise office delivery, and using blockchain to track ingredients. 
Fast forward to 2022: Sweetgreen now has more than 100 stores in eight states, 3,500 employees, and collaborations with 150 farms nationwide. Since its inception, the company has raised hundreds of millions from investors. In November 2021, the chain went public at a $3 billion valuation. Though its stock price has since slumped, experts predict a strong year ahead given its tech innovations and dynamic brand positioning as one of the country's trendiest fast-casual chains. 
A Rock Salad Brand Identity 🥗
Sweetgreen is uniquely focused on creating a distinct brand identity, highlighting several key business practices they're most proud of: local food sourcing and seasonal ingredients, sustainability initiatives, and employee-first company culture.  
"In the beginning, we noticed that the food companies with the best marketing were always the most unhealthy. Our thesis was, 'How can we use similar marketing tactics to tell the story of real, healthy food and make it a bigger part of the conversation?'" said founder Nathaniel Ru in an interview with Forbes. 
The Sweetgreen team wanted to do more than just encourage people to eat their greens. For the chain to stand out, they had to connect healthy living with the passions of potential customers, from pop culture to wellness to social impact. 
Walking in the footsteps of brands like Nike, Supreme, and Patagonia, the founders set out to build a brand that transcended its identity as a salad restaurant. That's why Sweetgreen organized Sweetlife, a music festival series from 2010 to 2016, which expanded from parking lot performances with local indie bands to massive productions with artists like Blondie, the Weeknd, and Halsey. Sweetlife not only brought people together but also introduced attendees to healthier versions of traditional festival food. 
New Habits Are Sprouting 🌱
Anyone who shops in grocery stores can attest to the growing, widespread adoption of plant-based and vegan options. Consumer preferences are changing, and many are demanding more nutritious, greener foods.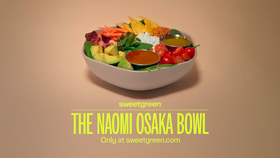 Sweetgreen has capitalized on these trends with its brand positioning and marketing. In 2021, the company launched a national brand awareness campaign by partnering with tennis superstar Naomi Osaka, who is also an investor in the company. She helped create the "Naomi Osaka" bowl and appeared in print ads and TikTok videos promoting her salad. 
Sweetgreen's attempt to appeal to younger customers — rather than solely target its traditional customer base of millennial office workers — makes sense considering 65% of Gen Zers prefer a more plant-forward diet.
Root for the Planet 🌎
Beyond promoting fresh ingredients and the importance of healthy eating, Sweetgreen's mission is equally focused on environmentalism and sustainability. The brand has assumed a huge responsibility in meeting their social dues when it comes to treating the planet with care and inspiring customers to do the same — which they've branded #thesweetlife: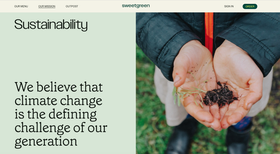 With countless surveys showing stronger consumer connections to purpose-driven brands, Sweetgreen is a prime example of a company that successfully pairs products with a broader mission unrelated to boosting profits.
Be-Leaf in the Process 🍃
In its early days, Sweetgreen operated like a tech startup, complete with core values the founders championed. However, even though it was tempting to scale like Silicon Valley's other fast-paced unicorns, the team quickly learned to grow at their own pace. 
"I think at one point we got up to 20 values and we couldn't even memorize all of them. That was definitely a reflection of us trying to do too much in our early years. Over time we learned the power of saying no and slowing down," said Ru.
Rather than immediately open branches in other major markets following their first successful Georgetown location, the trio decided to hunker down and focus on building up the Sweetgreen brand instead. In interviews, the founders attribute much of their success to staying in D.C. for six years, which allowed them to build a robust network and design a tried-and-true winning blueprint. 
That included developing an in-house creative agency, which tackles everything from creative to social media, so the brand can move and react faster than ever. 
Chili-ing With the Community 🌶
Unlike other restaurant chains that set up a new branch wherever there's available real estate, the Sweetgreen team is extremely meticulous about entering new markets. 
"Unlocking intimacy and the ability to resonate with customers hinges on doing the legwork to understand them. You have to connect with each community differently. At least a year before we enter a new market, we're introducing ourselves to the community and taking the time to understand its unique culture so we can show up in a more meaningful way," Ru shared.
Before opening new restaurants in Texas, the founders connected with various farmers markets, local artists, architects, and potential customers. Looking at everything from demographics to traffic patterns, they created a tailored recipe for success. For a location in Houston, for example, Sweetgreen added heartier meal plates to the menu, paired with beer and wine.  
Beet-ing the Competition With New Tech 🥊
Sweetgreen is at the forefront of new technology, especially when it comes to adopting tools and processes to target new trends and habits formed in the pandemic. With the explosion of delivery apps and online ordering, the company expanded beyond its Sweetgreen app with Outpost (offering free delivery to offices), Collections (a digital-only menu with personalization for specific dietary needs), and Sweetpass (a subscription program where users pay a $10 fee to get $3 off every salad ordered within a month).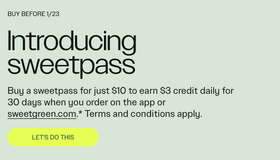 Despite the pandemic, Sweetgreen's new apps and specials helped the company experience steady growth — not only with sales but also with data. They gained even more insight into consumers' habits and dietary preferences, allowing them to further personalize customers' digital ordering experiences. (If you're vegan or vegetarian, meat-based menu items won't even show up on your app!) 
Pear-fect Collaborations 🍐
To say that Sweetgreen is known for its epic collaborations would be an understatement. Here are some of our favorites:
Rather than scroll through a list of famous names and call up anybody relevant, Sweetgreen follows a meticulous process for considering and vetting partnerships. Founder Ru encourages brands to find partners that are a natural fit in terms of values rather than forced extensions. 
It's Party Thyme (for Sweetgreen Customers) 🎉
Before the company retired its loyalty program in March 2021 for pandemic-related reasons, it served as a great way for salad addicts to unlock major rewards. Sweetgreen offered three membership tiers: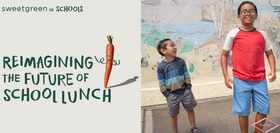 With the help of its loyalty program, Sweetgreen quickly built a community of like-minded customers and offered them countless reasons to keep buying salads — and more importantly, continue living a healthy lifestyle. 
The Roll-Up 
No company has managed to make kale and carrots as trendy as Sweetgreen. However, the brand encompasses more than greens and motivational mottos plastered on its walls — Sweetgreen's dedication to sustainable values, friendly business practices, and living a healthy life is evident through everything they do. 
Are you looking to build an impactful brand? Here are some tips to keep in mind: 
Last updated on February 11th, 2022.