Brand Partnerships: Why They Matter for D2C Brands
Topics Covered:
E-commerce has brought many changes to the consumer experience, but one of the most powerful is the rise of direct-to-consumer (D2C) brands. In recent years, D2C brands have succeeded in restructuring the traditional retail system by directly connecting the end customer to the brand itself, with no middleman in between. Let's explore why D2C is considered the future of retail and why more and more D2C companies are seeking out brand partnerships.
IF YOUR TIME IS SHORT: 
The Many Advantages of D2C
D2C brands offer a lot of advantages to both consumers and brands. For consumers, one of those advantages is the convenience of shopping online from the comfort of home, even for big-ticket items like mattresses and jewelry. By saving your preferences with a D2C brand, you can be confident that you'll always order clothes that fit, food that you like, and makeup that matches your complexion. And by shipping directly to consumers and bypassing the physical retail space, D2C brands can save money and pass those savings on to consumers — offering free next day shipping, for example. They're also able to provide more convenient customer support for consumers, through shipping updates and easy returns.
For brands, the power of D2C is evident — even the retail giant Nike recently announced that it was ending its partnership with Amazon to focus on its D2C strategy. With D2C, there are no wholesale or retail partners to consider. D2Cs choose where they sell, how to price their products, what their values are, and what marketing messages to use. They don't need to compete on retail store shelves with similar brands or products; the D2C brand has total control. By owning the relationship with the customer, the D2C brand is also better able to personalize their offerings.
Using Brand Partnerships to Scale
Although D2C has a lot of benefits, there are some drawbacks to going at it alone in a retail environment. D2C companies have to deal with everything, from manufacturing to marketing, shipping, customer service, and much more. In addition, the explosion of D2C brands is making it even harder for a high-quality brand to get attention. Companies need smart and compelling ways to strengthen their brand without overstretching their resources. This is one of the reasons why more and more D2C companies are seeking out collaborations with other companies in brand partnerships.
In a perfect brand partnership, both parties use their respective assets and audiences to cross-promote one another. It's a mutually beneficial approach that boosts brand perception and builds brand strength.
Here are several approaches that can form the basis of successful brand partnerships:
Customer experience
When customers feel emotionally connected to a brand, their lifetime value increases 4x. One of the ways to deepen the customer-brand relationship is by providing a compelling brand experience, and an effective way to do this is via brand partnerships. For example, Leesa, the online D2C mattress company, partnered with luxury furniture retailer West Elm to showcase its mattresses in West Elm stores.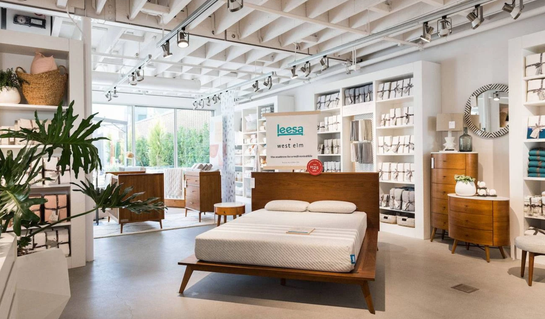 Customers can try out Leesa mattresses in real life, while also checking out the bedroom furniture and decor available at West Elm. Leesa customers can test the products in person, but still get the online experience — the best of both worlds. This partnership worked, in part, because the two brands have a similar image (stylish, luxurious, high-quality) and overlapping product offerings (comfort, home decor, furnishings). 
Market positioning
In many niches, competition among consumer brands is cutthroat. However, the right partnership can give D2C brands (and even established enterprise companies) a huge competitive advantage. In 2018, Adidas managed to overtake rival Nike in daily visits to its site on three occasions, mostly due to the release of new products in its "Yeezy" brand partnership with Kanye West. 
In the same year, Adidas increased its global e-commerce sales by 36%. The Kanye-Adidas success is a partnership based on perfectly matched brand status; it's a powerful combination of an iconic global sportswear company and A-list celebrity. While smaller D2Cs and challenger brands may not be signing on world-famous stars, the lesson here is to create brand partnerships that are a good fit in terms of brand maturity and market position. 
Blending online and in-store retail presence
A defining characteristic of D2C brands is that they start off entirely digital — forgoing a brick-and-mortar presence in favor of e-commerce. While this helps keep overhead costs low, one disadvantage is that the customer can't touch or try the product before buying. Because of this, many D2Cs seek brand partnerships with traditional retailers. 
Travel startup and D2C luggage brand Away, for instance, partnered temporarily with Nordstrom earlier this year to offer an exclusive range of travel accessories as part of Nordstrom's Pop-In@Nordstrom program. Yet, the primary purpose of incorporating retail presence in the D2C experience is actually not to boost in-store sales. Rather, brand partnerships with physical retailers enable D2Cs to provide another touchpoint for online customers, and an additional opportunity to immerse the customer in the brand, streamline the brand experience and strengthen brand awareness.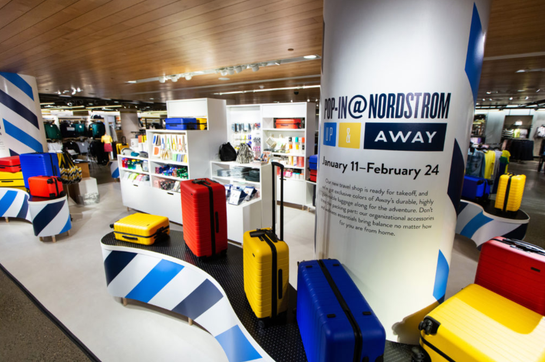 Fulfillment and delivery 
A major challenge for D2C brands is how to provide a satisfying post-purchase experience for customers. The fulfillment and delivery stage is often hampered by logistics issues and insufficient third-party services that don't live up to their brand promise. By identifying brand partnerships with suitable delivery companies, D2Cs can develop creative and efficient strategies to align the distribution stage with the brand's values and image. 
Iconic consumer brand Coca Cola partnered with the food delivery app "Delivery Hero" in several markets. The soft drink company boosted its brand visibility with its logo featured prominently on the delivery app and exclusive deals on Coke purchases with meal deliveries.  
There are as many types of brand partnerships as there are brands. Figuring out what kind of brand partnership activity will be the most effective depends on the identity, niche market, and audience of both brands involved. 
Ask the Right Questions
Once you have a potential brand partner in mind, use these five questions to evaluate whether or not they're a good fit:
Do audiences overlap, or is the partner audience one you'd like to target?
A brand partnership can only be successful with a suitable audience. Do thorough audience research and make sure the brand partner's audience is a good match for your business.
Are the brands complimentary? Do the aesthetics, tone, messaging, and other intangibles align?
Brand partnerships are effective when the two brands meld well together. The partnership has to feel natural and logical to have the most power. Check out the potential partner's values, look and feel identity, and goals before signing on.
Do both brands gain a core competency they didn't have access to before? Do the strengths of each partner complement the other?
The point of a brand partnership is to uplift awareness and perception among target audiences in a way that can't be done by the brand on its own. This is best achieved by identifying partners whose strengths add a new and complementary dimension to the existing brand. 
Does the partner treat your brand equally and with respect compared to their brand?
Successful partnerships depend on trust, and this is true of brand partnerships too. Brand partnerships only work if there's respect and confidence in the other, which will naturally generate higher confidence and loyalty from the target audience.
Do the products fit well together or complement each other?
Beyond values and identity, brand partnerships must also work at the product level. That doesn't always mean that products will have a direct correlation; there's room for creativity too. After all, makeup brand Glossier ran a brand partnership with Bark dog toys — and it worked!
D2C brands that want to use a reliable brand partnership to gain a competitive advantage need to consider the overall strategy of the brand partnership. Is the aim to support D2C brand awareness via a retail presence? Or to strengthen market position by bolstering brand image? Or to boost the D2C customer experience? No matter the objective, the perfect brand partnership should revolve around shared goals via common strengths and values.
Last updated on February 21st, 2023.