Unrolling: Spirit Halloween
Topics Covered:
It's the spookiest time of the year — though most people would agree that the world needs more treats and fewer tricks right now. Luckily, there's one company that'll deliver all the ghoulish thrills you need: Spirit Halloween. Yes, it's your annual reminder that 'tis the season for witches, skeletons, and pumpkins. 
With 63% of Americans reporting that they will still celebrate Halloween this year, experts predict that 2020 will be an $8 billion Halloween season. It's 8% less than 2019 sales due to consumers' decreased participation in parties, trick-or-treating, and haunted houses, but a significant seasonal market nonetheless. 
This year, Spirit Halloween will open an unprecedented 1,400 storefronts nationwide. Meanwhile, its competitor Party City has slashed its Halloween City pop-up stores by a whopping 91%. Confused about how Spirit Halloween is managing to rise above the crowd and thrive in today's brutal retail landscape? Read on to glean insights into their business and marketing models.
A Scare Is Born
In October 1983, Joseph Marver, a San Francisco dress retailer, was struggling to attract customers to his store, Spirit. Yet, he noticed the long queues outside a costume shop nearby. He decided to put his dresses away, quickly replacing the racks with Halloween-centric costumes, decor, and party goods. To his delight, the seasonal items flew off the shelves. 
The next year, Marver replicated his success — but this time, he expanded to an empty mall storefront. It was a huge hit. He sold over $100,000 worth of merchandise. Year after year, he added more storefronts, eventually selling the whole business to Spencer's Gifts in 1999. 
In an interview with the Seattle Times in 2000, Marver said, "I didn't invent temporary sales. But I feel like I invented temporary Halloween." Today, "temporary Halloween" remains an accurate description of Spirit Halloween, the country's largest Halloween specialty retailer. 
Nowadays, Spirit's nationwide pop-ups, which occur between late August through early November, are considered a seasonal mainstay. The brand is an emblem of America's love for the spooky holiday.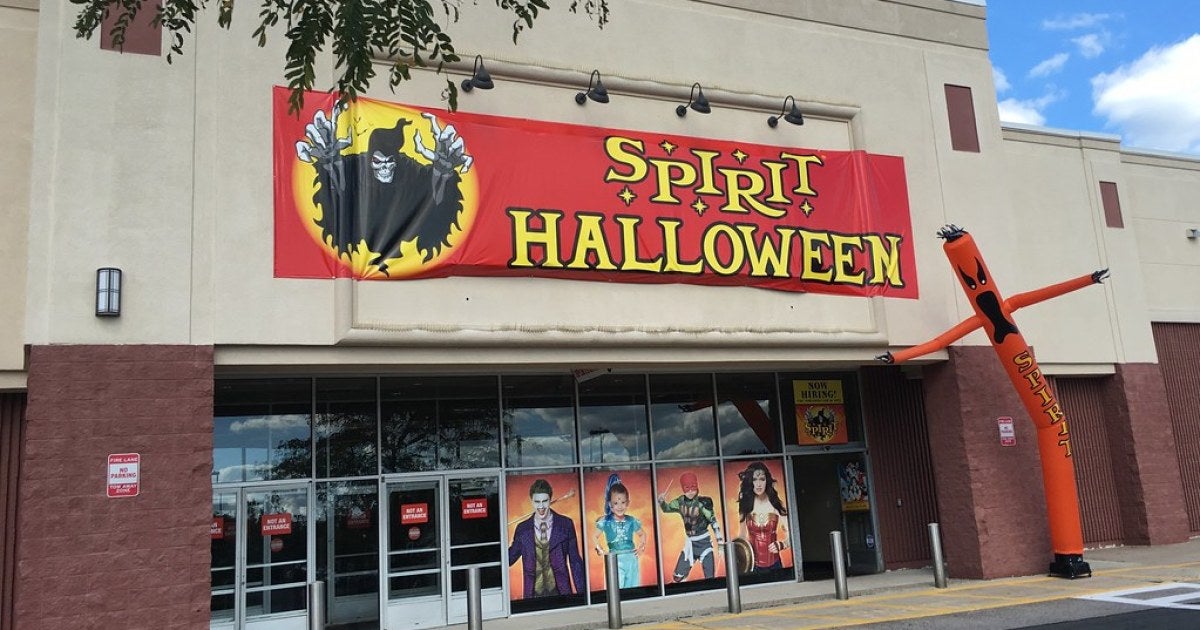 From: Flickr
More Guts, Please
Spirit Halloween's durability is the result of an unconventional business strategy: signing temporary leases to fill vacant spaces. By gutsily deviating from typical retail conventionalities, they've avoided COVID-19-related headaches miring businesses, including forced store closures to inflexible leases. 
Party stores saw approximately 29% of their annual sales in the period between Labor Day and Halloween in 2019. Meanwhile, Spirit Halloween saw 90% of their sales in that same period. This year, their temporary lease strategy has allowed them to open even more pop-ups by feasting on lower real estate costs caused by the chain of retail bankruptcies. 
The company's creative and flexible approach to retail is a major factor in its success. And for those curious, Spirit Halloween's executives have shared these behind-the-scenes: "Pretty much November 1, the minute our door is closed, we are — or actually, before our doors close — we are prepping for the next season," said Spirit Halloween's senior director of real estate, Frank Pacera, on the Kimco Realty Blog's podcast. "Right after we close our doors, we have a field operation of people who are based throughout the country, and they basically scout their entire markets that they're responsible for on a regular basis."
And though the company's real estate team works all year long to find leases, its hiring process is limited to the narrow time frame of the pop-ups. Only having retail employees from summer months to early November helps keep the company's expenses low. 
Having Some Skele-Fun Online
Though Spirit Halloween caters to only one day in the whole year, the company keeps customers engaged year-round. Balancing useful and entertaining content, they share user-generated posts, host contests, provide safety tips for trick-or-treating, and even forge partnership promotions with brands such as Pizza Hut and Fortnite. Spirit's robust social media marketing presence drives traffic to both their annual brick-and-mortar pop-ups and nonseasonal online store. 
Here's a great example of the company going the extra mile online: In September, a songwriter went viral on Twitter for writing a mock theme song for Spirit Halloween. "This is the theme for Spirit Halloween / They got ghouls, and new locations on every other street / saving the global economy," he sang. Capitalizing on the moment, Spirit Halloween contacted and financially compensated him for the publicity he helped generate for the company. That's a winning example of how to thank your most loyal fans. 
From: YouTube
Spin a Web of Joy
In a year where holiday celebrations will be socially distanced, Spirit Halloween is adjusting its marketing and products to reflect our new reality. On social media, they've offered creative ideas for families to embrace the spooky spirit amid a pandemic, from "contactless trick or treating" to "virtual ghostly storytelling sessions" to "devilish midnight treats left for your neighbors." 
And its product line reflects this sense of festivity, too. From treat bags on a pole — "Loot Scoop Treat Bags" — to Halloween-themed face masks, the company is acknowledging the pandemic while spinning it into an opportunity to celebrate and restore hopefulness. In a time when people are looking for outlets to escape, Spirit Halloween is hitting the mark by balancing safety and fun.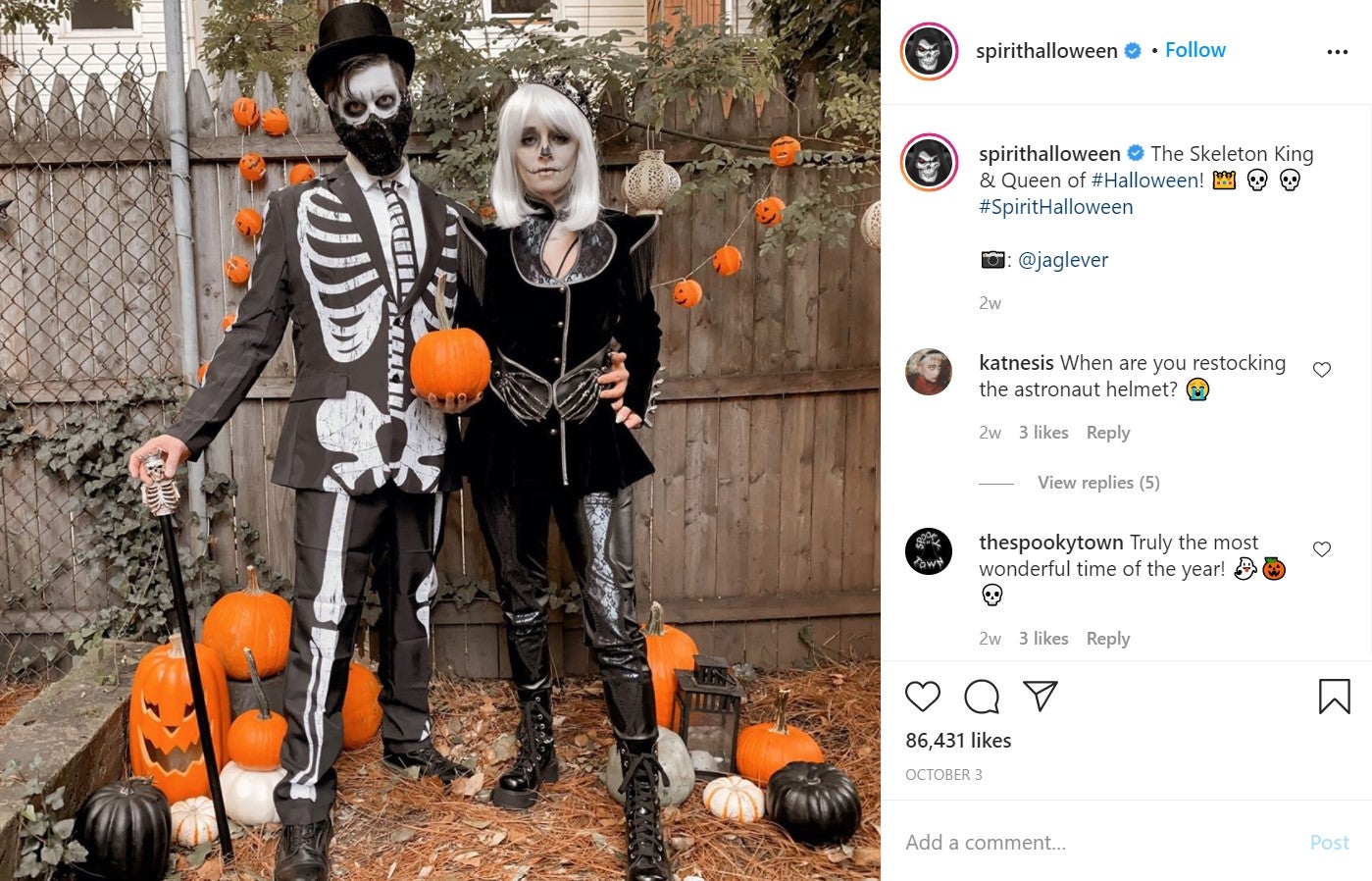 From: Spirit Halloween Instagram
Spiders, Ghouls, and Jack-O-Lanterns — on Your Doorstep
While other retailers are struggling with delayed delivery times and skyrocketing shipping costs, Spirit Halloween formed a partnership with Instacart to fulfill its online shipments. Understanding the time-sensitivity of Halloween products, the company is going above and beyond to ensure customers are well-prepared for the holiday. (That's why its brick-and-mortar stores are open until 10 or 11 p.m. every day.)
Instacart is now providing same-day contactless delivery for shoppers' Halloween candy, decor, and costumes — in fact, Spirit Halloween is the delivery service's first Halloween specialty retailer. This well-thought-out partnership provides a convenience unparalleled to other digital retailers.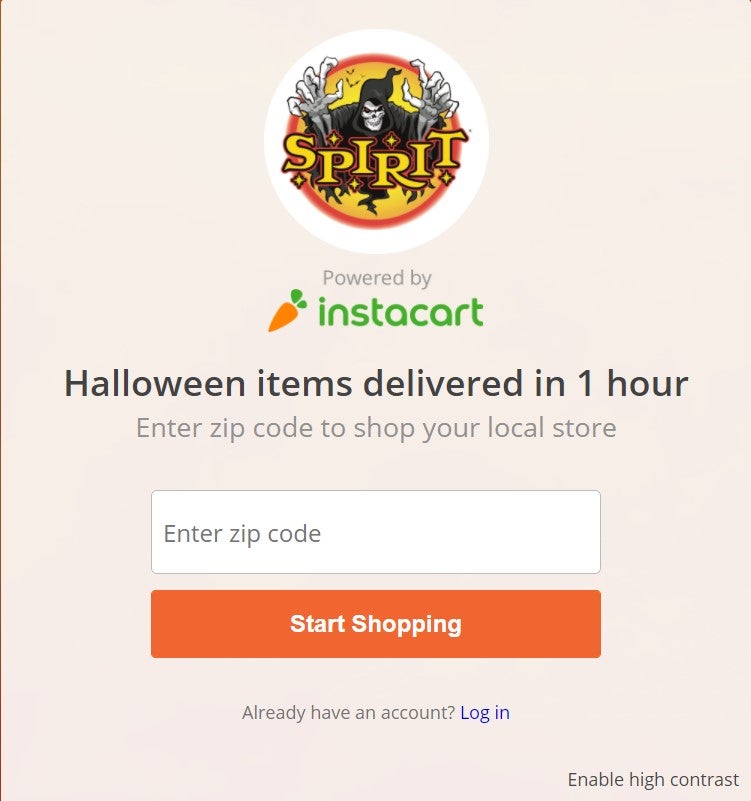 From: Instacart
Fangs for the Memories
Part of Spirit Halloween's success is driven by their investments in creating fun and memorable experiences for their customers. Their storefronts aren't just a place to buy costumes or decorations or candy. Instead, the company presents its merchandise in experiential ways — such as haunted houses, complete with lighting, music, and animatronics — so shoppers can unleash their scary sides and partake in the festivities of Halloween. 
Offering enjoyable, in-person experiences is the differentiating factor between brick-and-mortar retail and e-commerce. By making in-store shopping a fun and interactive event, Spirit gives its customers a reason to visit the store (and potentially buy more than what they would have otherwise). In the age of Instagram Live and TikTok, experiential marketing is also a significant driver of organic social media engagement.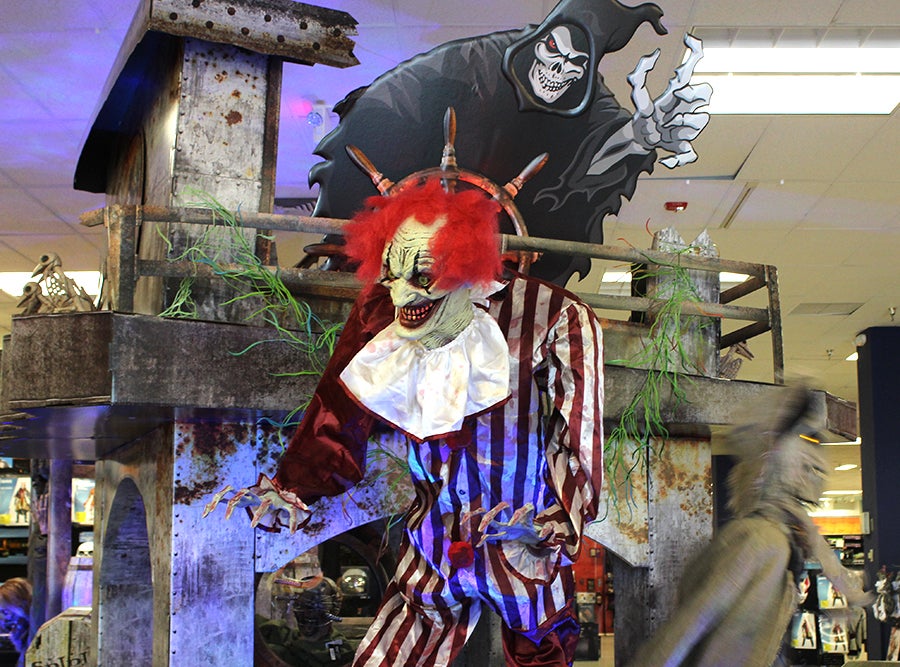 From: Glenn Falls Business Journal
The Roll-up
It may be surprising to learn that in a year filled with cancellations of celebrations and in-person interactions, the pop-up store known for selling costumes and holiday decor is thriving. Here are some takeaways for brands looking to find sustainable success in today's challenging times:
Always put the customer first. Whether it's providing fast and reliable shipping or adding extended hours for extra convenience, go above and beyond for customers. People's routines have been disrupted, and they will appreciate the touches of customer consideration. 
Think out of the box. There is no one right way to do retail. Those who dare to think differently and disrupt the status quo may find themselves in an unexpectedly advantageous position. Brainstorm creative ways to make your brick-and-mortar and e-commerce stores work cohesively, whether it's by providing curbside pick-up or developing in-person experiences with a digital element.  
Tap into emotions. People are struggling with uncertainty right now. Transform bummers into opportunities by leveraging emotionally impactful copywriting and visuals. Give people something to look forward to and find joy in. 
For more ideas on how to transform your brand into something spook-tacularly intriguing, you'll want your marketing efforts to be more than just lackluster ads. Check out how AdRoll can help you delight customers, so they always come back for more. 
Originally published on October 22nd, 2020, last updated on June 16th, 2022.