Topics Covered:
Ready to hit the road after a year cooped up indoors? This "Shot Girl Summer" calls for barbecues, afternoons spent lakeside and cross-country road trips. And the perfect way to embark on all these adventures? The all-American Airstream, of course. 
For the unacquainted, Airstream manufactures caravans (also known as travel trailers) marked by their unique rounded shape and polished aluminum exterior. With a 100-year history, Airstream has recently exploded in popularity, thanks to the aesthetically pleasing #wanderlust and #vanlife culture that has inundated Youtube and Instagram. 
So, fire up your adventurous spirit and grab your iced lemonade. It's time to dive into Airstream, plus what every up-and-coming modern brand can learn from their success.  
A Wanderlust Story 🚌
The story of Airstream dates back to the 1920s, with a man named Wally Byam, who was fascinated with caravans. When he wasn't building these travel trailers in his Los Angeles backyard, he was publishing a magazine that sold "how-to" kits to other adventurers who were looking to build their own. 
It was only a matter of time before Byam would launch his own caravan company. In 1936, Byam introduced the world to an aluminum travel trailer with attributes better than other recreational vehicles on the market: higher fuel efficiency, reduced wind resistance, electric lights, its own water supply, and a convenient side door. The model — which Byam aptly named the "Airstream Clipper" after the first trans-Atlantic seaplane (he noted the word "Airstream" evoked a sense of aerodynamic efficiency) — served as the foundation for would later become an iconic American design.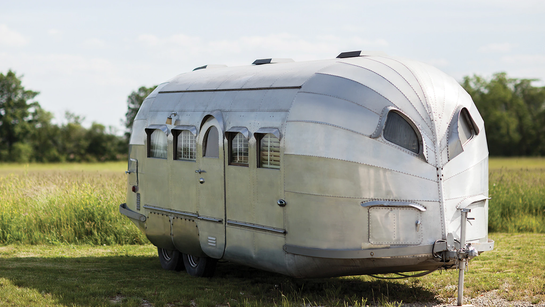 The Airstream Clipper was a hit. Out of 400 travel trailer manufacturers, Airstream was the only one that survived the Great Depression. And with more people looking to travel leisurely following World War II, Airstream's production intensified — to keep up with demand, Airstream launched facilities in both Ohio and California. 
Fast forward to today: Airstream, which is still based in Ohio, now offers a giant range of unique models, from small, two-person travel trailers to large touring coaches, many of which boast its iconic aluminum look. No matter the model, the company promises the best in terms of performance, safety, and comfort. Fun fact: Every Airstream requires over 4,000 metal rivets and 350 hours of labor; its uncompromising quality means that approximately 70% of all Airstreams ever built are still in use today. 
But Airstream's popularity spans beyond its sleek design and high-quality manufacturing — the brand is renowned for promoting a philosophy that travelers love: freedom on the open road. Even without selling directly to customers, the brand enjoys a devoted following of "Dreamers" (prospective customers) and "Streamers" (current customers). 
#InstaTravel 🏜
What customer profile comes to mind when you think of Airstream? A retired Baby Boomer couple or a young Millennial with her labrador? It's a question that Airstream continues to grapple with. 
While older travelers have long been a key demographic for the company, it has also seen an explosion in younger and more diverse shoppers seeking the digital nomad life. Don't forget the design enthusiasts who fawn over the product's craftsmanship, too. In other words, Airstream's marketing department is tasked with targeting a hodgepodge of consumers, all of whom consider themselves active members of the community, though they share little in common with each other.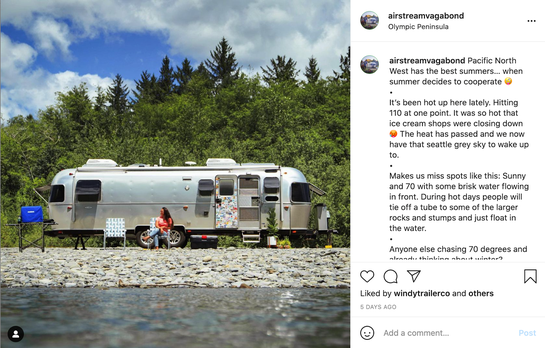 Luckily, Airstream has determined the right approach to their broad audience: thinking of them in terms of psychographic profiles rather than demographics. Given that psychographic profiles can be murkier than your typical customer personas, the company has made connecting with each unique audience group a priority. 
Airstream not only collects customer feedback via traditional surveys and web forms but also informally via meet-and-greets at rallies and community-based events. In an interview with Harvard Business Review, Dicky Riegel, former Airstream president and CEO, explained that he spent his Wednesday evenings in the summer hosting customer cookouts at the company's headquarters. He would chat with customers about their Airstream experiences while grilling hamburgers and hot dogs. "If they have problems with the product, we work hard to resolve them. Fixing a problem is a great opportunity to forge a relationship with a customer," he shared. 
#WorldNomads 🌎
With more and more young people embracing the digital nomadic lifestyle, Airstream's team knew it needed to find a way to attract them. "Around 50% of our customers are totally new to traveling by recreational vehicle," said McKay Featherstone, Vice President of Product Development and Engineering at Airstream. "They're coming into this with their own set of needs and expectations. We've got to make it as intuitive and easy as possible for them and figure out ways to delight them." 
One easy solution? Amazing content that appeals to shoppers higher up in the funnel. "We've had a newsletter for probably four years, but we realized that there needed to be some higher incentives inside of them," said Steven Hileman, Consumer Experience Marketing Manager at Airstream, back in 2017. At the time, Airstream started to develop travel lifestyle-related ebooks and revamp its newsletter. The team A/B tested all of the content they created, from images to videos to headlines, before settling with a winning formula — more photos, no video headers, and less text. 
They didn't stop there: When it came to their overall content strategy, the team realized it was crucial to create targeted content, too — gone were the days where they could just promote a generic piece of content to all of their customers. Instead, each piece of content needed to align with a different psychographic profile. 
#VanLifeDreams ✨
Despite its 100-year tenure, ingenuity, creativity, and technology have been key factors to Airstream's success. Back in the day, the company offered the first flush toilet, fridge, furnace, and pressurized water system in any travel trailer. "Taking aircraft aluminum from the 1930s and turning it into travel trailers was really inventive stuff," Featherstone said. 
An unwavering focus on innovation has kept Airstream relevant — which has proven to be especially important in recent years as their customers skew younger. 
Nowadays, recent consumer research places smart technology at the forefront of customers' priorities — unlike other target customers, young millennials see technology and connectivity as a key way to improve their outdoor experiences. "We're not stuck in our history. We see it as a challenge or obligation to live up to," Featherstone continued. "We're standing on the shoulders of giants here at Airstream, so it's our responsibility to uphold the brand and promise to our customers." As a result, today's Airstreams are even more luxurious, with flat-screen TVs, backlit plexiglass, and internet access. 
#HittingTheRoad 🛣
Van life isn't all glitz and glamor — in fact, it usually gets gritty and uncomfortable. Airstream's team knows this, which is why it prioritizes approachability and authenticity within its company culture, product development, and marketing strategy. 
For example, Dicky Riegel, former president and CEO, shared that at a company-related rally in Vermont, he lived in an Airstream for the whole six days he was there. "Airstreamers are a very loyal and demanding community. They have high expectations, and they demand authenticity. Let them down, and they'll never forgive you," he said, recounting the experience. 
He emphasized that his dedication to the company wasn't a marketing stunt. "It was a hell of a lot of fun. If I were just giving lip service to the Airstream way of life and weren't passionate about it myself, the customers at these rallies would sense it immediately."
Beyond having a company culture celebrated by employees who truly embody the traveler lifestyle associated with it, authenticity also applies to the product itself. Riegel notes that there's a catch-22 here — maintaining the trailers' roots (e.g., having the same shape and color as their predecessors) actually limits the amount of innovation the company can achieve. So, by remaining authentic, the company can actually fall into the trap of constraining itself by the idea of what Airstream is, not what it can be. 
However, it's not always easy for such a classic brand to test boundaries and push it a little farther with each new product. In 1989, Airstream launched a trailer that their customers deemed the "Squarestream." While it had an aesthetically pleasing design, the trailer was boxy and made out of fiberglass, not aluminum. Compared to other models, the Squarestream was, unsurprisingly, a flop. It helped the company realize that while it had to innovate to attract new customers, it also had to balance that with the expectations and needs of loyal customers.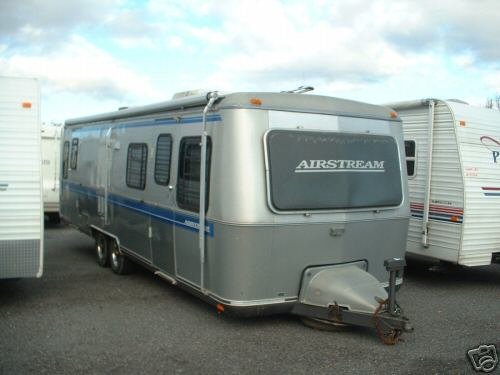 Today, authenticity shines through the most in their marketing materials. On Instagram, the company not only posts a ton of user-generated content but also celebrates real customer stories. Similarly, in its newsletters, they highlight the experiences of customers and their Airstreams. 
#HomeOnWheels 🏡
Airstream is not just a company that manufactures a high-quality travel trailer. It's a company dedicated to helping its customers build a lifestyle, form new memories, and explore the world while feeling like they're home. "People talk about Airstreaming as an activity. It's not a product; it's an experience," said Featherstone. 
As a result, marketing that simply highlighted product features wouldn't cut it. Instead, the company needed to use its various channels to rile up the venturesome spirit in people, inspiring them to use their products to explore the country. 
Their winning formula? A shift to lifestyle content — from guides to the best road trips in the U.S. to listicles of the best wineries and farms to visit — that provides genuine value to existing and potential customers. But they didn't completely nix the product information either, opting to create a select number of product guides to appeal to more technical and budget-sensitive buyers. Regardless of format, the company's content always answers the question, "Why Airstream?"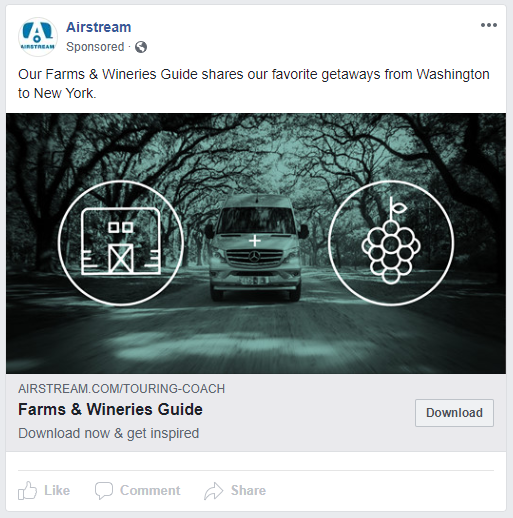 The Roll-Up
Airstream is a classic American brand that has survived immense challenges, from the Great Depression to WWII. Its relevance and loyal customer base can be attributed to not just a fantastic, high-quality product but also a company with community, authenticity, and innovation at the heart of its culture. 
Looking to emulate some of Airstream's success? Here are some things to keep in mind:
Roll with the times, even if you already have a winning formula. Be Netflix, not Blockbuster. Don't be afraid to innovate, try something new, and push the envelope, especially if you're seeing new customer segments. Regardless of your level of risk tolerance, you'll want to invest in hosting focus groups and obtaining customer feedback before doing a mass product rollout. 
Nurture your loyal community. As you grow your company and eye new customers, don't forget those early supporters who gave your products a chance. Whether it's hosting events for your top customers or highlighting their stories in your marketing, remember to celebrate them along the way. 
Create targeted marketing for your unique customer segments. If you have a wide range of customers, all with unique interests, desires, and demographics, don't worry about fitting them neatly into customer personas. (This is normal when you have a versatile product.) Simply consider the different customer paths and create unique marketing strategies, experiences, and channels based on each, while making sure your brand doesn't come off as too fragmented. A brand guide will come in handy here. 
Last updated on September 16th, 2022.