She Loves Blooms: Tips for Building a Thriving Online Community
Topics Covered:
Australia is known for many things, including but not limited to stunning coastlines, an eclectic array of animals, and a thriving brooch community. That's right — there's an online brooch community that exists within Facebook groups, and one of the most prominent participants is Yvette Smith, founder of She Loves Blooms. 
Drawn to brooches because of their versatility and personalization (stick one on a dress and watch it transform!) and her love of storytelling (She Loves Blooms donates to various animal and social justice charities), Yvette has emerged as one of the most creative and purpose-driven brooch makers in the space. 
Let's take a look at how She Loves Blooms has found success through their community and social media marketing efforts. 
Community Before Anything Else (BAE)
There's no doubt that She Loves Blooms' brooches are charming and pleasing to the eye (and outfits!). 

But what sets them apart from similar brands is that almost every single brooch is shaped from community feedback. While Yvette may come up with the initial designs, she allows her customers to be incredibly involved in the production process by compiling feedback through social media channels and forums. 
"In my role as the active participant, I usually share my maker's release and would try to gain insights on their interests," says Yvette. "As a passive observer, I would usually look at their feedback, reviews, or comments on their preferred brooch type and brooch colors. These valuable insights are helpful to gain perspective for brooches that speak more to them." 
Pro tips: 
Taking your customers' feedback goes a long way — consider them your product designers! When you treat them like they're part of your team, they'll feel more involved and invested in your company.
Don't forget to express your gratitude. For example, Yvette dedicated a whole blog post to thanking her most loyal supporters.

Social Media Is More Than Sales 
"Social media is key for brand awareness," says Yvette. "It's where people can explore what's important to your company, where they can share stories, lived experiences, unique heritages, and more." 
When it comes to their social media marketing strategy, She Loves Blooms excels in the following areas:
A strong company vision
It's a given that brooches are great conversation starters — they brighten any outfit while representing the unique interests of the person wearing them. Now combine that with a mission to solve animal and social justice issues, and you've got yourself mini social media stars.

"It's one of the main reasons that pushed me to start my own company," says Yvette. "One of the visions I had for the company was to design brooches that help raise awareness regarding animal and human rights issues. I felt that by creating my very own brooches, I could play a little part in educating people regarding pressing animal conservations and human rights issues that are affecting millions around the world."
Pro tip: Be sure to craft a strong vision statement that your whole company aligns with. This will provide a sense of direction for the business and help shape your short and long-term goals.
Consistent engagement across channels
Yvette's social media posting cadence is around once or twice a day, and her content ranges from fun images to bright and colorful videos and cute cinemagraphs.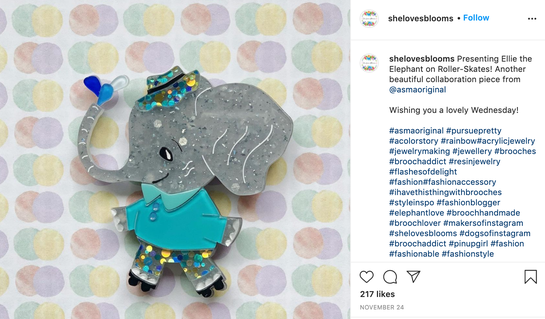 "We work with graphic designers and occasionally video creation platforms like Animoto or Photoshop," says Yvette.
But posting consistently on your social media channels is one thing — keeping your audience intrigued and engaged with your content is a whole other beast that requires constant attention and upkeep. 
"Usually, we engage with people on Facebook and Instagram, our two key social media platforms," says Yvette. "We tag our followers who have shared their lovely photos for customer validation and also chat with our customers via the apps for any queries or concerns they may have. We provide the whole customer service package and experience. For example, customers regularly send me messages via social media channels about their package updates." 
Pro tip: Use GIFS to boost your engagement. Users may miss your text or photos while scrolling through their feeds, but an animated GIF could stand out and capture their attention. 
Your GIF strategy doesn't have to be complicated. You can select from the built-in GIF libraries on Twitter and Facebook, or choose from Giphy's vast collection. Use GIFs when posting something funny and relatable to your audience, or use them as a fun way to say "Thank you" in the comments. 
Data-driven decision making
While metrics such as Likes, comments, and shares are important, it pays to dig deeper with your data.
"We use Google Analytics and Facebook reporting to measure key data," says Yvette. These platforms help shape decision making by identifying how many followers turn into website traffic, how engaged followers are, and the percentage of traffic that converts into sales. 
And while She Loves Blooms seems to have Instagram and Facebook marketing down pat, Yvette is always looking to expand and adapt her marketing strategy to the newest trends — and this means tackling the worlds of TikTok and Pinterest next.
Pro tip: TikTok marketing is taking off.  The good news is that it's still relatively new, so there's time for brands to get a jump on their competitors if they put in the work now. Check out this guide for tips on how to get started. 
A Bright Future Ahead
She Loves Blooms offers it all — beautiful products, a meaningful mission, and above and beyond customer service. Round that out with a killer and ever-growing social media and community marketing strategy, we predict nothing but good things for this exquisitely charming brand. 
Last updated on June 8th, 2023.