"Shot Girl Summer" Is Approaching — Is Your Business Ready?
Topics Covered:
After sheltering in place for over a year, many of us feel we deserve to celebrate in the spirit of Megan Thee Stallion's sunny day anthem, "Hot Girl Summer" (for the unacquainted: a viral trend and theme for summer 2019). The result? "The New Roaring Twenties" à la a vaccinated "Shot Girl Summer" — in other words, widespread consumer changes thanks to the massive widespread anticipation for a post-COVID summer 2021. 
With Americans' excitement running high and widespread reopenings in sight, industries that saw huge pandemic-related drops in 2020 are finally starting to bounce back in significant ways: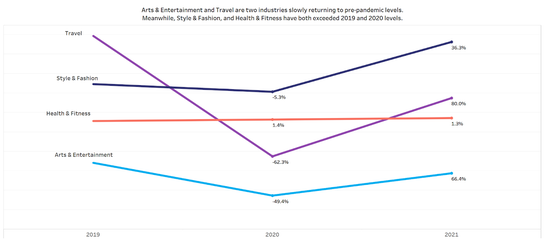 As the literary critic Malcolm Cowley once described the Roaring Twenties, the summer of 2021 offers an opportunity to "live in the pure moment, live gaily on gin and love." But before you bust out hors d'oeuvres and a flapper costume, remember this: Gin and love may make a tasty drink, but planning and strategy are what will make this summer a raging success. 
Here's everything you need to know about how different industries can prepare to make up for lost time.
In this article:
The (New) Roaring Twenties
What Ecommerce Trends Can We Expect?
Health and Fitness
Travel
Style and Fashion
Beauty
Arts and Entertainment
It's a "Shot Girl Summer"
The (New) Roaring Twenties
After the 1918 pandemic ended, the Roaring Twenties followed — a decade of economic and cultural prosperity in the West: Art Deco, jazz, consumerism, hedonism, and mass culture. The assembly line became the norm, and automobiles, indoor plumbing, and other labor-saving electric appliances forever transformed people's lives.
The conditions that led to the Roaring Twenties not only included the end of a pandemic but also the advent of new technologies, a soaring stock market, and substantial pent-up consumer demand. Sound familiar? Yup, all clues point to summer 2021 as becoming a mirror of "the Era of Wonderful Nonsense." With more and more people vaccinated and emerging from their COVID-19 bubbles, we can safely assume the streets will be lined with partygoers ready to go out on the town. 
What Ecommerce Trends Can We Expect?
There are many indications of stored-up purchasing power that consumers are itching to release — the National Retail Federation reported that U.S. retail sales could rise by over 8%.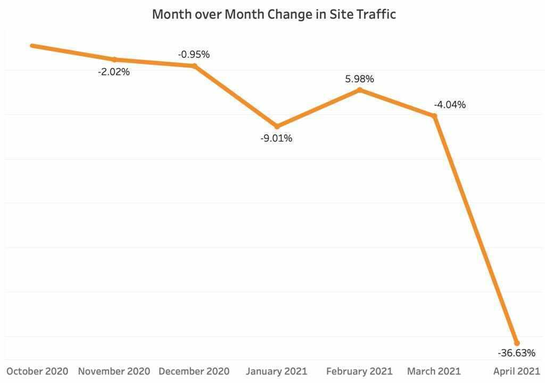 Although site traffic for ecommerce stores fell in April 2021, initial surveys suggest that online shopping habits are here to stay. In countries where COVID-19 has been under control since 2020, shoppers have continued to embrace the accessibility, safety, and seamlessness of online shopping despite physical stores being open.
To maintain market share, ecommerce brands must: 
Prioritize excellent customer service. With people ready to empty their wallets, you can expect more questions about return policies, shipping options, and product details. If you're anticipating a shortage of customer service representatives, consider implementing AI chatbots to keep up with demand. 
Be relevant to stay competitive. The ecommerce landscape is getting busier by the minute. To grab the attention of new and existing customers, relevancy is key (we can't say it enough!) — make sure every marketing decision is aligned with global happenings, seasonal trends, and customer needs. Beyond your existing marketing channels, you can launch loyalty programs, design compelling promotions, and re-evaluate your pricing strategy. 
Provide convenience whenever possible. Whether it's offering pick-ups and returns at local partner stores or designing a subscription model, brands must strive to make online shopping as convenient as possible. It doesn't have to be a significant business shift either — surprise and delight promos or temporary extras can quickly turn browsers into purchasers. 
Remain empathetic. There's still a lot of uncertainty about what 2021 will look like. In a rapidly changing world, brands that demonstrate empathy and adaptability in their messaging will win. 
Health and Fitness 🏃‍♀️
During the pandemic, both healthcare providers and patients quickly adopted telehealth services and remote mental healthcare. The largest telemedicine provider, Teladoc, saw 50% week-over-week growth in services in March 2020. Similarly, online therapy apps, including Wysa, Talkspace, and AbleTo, gained 65% more users between March and April 2020. Meanwhile, gyms went remote, offering virtual classes and workout sessions.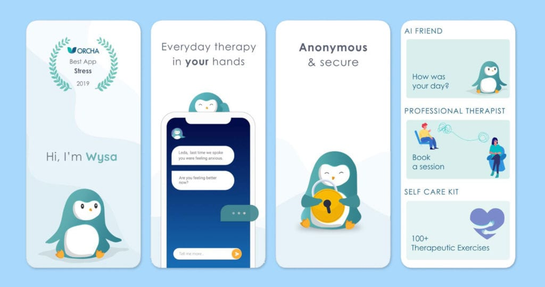 Fast forward to April 2021: Though 72 million Americans are fully vaccinated, it's clear that the new health and fitness habits formed during the pandemic are here to stay. The telehealth industry is expected to grow to a $57B market. Although some consumers will return to health and fitness providers in person, others will opt for the convenience of telehealth and virtual fitness. 
Takeaways for marketers:
Continue to remove friction from digital experiences. For example, you can revamp your website by adding a scheduling widget or develop a one-and-done mobile app for your health and fitness brand. 
Create content relevant to people's new purchase evaluation criteria. Post-pandemic, people will prioritize cleanliness and the ability to maintain physical distancing in their purchasing decisions (compared to pre-pandemic evaluation criteria such as equipment quality, friendly staff, and class schedules.) You can ease concerns by updating your imagery with new photos of your space or using video assets to get ahead of customer questions. 
Focus on remarketing. As a gym or wellness center, you probably lost a chunk of members during the pandemic. Rather than spending resources trying to reach new customers, consider developing a remarketing campaign that targets ex-members who are already familiar with your brand and products. But remember: Don't reuse old tactics or copy — it's a different fitness world now. Instead, craft messaging that acknowledges what we're all looking forward to, as well as launch deals that alleviate potential hesitation about returning to gyms. 
Travel ✈️
From January to October 2020, COVID-19 cost the tourism industry $935 billion in revenue. While some airlines found success in creative non-fly experiences, it's been a painful year for most travel providers. 
Hotel.com's ad captures how all of us are feeling about travel.
Luckily, wanderlust is a real affliction, and many Americans have already expressed a desire to travel, at least domestically. As of now, the travel industry is one of the fastest industries to rebound from the pandemic — Carnival Corp. already has plans to begin boardings in April for its largest cruise ship, the 5,200-passenger Mardi Gras.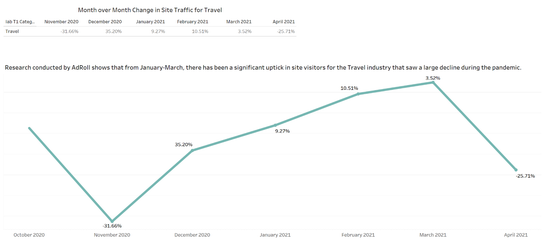 Takeaways for marketers:
Focus on alleviating concerns. Health, wellness, and general safety practices will be at the forefront of travelers' minds. In your marketing materials, emphasize what steps you're taking to ensure customers' well-being. For example, you can promote contactless technologies such as keyless hotel entry and mobile check-in options.
Double down on your marketing. Though not everyone will feel comfortable traveling again this summer, continue engaging with your existing customer list to stay top of mind. Historically, brands with faster post-recession recoveries invest in building brand value and awareness during slow times. 
Leverage call-to-action features like "Book Now" to signal that deals are available, destinations are open, and travel is hot and in-demand again. It's all about generating that urgency and FOMO. 
Style and Fashion 👗
In our year of isolation, athleisure and casual wear became the go-to (if not only) outfit for most. Unfortunately, that meant that sales for luxury, formal, and business wear fell significantly.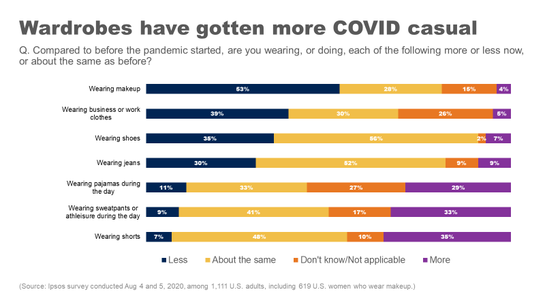 This summer, dress-easies will continue to take over wardrobes everywhere, with key trends being casual wear, comfort, and sustainability. However, with many experiencing a hybrid model of working from home and occasionally visiting the office, experts predict people will seek out a blend of comfort and professional fashion. There will also be a likely demand for more expensive, special, and glamorous styles once we begin attending parties, holiday gatherings, and weddings. 
Takeaways for marketers:
Ensure the online to offline shopping journey is seamless. Physical stores will continue to possess a dual purpose: as a shopping destination and a place for pickups and returns. Start brainstorming creative integrations of the digital experience and physical store. 
Design marketing materials that reflect all the new trends. You'll want to make sure that your copy and visuals are aligned with shoppers' desires for a casual-formal hybrid wardrobe. 
Beauty 💄
With their customers having nowhere to go and nobody to see, cosmetics sales plummeted during the pandemic. Some products, including foundation and lipstick, saw sales drop by over 70%. 
At the same time, skincare, haircare, and bath and body products flourished, benefitting from people's desire for self-care and at-home pampering. Beauty influencers helped push this trend by creating content on DIY masks and skincare hacks (in other words, alternative ways for people to maintain their looks sans spas and salons). 
But as stores reopen and makeup routines return, it's likely that beauty sales will sharply accelerate in the coming months. In China, makeup sales rose over 25% after COVID-19 restrictions lifted in 2020. L'Oréal, the world's largest cosmetics group, predicts a "makeup sales bonanza" as wearing lipstick becomes a "symbol of returning to life." 
Takeaways for marketers:
Focus on the key trends. Think self-care, wellness, and clean beauty. Consumers' increased concerns around health are changing their expectations of beauty products. Rather than fixing issues, such as erasing wrinkles, more shoppers prefer clean beauty products (with natural, gentle, vegan ingredients) that can help them achieve a healthy and radiant look.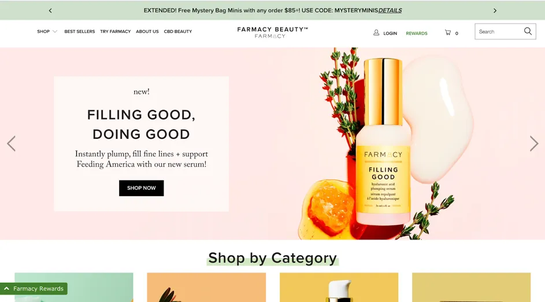 Use influencers to tap into a community. Influencers play a major role in the beauty industry — whether introducing their followers to new products, creating tutorials, or simply showing off their daily routines. Consider partnering with the most relevant influencers in your field to build trust with new customers. 
Arts and Entertainment 🎭
The pandemic has accelerated the changes that were long expected within the arts and entertainment industry — a 2020 research study found that "50% of media and entertainment executives believe they can no longer rely on traditional business models to drive future growth." Unsurprisingly, with in-person events canceled, on-demand entertainment options gained significant ground, while live experiences found success in the virtual world. 
But all that is set to change, and thankfully not because of another Prohibition. Concerts, events, and festivals are coming back, albeit with physical distancing measures and attendance restrictions. However, this doesn't mean that virtual events will be no more — 89% of event organizers say that even when in-person events resume, virtual elements will still play a massive role in their event strategy. 
Takeaways for marketers:
Combine both in-person and remote/virtual elements. Not only does this make events more accessible, but you can also expand your audience, build dynamic experiences, and create unique sponsorship opportunities. However, this will require different technologies, strategies, and interactive tools to keep each audience engaged in the conversation, including live Q&As, chat, and instant polling. You'll also want to make it easy for in-person and online attendees to interact with one another. 
Repurpose any recorded content. For example, if you're hosting a conference or a talk, consider developing a digital resource library for archival and SEO purposes. For performances, you can snip up footage into catchy and snackable social media content. 
Experiment with smaller groups. People may still be skittish about large-scale events, so rather than go all out, start by hosting smaller groups with enough space for social distancing. 
It's a "Shot Girl Summer" ☀️
While we might not all be twerking by the pool like Megan Thee Stallion, don't let "Shot Girl Summer" catch you off guard. Luckily, armed with these tips, you'll have the "New Roaring Twenties" your brand deserves, with browsing, shopping, and celebrating abound. 
If you're on the hunt for even more strategies to make sure your business is prepared for the summertime and beyond, check out our Marketing Resource Library today. 
Last updated on September 16th, 2022.