Inclusive Marketing: 5 Tips to Know Before Getting Started
Topics Covered:
Inclusive marketing is one of the most important terms marketers should focus on moving forward. As shoppers seek socially conscious, ethically responsible brands, inclusive brands continue to crush sales goals and boost customer loyalty. 
Embarking on the journey toward inclusive marketing requires careful planning, though. From Pepsi's Kendall Jenner commercial to Dove's racist Facebook ad, we've all seen blunders that have led to calls for brands to be canceled. When done poorly, attempts to champion marginalized voices can quickly misfire, even causing harm to already marginalized groups in our community. 
That doesn't mean brands should simply choose more representative stock photos in their marketing materials and call it a day. Inclusive marketing requires continuous effort — and we're ready to help get you started. 
What is Inclusive Marketing?
Inclusive marketing refers to the process of creating marketing content that reflects and embodies diversity. Brands that embrace inclusive marketing aim to elevate different voices, reduce cultural bias, and become leaders in influencing social change. 
Inclusive marketing is good business — take a look at these stats: 
Nearly 70% of Black consumers are more likely to purchase from companies that positively reflect their race and ethnicity in ads. 

71% of LGBTQ+ shoppers are more likely to engage with digital ads that authentically feature the LGBTQ+ experience. 

65% of shoppers will take action (such as an email sign up or purchase completion) after seeing a diverse or inclusive ad. 
5 Tips to Get Started With Inclusive Marketing
1. It does not mean just one thing
Inclusive marketing encompasses a variety of traits including race, gender, sexual orientation, ethnicity, age, disability, and religion. When considering the imagery and messaging you use in your marketing materials, show people from all walks of life — it'll help shoppers better see themselves supporting your brand. 
2. Replace stereotypes with universal stories 
Make an effort to steer away from stereotypes, assumptions, and biases. Focus on telling universal stories instead.
Describe pain points and experiences that apply to all your target shoppers, regardless of their backgrounds. 

Choose imagery wisely and think about whether or not they perpetuate certain stereotypes and ingrained power dynamics. 

Consider the power of language and how you use certain words.
3. Make your site more accessible and inclusive
If your site isn't accessible to hearing and visually impaired shoppers, make it a priority this year. Here's a guide on how to get started with ecommerce accessibility solutions. 
4. Keep diversity and inclusion top of mind
The best approach to inclusive marketing is by having a diverse team with unique backgrounds, perspectives, and experiences. Trust us: It'll be better for ideas, storytelling, and all your other marketing efforts. 

5. Beware of virtue signaling 
Although inclusive marketing is good for business, watch out for signs of virtue-signaling, where you talk the talk but don't walk the walk. 
From celebrities who champion environmental responsibility but take private planes to brands promoting inclusion while harboring a toxic work environment, virtue signaling is all around us. When your actions don't align with your promises and values, people don't just pay attention — they start doubting your motives. 
To avoid virtue signaling in your inclusive marketing efforts, make sure to connect the values and claims you tout with tangible actions. 
In addition to holding your brand accountable to your values and claims, be aware of those that work with your brand, like influencers or brand ambassadors. Ensure that whomever you enlist to be the face of your brand or to promote it aligns with your values and doesn't have a history of actions or marketing that go against them.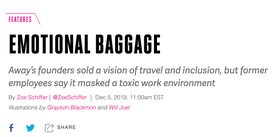 It's Time to Be a More Purpose-Driven Brand
Modern shoppers no longer support brands that only sell fantastic products — winning brands have strong representation, market with honesty, and prioritize social responsibility. With these inclusive marketing tips as a starting point, you'll be positioned to deepen your brand's connection with customers.
Last updated on February 9th, 2023.