How to Promote Your Shopify Store: A Beginner's Guide
Topics Covered:
There are a variety of ways for digital marketers and store owners to grow their businesses with ecommerce marketing strategies. If you are interested in how to promote your Shopify store, you've come to the right place. How you promote your Shopify store will depend on your product, marketing budget, and available time. However, with various digital marketing tools and strategies available, there is an option for everyone. Let's dive right into how to promote your Shopify store using popular digital channels. 
How to Promote Your Shopify Store Using Social Media
Social media platforms, such as Facebook, Instagram, and Pinterest, are among the top ways to promote your Shopify store. With billions of users worldwide, you have the potential to reach and engage your target customers through social media. This is where a social media advertising platform can be especially helpful.
Original content 
The first, most important, and least expensive way to use social media to promote your Shopify store is by posting organic content on your platforms. This can be anything from product highlights to customer reviews and user-generated content (UGC) to behind-the-scenes photos and videos of your business operations. Social media is excellent for building brand awareness and trust. 
By posting high-quality photos, relevant videos, and engaging captions, you can get personal while remaining professional by posting on your social media feeds and utilizing the "stories" feature on Instagram and Facebook. 
Paid advertisements
You can also promote your Shopify store by investing in social media ads. While original content can only go so far on its own, if you put a little money behind your posts, you can reach a substantially larger audience. There are two key ways to reach your future customers on social media.
Demographic and interest targeting
Demographic and interest targeting are perfect for brands with target audiences that share certain characteristics, such as age, location, gender, education level, hobbies, and more.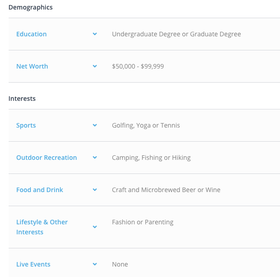 Lookalike targeting
If you're looking to reach new customers who resemble your existing ones (and are thus more likely to be interested in your offerings!), lookalike targeting is a great tactic. 
Influencer marketing
Influencer marketing — where people with large followings promote your products on social media, often in exchange for free products or money — is another way to quickly get your product in front of new audiences. By partnering with influencers, you also build brand trust. 
How to Promote Your Shopify Store Using Email Marketing 
There are so many email marketing campaigns you can create depending on your business goals. If you want to engage new or potential customers, create a Welcome email series. If you wish to retain existing customers, create a Customer Loyalty program, and stay connected with your loyal customers through email. If you'd like to better engage with your potential customers via email, create a robust email capture program to entice them to give you their email addresses. You can then share your product information, customer reviews, and current sales and discounts through email.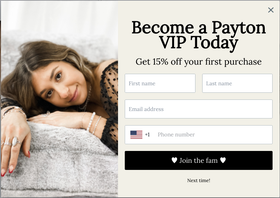 Automate your email campaigns using triggered emails that automatically send to customers at the optimal time with relevant messages that will promote your Shopify store without it feeling like spam. This ensures that the right people are being reached at the right time with relevant content, rather than one big general email being sent to everyone on your email list. 
Not sure which triggers will work best for your brand? You can easily customize the conditions using data collected from both AdRoll and your Shopify store. But as with any other marketing, you'll want to conduct robust A/B testing to find out what frequency, messaging, and segmentation has the best open and conversion rates.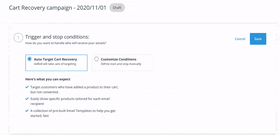 How to Promote Your Shopify Store Using Display Ads
Display ads are text-, image-, or video-based digital marketing that encourage shoppers to click-through to a landing page and take a specific action. Web banners, for example, are a popular type of display ad. 
Using display ads alongside your email marketing promotional strategy will strengthen your marketing efforts and increase sales. This way, not only will you show up in people's inboxes, but you will also show up while they are browsing the internet. 
Contextual Advertising
An effective way to advertise your store on other websites is through contextual advertising, in which you choose where to show your ads based on the content on the other website. Rather than allow users' digital behaviors to determine the ad placement, your ad will only be seen on webpages relevant to your product, brand, or industry.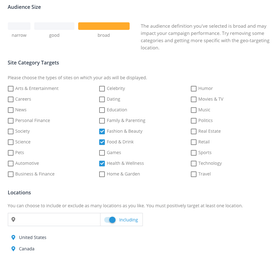 Native Advertising
Native advertising involves a type of digital ad that blends into the webpage, app, or platform they're placed on. If you've ever seen an ad on an editorial site that looks like just another article (no prominent CTA, relies on copy, and may have a "sponsored content" badge), that's native advertising at work. Other examples of native advertising include sponsored stories on Facebook, promoted tweets on Twitter, and web films on Youtube. 
Native advertising works particularly well when paired with contextual targeting — rather than stand out as an ad, you're using a soft selling approach that reels shoppers in more naturally.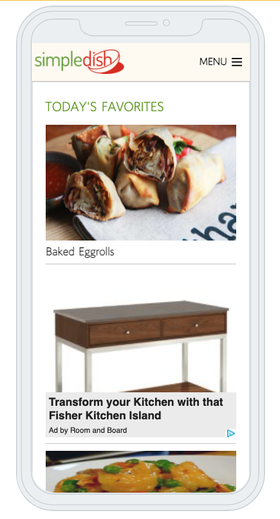 When using these strategies together, be sure to promote consistent, personalized content to an audience segment. Doing so will increase brand awareness, trust, and engagement. 
How to Promote Your Shopify Store Using Your Website 
Are you into blogging? If not, it's time to get started because blogging is another way to promote your Shopify store by using your website platform. Even if you are selling a product, you will increase website traffic and convert more visitors into paying customers by producing quality content and regularly posting on your website's blog. Here's how blogging works to promote your Shopify store.
First, when you write content optimized for SEO, you increase the likelihood of ranking high in Google search results. This means when your target customer is searching for a solution to their winter glove needs, your website will pop up (that is, if you sell winter gloves and write an engaging blog post about it). Studies show that over 60% of consumers have made a purchase based on a blog post. Content sells. 
Second, blog posts help build relationships and trust with your new and existing customers. The more they get to know and engage with your brand, the more likely they will be to make a purchase. Studies show that it takes an average of 56 touchpoints for a potential customer to convert into a paying customer. By posting relevant content as a marketing strategy, you increase the touchpoints available to move visitors through their customer journey. 
How to Promote Your Shopify Store Using Paid Search
When it comes to digital advertising, there are so many types and channels, and strategies available. With Google Ads being the most common paid search platform, the basics of paid search include a target audience, a relevant SEO keyword, and a product to highlight.
You can put money behind a particular product or landing page and bid on relevant keywords under which you want this page to appear. If you win the highest bid, your ad will show up in Google search results when someone searches for the keyword or phrase chosen. While the investment for paid ads is more than other forms of Shopify marketing, you will see an increase in relevant website traffic, a high ROI (return on investment), and immediate results. 
Promote Your Shopify Store With AdRoll 
Integrating your Shopify store with AdRoll means more customers and more revenue. 

If you are looking for the best way to implement these marketing strategies for your Shopify store, learn more about AdRoll's ecommerce marketing platform. You can reach your ideal customer with relevant ads, email marketing strategies, and targeting and retargeting tools. Plus, with knowledgeable marketing support available, you are never alone when it comes to learning how to market your Shopify store.
Last updated on May 15th, 2023.