How to Create a Marketing Strategy for D2C Brands
Topics Covered:
A marketing strategy is your overall game plan for reaching your audience and turning them into your customers. For D2C brands — who have the end-to-end control of making, marketing, and shipping — this is particularly crucial because it establishes where you can allocate your resources for maximum growth, and helps you understand what leads to success.
As with any game plan, you'll need to know the players, your strengths, how to "score," and how much it'll cost. Your marketing strategy needs to include who your audience is, who your competitors are, and your differentiators and value proposition.
Your marketing strategy should include:

Overview of your audience
Overview of your competitors (adding in your SWOT analysis here can be very helpful)
Your positioning based on your differentiators and value proposition
How you'll communicate that to your audience (your messaging)
Goals and objectives for your marketing
Metrics that you'll use to measure your success
Tactics (specific actions to take) to reach potential customers
Your budget for tactics
Developing Your Value Proposition 
Marketing guru Neil Patel says that a value proposition is a "unique, measurable, specific promise" that solves your customers' problems, alleviates any fears they have about your company, and gives them a reason to act. Your value proposition needs to clearly express what your brand stands for, what makes it different from your competitors, and act as an internal reference point for everything you do.
From your value proposition, you can create your brand positioning, which will bring your value proposition to life. It's the message you put out to your audience that balances the logical and emotional elements of your brand. It needs to be straightforward, relatable, and above all else, authentic.
Take your ideal customer profile (ICP) and make a list of their pain points — the challenges they face that your product or service solves. Then, write out what it is about your products or services that meet those needs. Finally, use that information to create a positioning statement. 
For example, the positioning of apparel company UNTUCKit, which creates men's casual shirts that are designed to be worn untucked, is precise and to the point: its target market is men who want to be comfortable while still looking sharp. The brand represents this throughout its advertising and messaging: "Find your fit."  
Cornell University Associate Professor, Doug Stayman, provides an excellent template for a positioning statement:
For [insert Target Market], the [insert Brand] is the [insert Point of Differentiation] among all [insert Frame of Reference] because [insert Reason to Believe].
Every marketing decision you make should support your brand's positioning statement.
Crafting Your Messaging
When you've identified your ICP and brand positioning, it's time to begin crafting your messaging. Solidifying your brand's messaging will ensure that all your various marketing tactics are not only consistent but genuinely connect with your customers. 
Here's how to craft your message:
Determine your features, benefits, unique selling points, and differentiators to use in your messaging.
Define your voice and tone. Will you be known as the confident and upbeat brand that inspires its customers to take action? The lighthearted, whimsical brand?
Decide the things you want to talk about in your messaging, like your quality, style, design, value, etc.
Figure out where you'll communicate that message.
Setting Your Business Goals and Objectives
What's the ultimate goal of your marketing strategy? Is it to make your audience more aware of your company? To get as many new customers as possible? To grow the lifetime value of your existing customers?
For example, an online retail brand may want to make a certain amount of sales in Q4, but an app developer might want to increase the amount of time its customers use the app. Deciding on one specific overarching goal — like hitting a revenue target by a particular time — makes it easier to measure the progress of your plan, and easier to communicate your strategy with your team.
Once you know what you want to do, you can focus on how to get there. That's when you'll decide how you'll measure success via metrics, and monitor those metrics regularly. This will help you determine the overall health of your marketing strategy. 
Here are some sample metrics to look at based on the tactics you use: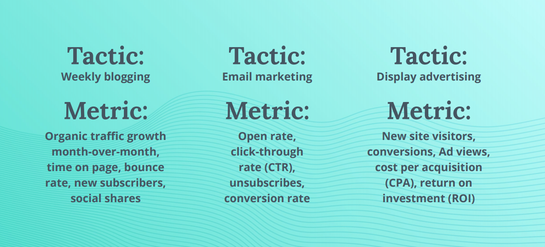 Creating Your Tactical Marketing Plan
Once you've finalized your positioning, messaging, and business goals, you've laid the foundation for your tactical marketing plan. Every business should create one because it acts as a roadmap for bringing your future marketing campaigns to life.
A tactical marketing plan outlines how you'll meet your goals. This is where you put your marketing strategy to work to set your priorities and establish concrete tasks and timelines. After you've set business goals, identified your ideal customers, and completed a SWOT analysis, write out:
Marketing tactics you've used in the past, like social media ads or emails. What worked best? What didn't? Figuring this out will help determine where your budget should go.
How do your customers usually find you: through online searches? Word of mouth? Social media? Knowing this will help you decide which channels to use to find more customers.
Where do you tend to lose customers? Are they typically one-time sales? This will help you find ways to optimize your sales process and increase customer lifetime value (how much a customer spends over time with your company).
Next, take your business goals and come up with a marketing objective or a goal or group of goals that your business sets out to achieve within a certain time period.
For example, let's say your annual revenue is $1 million, and your goal is to increase that by 10% (with half of that revenue coming from new customers). If each customer spends $500, you'd need to bring in 100 new customers to make that happen.
Creating a Marketing Budget
One of the most challenging things for businesses to do — especially smaller ones — is to create a marketing budget. Setting your marketing budget ahead of time helps you determine how much you should be spending to find new customers and where you need to allocate your marketing dollars. How much you spend depends on your overall goals, how much money you're bringing in (revenue and/or from investors), and your short-term goals.
The good news is, digital marketing lets you be fluid — you can change what you spend as you go. If you look at key performance indicators (KPIs) like cost per acquisition (CPA), how much it costs to get a new customer, you can see where you're spending too much per user or tactic.
Start with a modest budget. The US Small Business Administration recommends that companies with under $5 million in revenue spend 7-8% of their revenue on marketing. Next, figure out your objective. Perhaps you need to promote an upcoming event, like a product launch. To raise awareness, you'll want to determine where your ideal customers hang out online. They could be on Facebook, Twitter, or other platforms. This will require a little bit of research, but once you have an idea where they are, you can begin to figure out what marketing channels you need to set aside a budget for.
For ongoing tactics, revisit what you're spending every month or quarter. Some channels, like email or Facebook ads, may work better than others: driving more customers to your site, for instance. You'll see pretty quickly where to focus if more customers are clicking through the Facebook ad and spending time on your website. Give yourself enough time to see what impact the tactic or message has on your business. For example, if your sales cycle is seven days, don't expect a two-day ad to make a significant impact.
Don't be afraid to try new things. Experiment with different tactics and channels, and then measure the results to see if it generates new business.
The next step is to identify your marketing tactics. For comprehensive tips and tricks on how to grow your business, check out the Ultimate Guide to Growth. 
Last updated on September 16th, 2022.