How Personalized Digital Marketing Carries Your Visitors From First Click to Checkout
Topics Covered:
Cart abandonment costs businesses $4.6 trillion every year. That's basically the GDP of Germany, which, for the record, is Europe's largest and strongest economy.
Perhaps worse, far more first-time site visitors never do anything at all. In fact, research shows 98% of consumers don't buy anything on their first visit. You've spent time and money getting them there, only to see them leave empty-handed.
These visitors and sales aren't necessarily lost forever, though. The right abandoned cart recovery campaign can remind customers why they visited or added those products to their digital carts in the first place, and gently nudge them towards purchase.
The simple truth is consumers don't hate ads — they just dislike ads that are irrelevant. Marketers are partially to blame for not always delivering relevant ads and creating this aversion. The right, relevant content, such as personalized product recommendations, at the right time, for example, when they've forgotten something in their cart, can make all the difference in how they receive your message.
AdRoll helps you deliver those consistent, personalized experiences across email, digital ads, and your online store to buck this trend — and, most importantly, inspire action.
That's because we have insights into 70% of online shoppers, including their likes, dislikes, interests, and intent. Our powerful AI and machine learning actually predicts customer behavior, helping reengage site visitors and customers with targeted, customized messages that increase engagement and result in revenue. One example of this is our new smart audiences — through our integration with Shopify (and Woo Commerce to come) — AdRoll uses your first party data combined with our machine learning to predict people who are ready to buy, at risk, or high future value. You can then easily reach out to these segments through targeted newsletters that speak specifically to where they are in their relationship with your brand.
Our mission at AdRoll is to help marketers make better decisions. Our capabilities can help your customers do the same.
Assist Customers With AI-Powered Product Recommendations
Remind customers and prospects of the items they nearly bought with digital ads, email content, and online store experiences that feature product recommendations catered specifically to them. With our AI-driven product recommendations, you can display top products, recommended products, or previously viewed products. 
Customers using e-commerce platform partners can pull in external product feeds to create dynamic display ads in less than a minute. Similarly, drag-and-drop dynamic email content offers another opportunity for personalized messages, which you can automate with AdRoll. Combined, they work together to boost customer lifetime value.
Give the People What They Want With Diverse Ad Types
AdRoll helps you find the ad types that work best for your brand and easily get up and running with effective ad campaigns. Our e-commerce marketing platform supports multiple digital ad types, including:
Native ads: Rather than standing out as an ad, these ads tend to match the form and function of the platform upon which they appear, such as an ad similar to the look and feel of an Instagram post.
Dynamic ads: With AdRoll, you can build beautiful custom dynamic ads showcasing previously viewed, top, and recommended products. This dynamic content improves the performance of your ads, no creative team required.
Video ads: Video ads bring your brand to life and give viewers a better understanding of who you are, making your brand more memorable in the process. Research has shown video is the most memorable form of content for 21% of consumers overall — and 29% of millennials.
Native and video ads are known to have higher engagement, and dynamic ads are ideal for retargeting to ultimately reengage shoppers. That's why you'll want to have a mix of all three.
For those in search of a more high-touch experience, AdRoll offers assistance in creating custom dynamic and video ads, including static or HTML5. Plus, AdRoll's ad library includes templates of prior executions customers can browse to see what fits their brand style.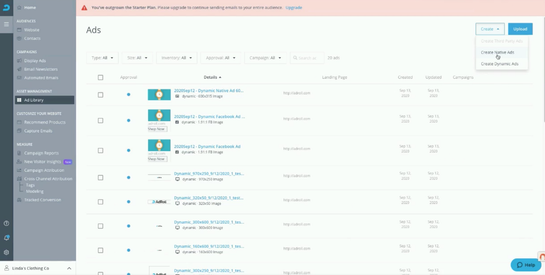 Reach Customers Where They Are With Unparalleled Retargeting
With retargeting, in-market consumers are given a chance to familiarize themselves with your brand to build customer loyalty.
Many brands start with retargeting on Google and then add Facebook, ending up with disconnected ad strategies on different platforms and the limited reach of just two inventory networks. Bringing them together under one roof allows you to identify your audience, so you know which channels and inventory perform better, and easily adjust budgets as needed. With AdRoll, you can leverage information about browsing behavior combined with first party data from email lists or e-commerce platforms, and reengage them on the web or on social, including Google, Facebook, and millions of other websites and mobile apps. 
Remember: Retargeting is based on traffic — you don't get too granular because you then may miss out on reengaging audiences. In fact, if you have a smaller audience, you'll want to invest more marketing dollars into brand awareness to fuel future retargeting.
If you have a large customer list, whether that's site traffic from pixel data or email lists you upload, you can get more specific and focus retargeting campaigns on cart abandoners by, say, offering an additional discount. You could also offer a reward specifically for your most loyal customers. Ultimately, these methods increase loyalty, customer lifetime value, and average order value.
To launch a retargeting campaign, you choose your daily budget and optimization strategy based on the audience size you want to reach. AdRoll also provides market-specific benchmarks of what we typically see in your industry to help start you off with a baseline performance benchmark. Or, if you have specific metrics between campaign types, our algorithm will automatically optimize and bid on ad space within your goals and budget, on your behalf. Customers who subscribe to AdRoll's Essentials and Growth packages can also access our new benchmark report to compare their CTR, CPC, and CPM rates against the averages of other advertisers in their industries to get an even better sense of performance.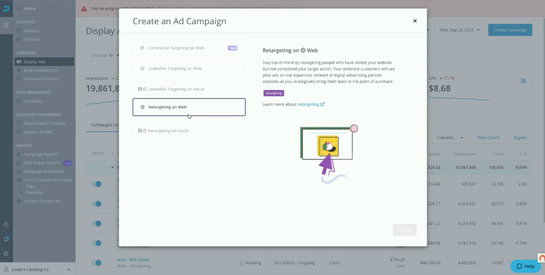 The customer journey, much like life itself, is more complicated than it's ever been. Fortunately, AdRoll empowers brands to deliver relevant content to their visitors every step of the way. Ready to build a better relationship with your customers? Engage with AdRoll, today. 
Last updated on September 12th, 2023.