How PARKIT Achieved Over 1000% Growth in 3 Months
Topics Covered:
We've all been there: you're on a camping trip or spending a day at the beach, and you're sitting on a rinky-dink chair, praying that a slight breeze won't knock you over. Steven Wilcox knows this experience all too well, which inspired him to start PARKIT, home of the ultimate outdoor chair, to uplevel all of your adventuring needs. We chatted with him about how PARKIT got its start and the growth strategies that have propelled his brand from a grassroots Kickstarter campaign to 1000% growth in 3 months.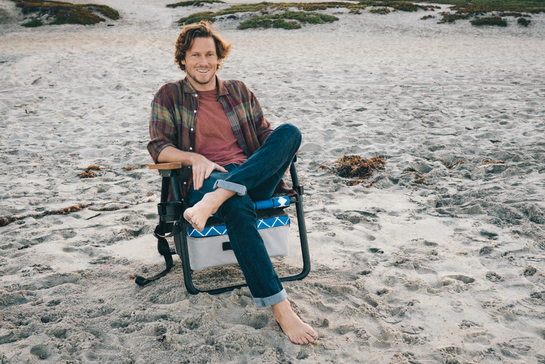 The Lightbulb Moment 💡
"The initial idea for PARKIT started back in 2017 when I was on a camping trip with friends, surfing at San Onofre State Beach in Southern California," recalls Steven. "A group of buddies and I were sitting around a campfire later that evening, doing what we loved to do with our weekends when my friend's chair just completely blew out on itself. He spent the rest of the night sitting in the dirt, thanks to his busted and broken beach chair. It was this event that served as my lightbulb moment."
With a background at Quiksilver and Oakley and an outdoor enthusiast himself, the ingredients came together seamlessly: "Outdoor chairs hadn't seen innovations in years — I saw a huge opportunity to build a brand around the community, stories of adventure, and the enjoyment of the outdoors."
From then on, Steven began to focus on building the ultimate outdoor chair PARKIT calls the VOYAGER. Durable, long-lasting, functional, and comfortable, this versatile chair has all the features that the modern adventure seeker needs and more. 
It's a chair unlike any other, and the proof was in the numbers. In 2020, even with global restrictions on outdoor activity caused by COVID-19, Steven launched PARKIT and the VOYAGER chair on Kickstarter, where he raised over $500k from 2000+ backers in just 35 days.
Soaring Revenue With AdRoll 
PARKIT's early success with Kickstarter was nothing short of amazing, but the transition from crowdfunding to direct website sales was challenging. 
"Kickstarter was awesome — seeing the validation of our work was incredibly exciting and also humbling," says Steven. "But immediately following the crowdfunding campaign, things slowed down a lot. We went from doing close to 14k a day to maybe one or two sales per week. I couldn't for the life of me explain why we'd dropped off so much. Then it hit me — our campaign had tapped into the Kickstarter algorithm, and we were a 'trending Kickstarter campaign,' which opened us up to millions of Kickstarter visitors who were just there to shop. Being a trending campaign meant that eyeballs were on our brand and product in a way I wasn't getting on the PARKIT website."
With this revelation, Steven embarked on some research and began looking at his advertising plan. 
"PARKIT was only running top of funnel ads with Facebook, and I saw solid top of funnel results, but we weren't getting the conversions," explains Steven. "We had great traffic, but the retargeting piece to our funnel was missing. Enter AdRoll. After some discussion with other brands about the services they recommended for retargeting and display advertising, AdRoll came up as their trusted ecommerce marketing platform. In September, we launched our AdRoll retargeting campaign, and like clockwork, additional revenue started coming in." 
From there, PARKIT expanded its suite of AdRoll tools to include other marketing automations, including abandoned cart emails, welcome flows, and more. "We continued to see results, and PARKIT's revenue soared with over 1000% growth in Q4 vs. Q3."

The Secret Sauce to Success
Even in the midst of the pandemic, PARKIT hasn't been impacted on the sales front — quite the opposite. As they're preparing for the formal roll-out as a D2C brand, they're continuing to see month-over-month growth, and Q1 of 2021 is set to do 175% more in revenue versus Q4.
However, this isn't to say that the company escaped completely unscathed. "We've certainly been impacted on a logistics front. Many brands are facing incredible challenges to ship their products, but customers have been great and understand that things are a little different this year." 
So, how does the PARKIT team manage to maintain a fantastic growth trajectory, even during a challenging time? Here's a sneak peek into their secret sauce for success: 
They focus on their values vs. selling something. Steven says, "Marketing serves to inspire people. I remember being a kid and being inspired by Nike Athletes, Quiksilver surfers, Burton snowboarders. I didn't buy their products simply because they solved a problem I had ( although they definitely did). I bought their products because I believed in their values and their mission. One of the first things we did in preparing for Kickstarter was defining our brand, our values, and how we would use those parameters as the foundation for building our community. This allowed us to build a very strong and highly engaged pre-launch email list of close to 10k people." 
Pro tip: Create campaigns that focus on inspiring instead of selling.  For example, PARKIT created a hashtag, #EnjoytheExploration, to highlight nature's beauty, inspire people to get outdoors and empower customers to share their adventures with PARKIT products.
They connect with their customers through social media. "Using social media to forge your community is key," says Steven. "We use social media to connect with our followers on a personal level, answer questions, provide insights, and share stories. It doesn't matter what you ask; we'll respond. If you reach out in our DMs asking how to get to the lake  we've just posted for your next family fishing trip, we'll respond and share all the details we can."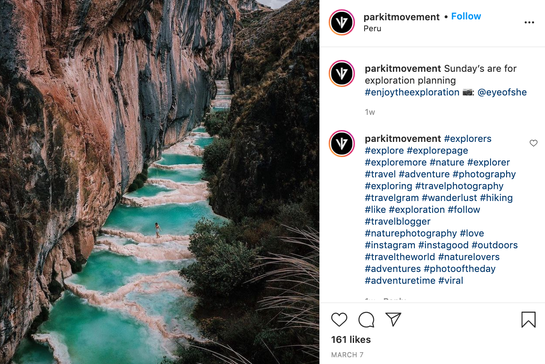 Pro tip: Lean on organic social and don't pay for followers. "Many brands out there get into the 'pay for followers' space, and I can tell you, as a consultant for several years, I've seen those strategies immediately dilute a brand's authenticity."
They create high-quality content. "Our content is kind of our secret sauce," admits Steven. One of PARKIT's unique content offerings is their blog, appropriately called "Campfire Stories." In it, you can find articles around what it's like to surf under the Golden Gate Bridge, how and when to catch meteor showers, the experience of living the nomadic lifestyle via a converted van, and more.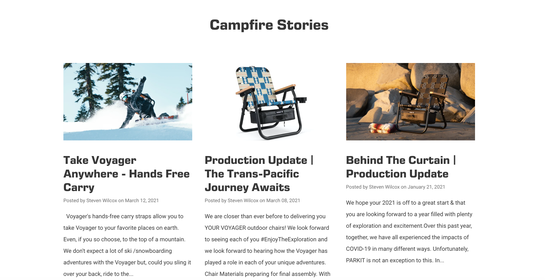 Pro tip #1: When it comes to content, make sure you're consistent in what and how you post. "Setting specific content parameters about how your brand looks, feels, sounds, etc., are all important factors to stick to," stresses Steven. "As soon as a brand steps too far outside their bounds, it can come off a little weird or inauthentic to their audience." 
Pro tip #2: Keep a log of your inspiration. "When I'm scrolling through my newsfeed, I'm constantly taking screenshots of things that catch my eye. When I find things that I like, or 'stop me in my tracks,' I use that as inspiration and  ideate on what I could build or create in alignment with PARKIT." 
They continually test their website to ensure it's optimized for conversion. "I'm doing a lot of work on website optimization right now, particularly with messaging and site speed. Your site can have great imagery and all of that, but the messaging and loading time can make or break your conversion rates. We also always make sure that videos, images, and other elements of our site are optimized and sized appropriately."
Pro tip: Perfection is the enemy of productivity — don't let copy slow you down. "When it comes to website messaging, often, marketers including myself, will get caught up in copy text that makes us feel like we're writing the next Pulitzer Prize-winning novel," says Steven. "Oftentimes, the best copy is often simple, to the point, and presents a clear value proposition to the consumer." 
Encourage Others to Be Their Best Self
While it's clear that Steven has a wealth of marketing knowledge to share, his most important takeaway for ecommerce marketers is to consider marketing as a vessel to inspire people to take action. "That action isn't always revenue. It's often about inspiring people to be the best versions of themselves, and our products, values, and mission should always help facilitate that for our customers." 
Last updated on November 1st, 2022.